How to Make Honey Sweetened Summer Berry Preserves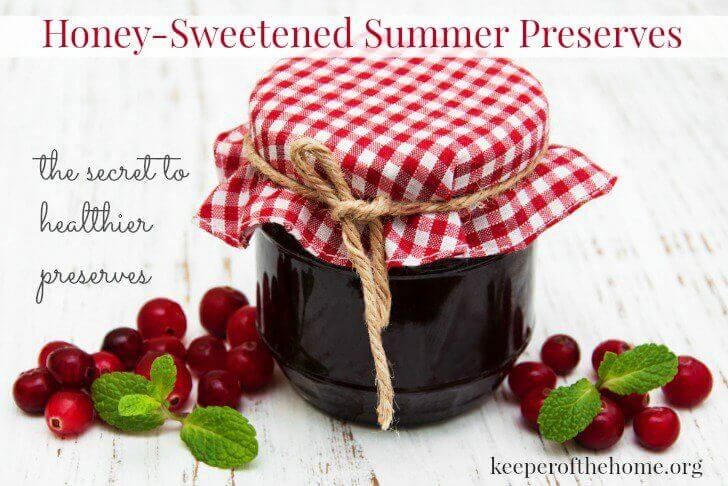 By Kelly Smith, Contributing Writer
Summertime is filled with a bounty of the most amazing fresh produce. But by far, one of our favorites is berry season! First to appear are red and delicious strawberries, followed by sweet-n-tangy raspberries, plump blueberries and one of my personal favorites – blackberries.
It's no secret that we get a little excited about fresh berries around here. And rightly so! They're not only absolutely delicious, but they're chock full of beneficial nutrients and antioxidants too! That's why they're a favorite for enjoying in fruit salads and adding to grain-free granola, homemade yogurt and some of our favorite summertime desserts.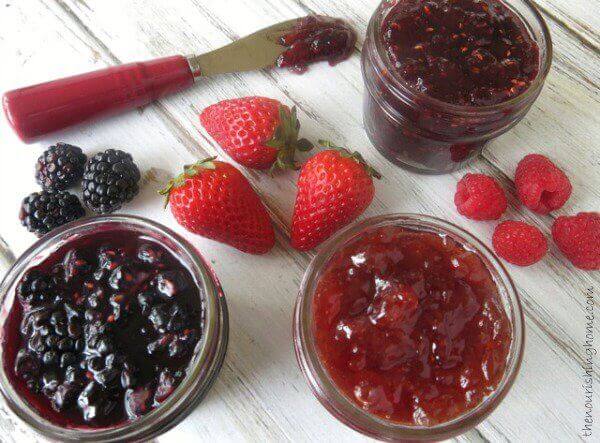 Of course, ripe summer berries also make amazing jams and preserves, which is why I'm sharing a simple method for making your own healthier homemade fruit preserves using your favorite seasonal berries and pure honey. A key part of this method is a little secret that allows you to skip the powdered pectin mixes, yet still produce a deliciously thick jam.
The secret? Cranberries! By using a small amount of whole cranberries, you can avoid using powdered pectins to set your preserves. That's because cranberries are high in natural pectin. So by including them in the recipe, your preserves will set-up nicely with just a little touch of fresh-squeezed lemon.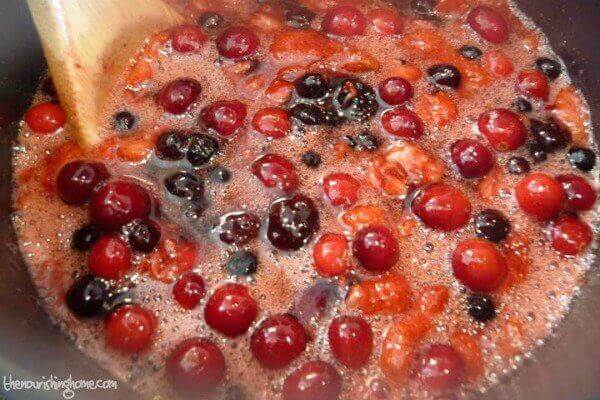 Plus, this simple refrigerator jam recipe enables you to create virtually any jam of your choice, such as delicious raspberry preserves, strawberry jam or my personal favorite – blackberry preserves. You can also combine berries to create a delicious "jumbleberry" jam. Yum!
More than just a sandwich spread!
Of course, homemade jam is perfect for spreading on toast, or making the ultimate PB&J sandwich. But it can be used to create lots of delightful treats too! Our favorite way to use homemade jam is to bake-up these incredibly easy and delicious grain-free Raspberry Crumble Bars. And, fresh preserves are also perfect for making your own healthier Fruit-on-the-Bottom Yogurt and Almond Flour Thumbprint Cookies.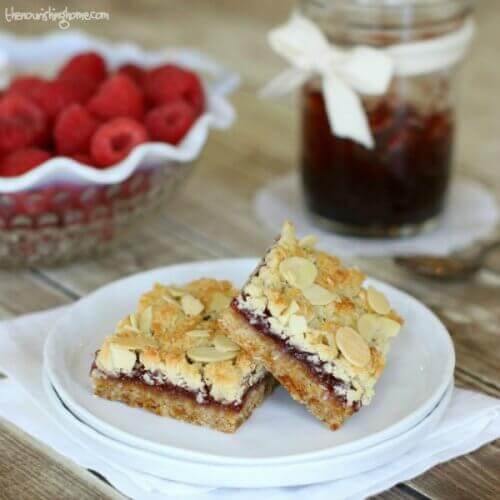 Money-Saving Tip
Overripe berries make the best jam! So as you're enjoying fresh berries this summer, don't toss those overripe berries out. Instead, be sure to freeze them, since this honey-sweetened fruit preserves recipe works great with frozen berries too!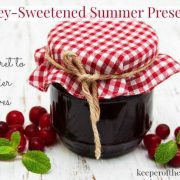 Print Recipe
Honey-Sweetened Summer Berry Preserves
Ingredients
4

cups

of your favorite fresh berries

such as raspberries, strawberries or blackberries (or use thawed frozen berries)

1

cup

whole cranberries

fresh or frozen

1 to 1 1/4

cups

mild honey

such as clove (depending on how sweet you prefer your jam)

1

tbsp

of fresh-squeezed lemon juice

about 1/2 of a lemon
Instructions
If making strawberry preserves, remove the stems and quarter the strawberries before measuring out 4 cups. For raspberry or blackberry jam, simply cut the berries in half before measuring. If making blueberry jam, no need to cut the blueberries.

In a medium saucepan over medium/medium-high heat, bring the berries and honey to a boil while stirring. Then, reduce the temperature until the mixture remains at a constant simmer. Allow berries to simmer for 20 minutes, stirring occasionally.

Once you reach the 20-minute mark, use the back of a wooden spoon to mash the cranberries against the side of the saucepan. This helps to release all of their natural pectin.

Maintain a gentle simmer, making sure to stir the mixture frequently, so it does not scorch. While stirring, use the "back-of-spoon" method to break up any large pieces of fruit into smaller pieces. Or if you prefer less chunky preserves, thoroughly mash all of the berries.

After 10 minutes, if the mixture is somewhat thick and no longer runny, turn off the heat. It will thicken more as it cools. If it is not thick enough, continue cooking at a gentle simmer, while stirring constantly until it thickens a bit more, then turn off the heat. (Keep in mind, preserves are looser than jellies, so once the mixture is chilled, it will be thick, but not gelatin-like.)

Pour the fresh-squeezed lemon juice over the warm preserves, stir well and allow the mixture to cool to room temperature.

Evenly distribute the cooled preserves among four 8 oz. glass jars making sure to leave about an inch of space between the top of the jam and the jar lid to accommodate for expansion. Then, cover and refrigerate or freeze. (Or you can preserve the jam by following the classic

hot water bath canning method

.)

Because homemade jam/preserves do not contain any preservatives, I recommend placing one jar in the fridge to enjoy now, and freeze the three remaining jars for future use. Enjoy!

What are your favorite ways to enjoy healthier homemade summer berry preserves?