This recipe is different than your usual muffin recipe. As with all of the recipes I made this week, it requires soaking your grains overnight. The reason for doing this is that it breaks down the phytates in the grains, which makes them much more digestible and the nutrients much more readily absorbed. For more information about this, see this article.
And now, back to the recipe: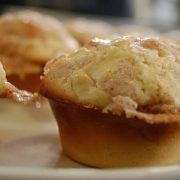 Print Recipe
Apple Cinnamon Muffins Recipe
Ingredients
Basic Muffin Recipe
3

cups

flour

I use spelt, you could also use whole wheat, kamut, or other alternative grains

2

cups

buttermilk

kefir or yogurt

2

eggs

lightly beaten

1

tsp.

sea salt

1/4

cup

maple syrup I used honey, and added a little more than 1/4 cup- I find this recipe not quite sweet enough for my husband's liking

2

tsp.

baking soda

1

tsp.

vanilla extract

3

Tbsp.

melted butter
Apple cinnamon variation:
Add 2-3 apples

grated or diced, 1/2 tsp cinnamon, 1/8 tsp cloves, 1/8 tsp nutmeg (and raisins would also be good, but I didn't have any)
Instructions
Add the flour to a large bowl, stir in your choice of cultured dairy until well mixed, then cover with a cloth and leave in a warm place and leave for 12-24 hours (the longer, the better). The recipe notes that if you have dairy allergies, you can substitute 2 cups of water with 2 Tbsp of either whey, lemon, or vinegar instead, for soaking the flour.

Blend in remaining ingredients.

Pour into well-buttered muffin tins, filling about 3 quarters full. Bake at 325 C for about 1 hour, or until toothpick comes out clean. (Note- I find this recipe makes an odd amount, around 15 muffins, so it would be more convenient to double it.) Also, note that soaked flour recipes take longer to bake than traditional baking recipes- they really do need the full hour, occasionally a little longer!