How I Healed My Son's Skin Infection (Without Antibiotics)
This is a tale of how a mom can take charge of her family's health.
It isn't necessarily meant to read like a "how-to" (although you may find what I share useful), nor is it meant to make some sort of definitive statement about doctors and home remedies and antibiotics (although some may read that into it).
Rather, it is meant to be a descriptive story of one situation where I used a simple remedy to deal with a health concern that supposedly required medication.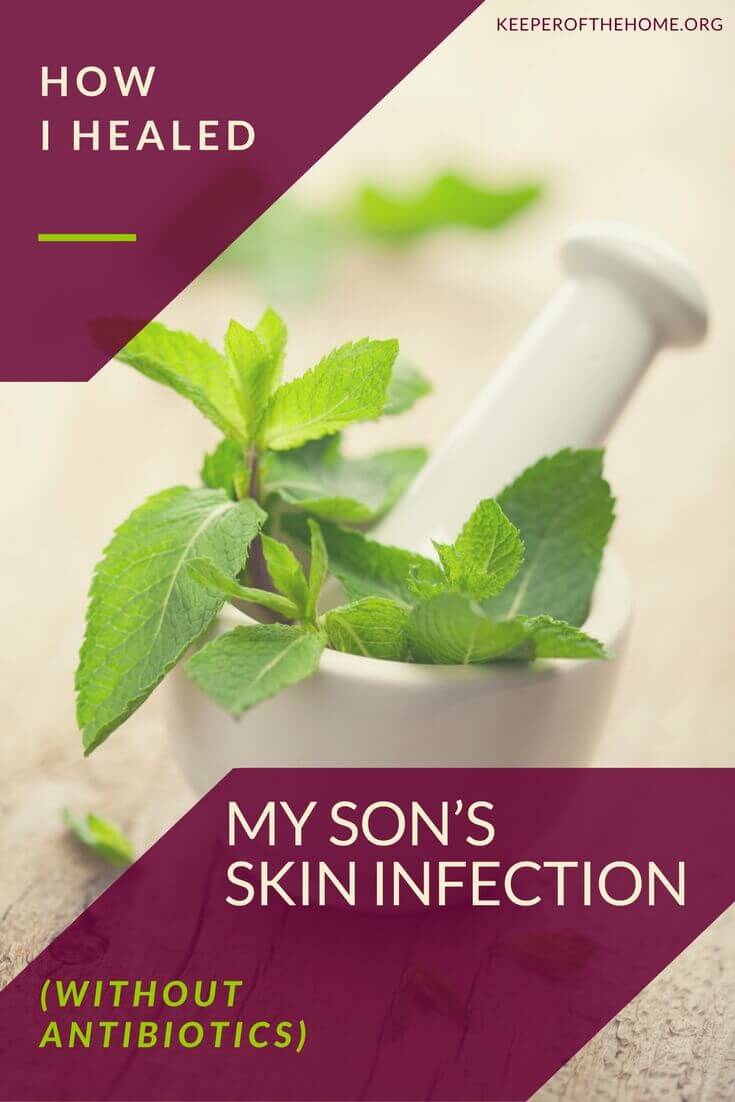 Here's the story
For a little while, I had noticed some small bumps on the back of my son's leg. They were unlike anything I had seen before, but didn't seem particularly alarming. As a couple of them grew slightly, I began to be mildly concerned. Baffled, I wondered if they were similar to a pimple or even a manifestation of some sort of inward toxicity, because my son is particularly sensitive to toxins and doesn't handle them well. I tried looking on the internet to figure it out, but finally realized that I just had no idea and it was time to see a doctor when one became infected.
The doctor diagnosed the little bumps as something fairly benign, a type of wart-like virus common to children (passed around in swimming pools, on towels or soft toys, etc.) that is known as "mollescum contagium". He also confirmed that the redness and pain he was experiencing around one bump was a deep infection— you could feel that it was a bit hard under the skin, which the doctor said was a pocket filling with infected pus.
The doctor recommended a round of oral antibiotics (which I wanted to avoid if at all possible, as they have very negative effects on digestion and gut flora). When I specifically asked about topical treatment instead, he told me that it was too deep to treat topically.
Oh, really?
Doctors everywhere, please don't tell me things like that. I take it as a direct challenge. I set out to prove him wrong as soon as I got home.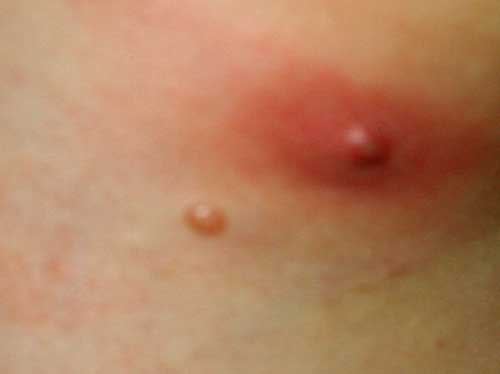 How I treated the infection
I chose to treat it with a poultice of raw honey, activated charcoal and a few drops of tea tree oil.
Why I chose my particular arsenal of ingredients from my natural medicine cabinet:
Activated charcoal powder. It draws out toxins extremely well and can eliminate harmful bacteria as well. This video that I watched last year came to mind as I considered whether I would use charcoal and how I would do it.
Raw honey. I needed something to make the charcoal into a paste with (otherwise it was just a powdery mess), and I chose raw honey because it also has antibacterial qualities and has been known to help heal other types of infections.
Tea tree essential oil. For its antiseptic and antiviral qualities. I had also found a helpful blog post sharing how one women (and many others in the comments) had used tea tree oil for treating mollescum contagium.
This mixture was a bit goopy and gross looking, and he didn't love the feel of it on his skin, but then again, he didn't like having a painful infection either. I made it clear that I knew he didn't like it, but I really wanted to help the owie on his skin, and he consented, because I guess the owie felt worse than the goopy poultice.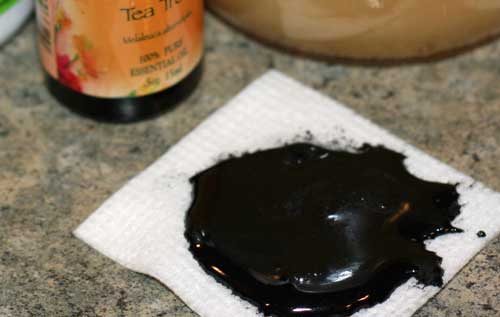 At first, I used gauze pads so that I could cover a larger area, because the infection was spread out beyond the initial site where it began (it was about an inch in diameter). Gradually, I switched over to bandaids, once the infected area started to shrink.
Within a day or two, I could see that it was slightly less red and inflamed looking.
Within a few more days, it was definitely smaller in size, and the hard area under the skin was also much smaller. It wasn't causing as much pain anymore (though it was still somewhat painful).
The second week, it continued to decrease in pain, redness and size. At this point, I wasn't being quite as on-the-ball with the poultices. I began changing them less often and I moved to just a band-aid with a bit of the mixture, and occasionally, just with a herbal healing salve instead of the black sticky mess that the charcoal made.
We definitely missed a few days days, and sometimes he took the bandaids or poultice off because they were bugging him (although he was a very good sport overall).
At the 2-3 week point, it looked as though the infection was entirely gone and just a small mark remained where it had been. Now, at the 4 week mark, you can't even tell he had it at all. The skin looks completely healed. (And I'm sorry I don't have a picture to show you- I forgot to take one until today and found my camera battery dead).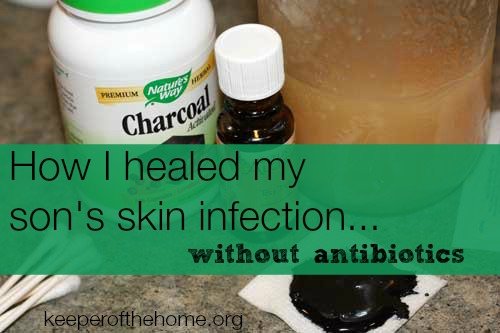 What I am (and am not) saying in this post
I can already hear some of the comments, so I'm going to address them proactively:
1. I am not saying that we should avoid doctors or that their suggestions should necessarily be ignored. There are times when conventional medical treatment is the right course of action, but I think it can be helpful to ask ourselves some good questions before making a decision for either natural OR conventional treatment. As a matter of fact, I thoroughly appreciated the quick and accurate diagnosis the doctor provided, which I had not been able to figure out on my own.
2. Antibiotics are not the enemy. They are overused, abused, and are causing problems as a result of reckless prescription. Much of the time, infections could be treated more naturally or simply be allowed to run their course for a full recovery in a similar period of time. And yet sometimes, antibiotics are invaluable and even life-saving. I'm not opposed to antibiotics. I'm grateful to live in a time and place when they are available for us when we need them. But that's the key word… need.
3. Home remedies can, and often do, work as well or better than many prescription/allopathic medications. They're not something to mess around with, though, particularly if you're not sure what you're doing. I've been studying alternative health and natural remedies for years, and as a result, I feel comfortable treating many of our family's ailments. It's worth noting, though, that before I took this infection on, I had it diagnosed so that I knew clearly what I was dealing with. My husband and I also had a conversation where we agreed that if it didn't show signs of improving within a couple of days (we set a specific date) then we would reconsider filling the prescription for the antibiotics.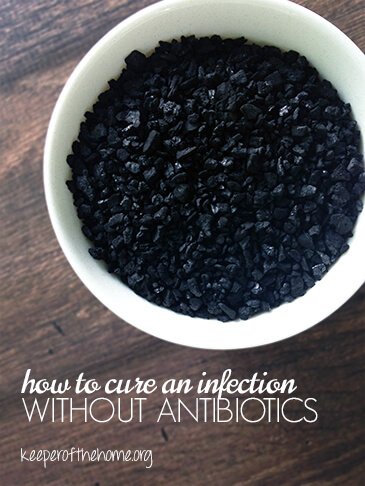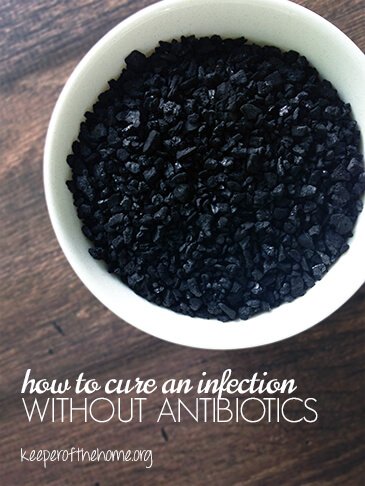 Do you have a story of healing with a home remedy? I hope you'll share it.
DISCLAIMER: I AM NOT A CERTIFIED MEDICAL PROFESSIONAL OF ANY KIND AND AM NOT QUALIFIED TO GIVE YOU MEDICAL ADVICE. MY GOAL IS TO HELP TO EDUCATE AND INSPIRE YOU TO TAKE RESPONSIBILITY FOR YOUR OWN FAMILY'S HEALTH AND MAKE INFORMED CHOICES OF YOUR OWN, NOT TO CONSULT YOU ON MEDICAL TREATMENT. ADDITIONALLY, THIS POST DOES INCLUDE SOME AFFILIATE LINKS. I ONLY RECOMMEND PRODUCTS THAT OUR FAMILY WOULD PURCHASE AND USE OURSELVES.