Essential oils make home remedies quick and easy to prepare. With a select few on hand you will be able to create all manner of healing products and all-natural cleaning supplies.
When it comes to using essential oils with infants and babies, it can be daunting (and should be approached with caution). I have often wondered how much to use, or if certain oils were safe for young ones. After all, essential oils are extremely concentrated and powerful substances.
The following are some simple guidelines and recipes that I hope will be helpful to you.
Which Essential Oils are Safe for Babies?
In The Complete Book of Essential Oils and Aromatherapy, Valerie Ann Worwood recommends the following essential oils:
For infants, zero to two months of age:
Chamomile, Roman and German
Lavender
Yarrow
Dill
For babies, two to six months of age:
The above, plus Mandarin and Neroli.
For babies, six to twelve months of age:
The above plus Calendula, Grapefruit, and Tea Tree.
(A few others are also recommended for these ages, but none that I have used myself.)
What to look for in an Essential Oil
It is important to get the best quality oil possible. Make sure it is 100% pure essential oil and not a massage or perfume oil.
Many bottles of essential oil display the words: therapeutic grade. However, since there are no official standards for essential oils, buying one that states it is therapeutic grade does not a guarantee that the oil is actually good quality.
Knowing the source is the best way to ensure that the oil you buy is high quality.
Do a little research whenever possible. It is usually safer to buy organic essential oils since there are some official standards for using that term (although it's still not a guarantee).
One company I have been very impressed with is Young Living. They readily share information about their sources and methods.
Cautions
It is very important to use caution when beginning to use essential oils with a baby. Essential oils are very strong, so be sure to use a light hand; only one or two drops need to be mixed with water for diffusing or oil for massage.
A few points to remember:
Do not place undiluted essential oil close to baby's face.
Never used undiluted essential oil directly on baby's skin (it can burn and cause irritation).
Never use undiluted essential oil in a diffuser (the scent will be too strong).
Never ingest an essential oil.
When in doubt, don't. It's better to be safe than sorry. Test remedies containing essential oils on a small area of skin to see if any reaction may occur.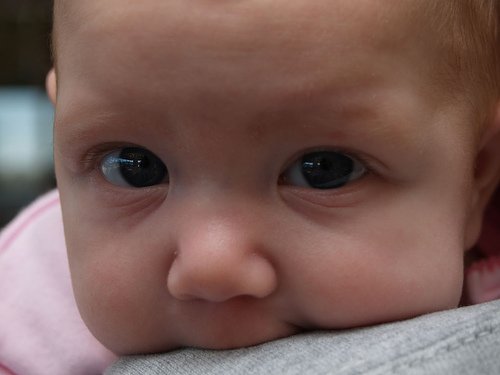 How to Use Essential Oils with Babies
Two of the easiest and most effective ways to use essential oils with babies are:
1. Diffuse essential oil in a diffuser or oil burner so it disperses through the air and is inhaled.
2. Mix essential oil with a carrier oil to create a massage/body oil for baby which will penetrate the skin.
The general guidelines are as follows:
To Diffuse Essential Oils for Baby
Add one drop of essential oil to two teaspoons of water and add to diffuser.
To Make a Massage Oil for Baby
Add one or two drops of essential oil to two tablespoons of sweet almond oil and blend. Use this mixture to give baby a relaxing massage.
Once baby is over two months old, essential oils may be increased to three to five drops per two tablespoons of oil.
A few other helpful remedies:
Bedtime Massage Oil – Using the method above, blend one drop of lavender or chamomile essential oil with two tablespoons of carrier oil.
Diaper Rash – Add one drop German Chamomile essential oil and one drop Lavender essential oil to a pint of warm water. Store in a clean jar. Dip a cotton ball into the mixture and use to wipe baby's bottom.
Homemade Calendula Salve with lavender oil is also excellent for treating diaper rash.
Herbal Baby Powder is also useful in keeping babies bottom dry while bringing the healing power of herbs to the affected area.
Colic – Diffuse one drop lavender and two drops peppermint in an oil burner filled with water.
Severe Colic – Add one drop of dill essential oil to one tablespoon of sweet almond oil. Stir to blend. Use this massage oil to rub baby's tummy gently. Also rub oil on baby's back with circular motions. (This recipe was found in The Complete Book of Essential Oils and Aromatherapy).
To Soothe and Calm – Add a drop of lavender or chamomile essential oil to a cotton ball and place inside your shirt. Hold baby and rock next to you. They will smell the scent as they are comforted by your warm body.
Safe Surface Cleaner – Add eight drops of mandarin essential oil and one cup of water to a spray bottle. Use this mixture to wipe down surfaces in baby's room.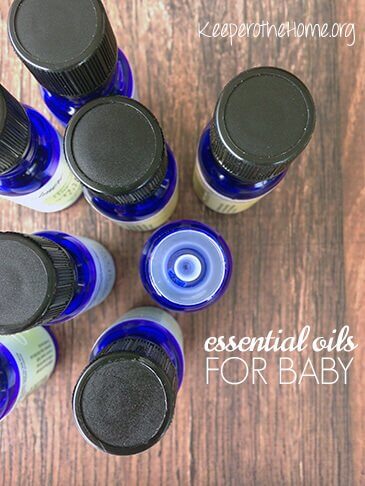 Further reading:
Using Essential Oils with Babies and Children
Essential Oil Care for Babies and Children
Natural, Homemade Baby Care
Have you used essential oils with any of your babies? If so, what are your favorite remedies?