Winners of Plan to Eat Memberships and Good Stuff to Come!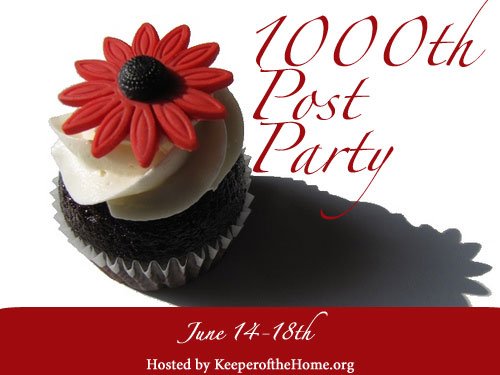 First of all, I've got two winners of a 1 year Plan to Eat meal planning membership!
Marla & Destiny!
Congrats, ladies! I hope you enjoy your membership as much as I'm enjoying mine!
To those who didn't win, I would definitely suggest that you sign up for a free 30-day trial membership if you haven't already. Give it a try and see if the drag and drop features don't help to make your menu planning an easier process!
(And if you've requested that I share my recipes with you… I promise, I will! I'm particularly busy this week, but as soon as I can I will share recipes with those who have asked me to!)
But Wait, There's More…
You will definitely want to be back here at Keeper of the Home next week, starting on Monday and every day for the rest of the week. Not that this little ol' blog isn't a happening place all the time (*smile*) but you really don't want to miss what's going on next week!
We have a big surprise for you that has been in the works since, oh, about February. (Nope, I'm not pregnant. Good guess, but not even close!)
To share our surprise with you, we decided that we needed to have a big party. A really big one.
We were brainstorming together a month or two ago, my hubby and I. We like to have bloggy meetings and have a grand time doing it. During one of these meetings, we realized that I was getting quite close to having written 1,000 posts.
1,000 posts. Wow. I didn't even know I had that much to say. (Apparently I do, and there's just no stopping it. You're all stuck with me now.)
Seemed to us that 1,000 posts was a significant milestone. Significant enough to want to throw the best ever Thank-You bash for our readers and highlight a few of the most amazing sponsors ever at the same time.
We put the two concepts together and came up with "The 1000th Post Party". (Try saying that 3 times fast.)
We began yesterday with a giveaway for a skookum ecourse. On Monday we will continue to pull out all the stops with a new, high-value giveaway (of stuff that you will LOVE) each and every day, all the way through to the next Monday when we conclude with another fantastic ecourse!!!
There is no end to the giveaway awesomeness at Keeper of the Home this month, ladies!
To top it all off, we'll finally launch… ahem, I mean announce the big surprise! (Oops… I think I just gave you a hint. :))
See you Monday!
Image by clevercupcakes