Baking Day: Filling my Freezer with "Convenience Foods"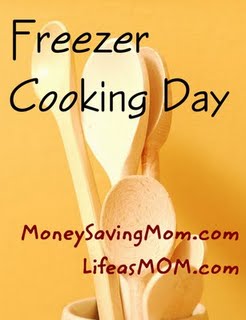 Filling your freezer with food isn't just for having a new baby or to get by during morning sickness. It's a wonderful tool that helps real mamas make real, nutritious food during regular seasons of life, without going insane. Especially those days where there just isn't enough energy and/or time to pull anything real together.
Fish Mama and Money Saving Mom (smart ladies that they are) decided to get together and co-host a "baking day", which is just their way of saying "a day where I spend all day in the kitchen preparing food so that I have time to do other things on all those other days!". It's a great idea, and one which I have often put into practice myself. So naturally, I decided to join them! My freezer is emptied out of that glorious after-baby stash that I worked so hard to make, and yet, there are still days when I wish I could just grab something from the freezer. Now I'll be able to.
Though I'll be working like a mad-woman in my kitchen all day, I will be doing my best to live-blog and Tweet what I'm doing during my baking/cooking day. I'll keep you updated on my progress as the day goes on, and if you decide to join me (well, join us– the many, many moms who have taken up this challenge together!), you can check in on my blog or on Twitter (@keeperhome) to see where I'm at, and let me know how you're doing! You'll find us all tweeting away using the hashtag #bakingday.
And here is my ambitious list of what I'd like to accomplish…
I'm making:
2 loaves soaked, yeasted bread (from Sue Gregg's grains book)
Double batch of banana-cranberry muffins
Triple batch of soaked tortillas
Double batch of granola bars
2 meals of Chicken Tetrazinni
1 big batch of meatballs
A batch of yogurt
1 large Shepherd's Pie
Dice several large, nitrite-free sausages I bought yesterday and split them into meal-sized portions
Cook 1 lb taco meat
If I have time:
Bake pumpkins for making pumpkin puree
It might be a bit much for one day, but whatever I don't get done on Tuesday I will push over to Wednedsay morning.
It sounds like fun, doesn't it? You know you want to join me! 🙂