You Tell Me: Finding the Time to Cook From Scratch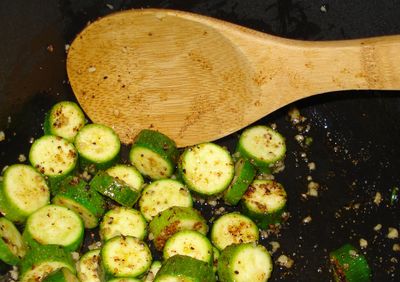 I think that one of the biggest struggles that many of us have as we seek to eat and cook only whole foods, while keeping our grocery budgets reasonable and affordable, is that it requires more time to prepare these wholesome foods.
I've heard many people argue that it doesn't really take any more time than cooking other foods, and that anyone can do it, and to a large degree, I would agree that it's true. But I won't lie and say that I don't spend more time in the kitchen than many other women I know. Preparing real foods, from scratch, takes time. That's the truth of the matter.
That said, I have learned how to streamline my time in the kitchen over the years, and I anticipate that the longer I am a homemaker, the better I will get at using my time effectively and making quality foods with less of a time investment. Some things have become second nature to me and thus seem to go quicker. Some things I make in large batches which saves me time in the long run. I've learned to multi-task better. I don't need to refer to recipes nearly as much anymore and cooking feels more intuitive, which takes some of the extra time and thought out of the process.
As I write this new ebook on feeding your family nourishing, real, whole foods on a frugal budget, one of the areas that I would love to hear from you is on the topic of finding the time to cook from scratch:
How do you do it?
What tips and tricks do you use to make better use of your time?
Do you batch cook? Have baking days? Spend certain times of the day or days of the week focusing on food prep? Do you make meals for the freezer (eg. once-a-month-cooking)?
What tools or techniques help to make your job easier? Particular kitchen appliances? Certain methods of cooking?
How do you balance your kitchen time with your other responsibilities as a wife, mom and homemaker?
Are there any resources that helped you in learning how to make homemade foods?
Anything else you think would be helpful to share!
As I said last time, my one request is that you only leave a comment for me of this nature if you are comfortable with me publishing it as a quote in my new eBook. It won't be practical for me to directly contact every single person who comments, and I would like to freely use the quotes that I think would add to the book. If you would leave a name that you are comfortable with me using when/if I quote you (it doesn't have to be your real name, and last names aren't necessary), as well as where you're from (only if you're comfortable with that), that would be fantastic!
Your responses last time were wonderful! Thank you so much to all who commented and emailed. I was so blessed to read all of your responses, and know that they will be a very valuable part of this new book!