1000th Post Party Giveaway: Eden Sustainable Cloth Diapering Package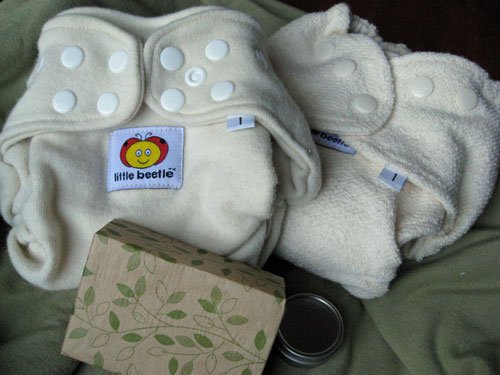 Do you love cloth diapering but wish that there was a more sustainable option?
Though I assumed that the PUL (polyurethane laminate) and microfleece fabrics used to make the cloth diapers I adore were not truly sustainable, I honestly hadn't put much thought or research into it. I was happy to have found a system that works to make cloth diapering a really fantastic option for us, and infinitely better than using disposables!
However, my friend Laura decided that she was willing to do the research and face the hard facts about most of the cloth diapers products out on the market today. Here's what she learned:
Waterproof covers, pocket diapers and All-In-Ones (AI2s) rely on synthetic materials. Polyurethane laminate (PUL), nylon, microfleece, microsuede, polyester, and microfiber are petroleum-derived materials. Neither the products nor the processes used to create them are in the best interest of babies (or the planet, for that matter).
With this knowledge, she determined that there had to be more sustainable options out there, better for babies and the earth. Lo and behold, she found some and she founded Eden Sustainable Diapering Company to share them with everyone else!
The video below showcases the products that Eden carries, and tells you a bit more about the why's and how's behind it all. You can also learn more about their mission and how they seek to be mindful stewards in every aspect of how they run their company.
Laura kindly provided me with a starter package of diapers so that I could give them a whirl. I have been using the Little Beetle Hemp Trim diaper in Size 2 on 9 mth old Johanna (she's about 18-20 lbs and delightfully chunky). I am also using the Little Beetle Organic Merino Wool Jersey Cover, also in Size 2.
I've wanted to try wool covers for a long time, but was really hesitant about how to go about properly lanolizing them and was worried that the washing process would be tedious and difficult. I was wrong! Laura came over to my house and gave me a quick tutorial on how to do it, and it was so much easier than I thought.
There are many reasons that I LOVE these diapers– they're soft and comfy, they fit well, they're highly absorbent and don't leak at night, and of course the sustainability factor.
One of the neatest things about the wool cover is that it doesn't need to be regularly washed (only once every week or two). I toss the wet hemp diaper into the wash with the rest of my diapers, but the wool cover can be used many times by simply laying it out to dry. By the time it's fully dry, it smells completely sweet and fresh and ready to use again!
Here are a few short tutorial videos that Laura has created, to show you just how fast and easy it is to care for wool:
Would you like to win your own sustainable wool and hemp diapering package?
Today I have a amazing starter package worth $59 including one Little Beetle Hemp Trim fitted diaper, one Little Beetle Organic Merino Wool Jersey Cover (both diaper and cover in your choice of size), one Wool Wash Bar, and one Lanolin Balm Trial Size.
Note: This giveaway is open to all US and Canadian residents, however at the moment, Eden only ships to Canadian addresses. If you're from the US and you're particularly interested in ordering from their site, please contact Laura directly and let her know that you'd be interested in seeing her expand into the US.

We're trying out something new this week, that will hopefully help to streamline the giveaway entry process for both us and all of you. Instead of leaving multiple comments for each entry, there is just one survey that you will complete, checking off the options that you have completed, and then you're done!
Giveaway ends Friday, June 18th at 4 pm PST. Thanks for entering! Giveaway has now ended!