Winner of the Moukisac Reusable Bag System
And the winner of the fantastic Moukisac Reusable Bag system is:
Julie (9julesa5@)
Congrats! For all those still wanting one either for yourself or to give as a Christmas gift, you can purchase them directly from the Moukisac site.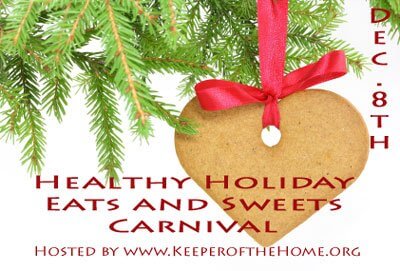 Also, don't forget that the Healthy Holiday Eats and Sweets Carnival is approaching quickly! It is this upcoming Tuesday, Dec. 8th (though I will do my best to have the carnival post up by the Monday evening for the early birds). We're looking for healthy, whole foods recipes for all sorts of holiday occasions– baked goods, special beverages (I'll be sharing amazing homemade egg nog!), Christmas dinner dishes, homemade edible gifts, breakfast casseroles, etc. As long as it's real food and something you love to eat during the holidays, you can use it! Older posts are also fine, so dig through your archives for previous but delicious recipes you've shared. I'm so looking forward to this event and the more the merrier, so spread the word!
If you haven't yet, you can still purchase a copy of Celebrate with Joy: Transform Your Christmas Season! I know for a fact that a shipment will be going out tomorrow, so if you'd like to receive it early in the month, be sure to get your order in by tonight (Wednesday).
And if you're feeling creative, why don't you add a name suggestion or two for my upcoming book? I'll leave the comments open for entries through til the end of the weekend.
One last thing: Are you still searching to earn Swagbucks? I bring it up because everyday this month, a different gift card is going "on sale" (can be bought with less swagbucks than usual). For example, today the $5 Paypal gift card can be bought for 55 bucks, instead of the usual 70. If you're new to this whole swagbucks concept, you can read more about it here. Personally, we've been really thrilled with swagbucks and actually used them to purchase the bulk of our Christmas presents this year (though you need to know that as a referrer, I earn a lot of extra swagbucks, so this accounts for why I can buy so much with them). Nonetheless, I still use my swag search every day to earn extra bucks, and we put them towards things like Amazon gift cards. It really does add up!