Eco-Friendly Grocery Shopping at its Best: Moukisac Review and Giveaway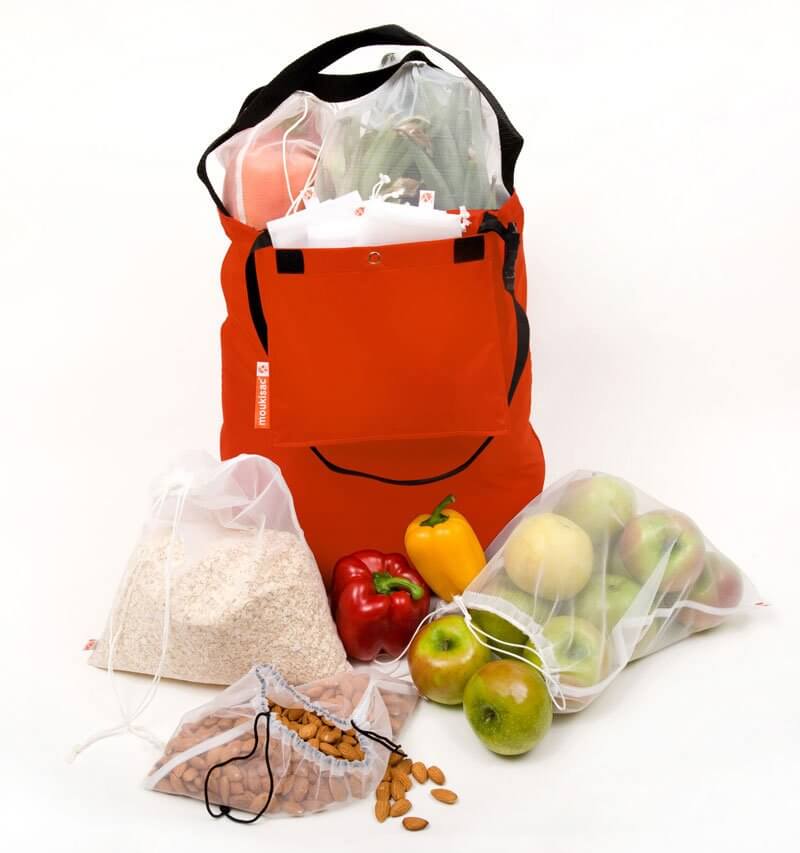 I've been using cloth shopping bags for the last couple of years whenever I go out grocery shopping, and I just love using these sturdy, reusable bags to avoid the usual plastic offerings. Still, I wasn't happy. I may have been avoiding some waste, but my beautiful fresh produce was still sitting in (what else?)… a whole lot of plastic!
Enter the Moukisac!
This little discovery made my trip to a local cranberry festival last month so very worth it! I found the Moukisac, an all-in-one pouch that covers all my grocery shopping needs.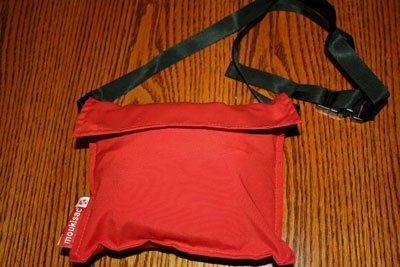 It starts out as an inconspicuous little bag that gets tossed into my diaper bag when I set out for the market.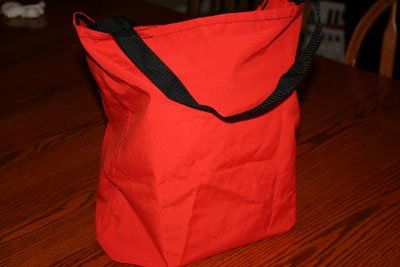 Then it transforms into a full-sized, cloth shopping bag. Nice and roomy, well-constructed and sturdy.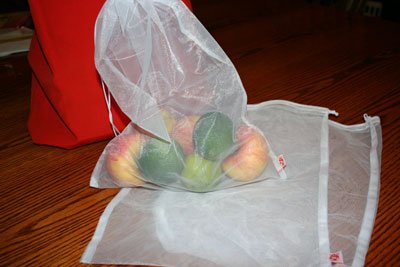 Best of all, it comes with these wonderful produce bags inside!
These gems are made of a mesh netting, with a drawstring sewn into the top of the bag. They come in 6 different sizes, from mini (could hold something like nuts) all the way up to jumbo (think pineapple-sized!). Their purpose? To replace all the clear, plastic bags that we use to hold our veggies, fruits and some bulk food items. I love it! Eco-friendly produce bags!
The set that I reviewed, the Moukisac Reusable Shopping Bag system, comes with one sturdy cloth bag (which folds up as you see above), and 4 Moukinets (mesh bags), 1 small and 3 large. The idea is that as you calmly walk frantically run out the door (along with your kiddos, sippy cups, snacks, diaper bag, cell phone and the proverbial kitchen sink), all of your shopping bag needs are contained in this one neat little pouch. Throw it over your shoulder or in your bag, and you're set. As you shop, you can pull out the mesh bags as needed (remember that not all produce needs it's own bag- a squash, a big yam, a bunch of bananas, etc.) and as you go through the checkout stand, open up your cloth bag and fill er' up with all the good stuff you've just bought.
I thought it was genius. I am really, truly crazy about mine. My only complaint? I wish I had two! 🙂
(Seriously, if you do larger shopping trips at one time, which many busy mamas do, you'd probably want to own more than one system. The other great option is that you can purchase the Moukinets in sets of their own, according to your size preference, and then use them with any cloth bags that you already own!)
And just for fun (because yes, I've been having fun with mine!), here are a few other amazingly useful ways to use your Moukinet mesh bags in the kitchen: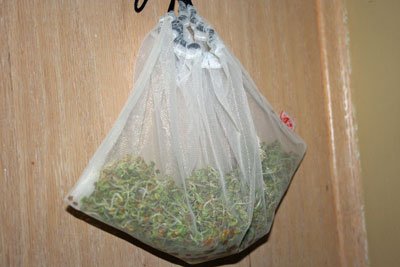 I was tickled to discover that this bag (I used the Small size) makes a perfect sprouting bag! I used my regular method for making sprouts, but did it in the bag instead of in a jar. I hung it up by the drawstrings on a small nail, over my dish drying rack. Worked like a charm!
Yet another use for those who are raw milk connoisseurs… after souring my raw milk in a jar on the counter, I poured it through the size Large bag over top of a glass bowl, to catch all of the milk solids from the separated milk/whey. By hanging it up in the same manner, it provided the ideal method to drain the whey out of my raw cream cheese!
A few other uses for Moukinets– sprout grains or beans, strain homemade nut milks, dry herbs or spices, etc. not to mention using it around the house in some of these other ways.
To top it all off, not only do these bags offer a really practical solution for those wishing to avoid plastic at the grocery store, but they are also 100% locally made here in Vancouver, BC by entrepreneur Marie Naubert (aka Mouki)!
Would you like to win your own Moukisac Reusable Bag System??? (I thought you might!)
Here's how to enter (and remember to leave each additional entry in a separate comment, to ensure that they are all included when I draw a winner):
1) Leave me a comment tell me what you like best about the bags, and which color you would likes your in if you were to win (visit the Moukisac online store).
2) Tweet about this giveaway.
3) Link to the giveaway on Facebook.
4) Blog about this giveaway on your own blog (leave post url, please)
5) Follow me on Twitter.
6) Subscribe to my blog (or let me know that you already subscribe)
7) Become a member of the Keeper of the Home community forum, or if you're already a member, start a new topic.
Giveaway ends Friday, November 27 at 4pm.
This giveaway is now closed. Thanks to all who entered- winner to be announced soon!