Celebrate with Joy: Week 1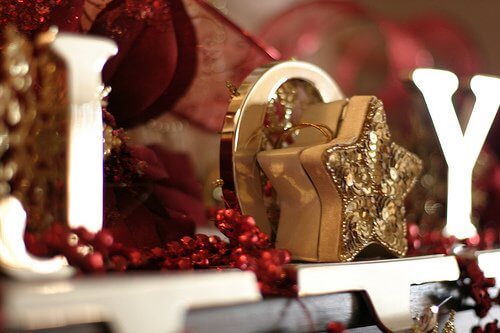 What is Christmas? It is not a winter festival. It is not the inevitable annual energy drain. It is not a few holidays to give us a break. It is not a time to fill our children's heads with "visions of sugar plums."

Christmas is a season of holy days (the original meanings of "holidays"), filled with rich symbolism. It is a many sided object lesson using the Symbols of the Season to give us glimpses of heaven's glory. It is a time to fill our children's heads with "visions of God's incomparable Gift." Christmas is profound truth wrapped in plain packages.

What are some of these profound truths? Eternity in an infant. Heaven's bridge in a baby. The God-man in a manger. Every man's hope wrapped in homespun handiwork. Enough material for a lifetime of meditation.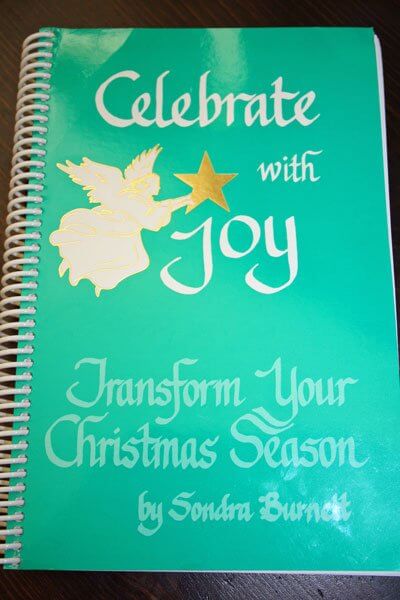 These are some of the opening thoughts in the book Celebrate with Joy: Transform Your Christmas Season by my dear friend, Sondra Burnett. Many years ago, when her girls were still young (her four lovely, homeschooled daughters are now grown) she had a vision to write a book that would encourage and equip families to transform their Christmas from a time of frazzled (and often meaningless) activity into a time of meditation, family togetherness, special memories and most of all, growing in understanding of and love for the magnificent God who came to earth to become a sacrifice for all.
This year, I have decided to use Sondra's book in order to learn some unique ways to teach our children about the meaning of Christmas, and to help our family to celebrate Christmas in a deeper and richer way than ever before! Each Tuesday for the next 5 weeks, I will be sharing something from the book that I have gleaned or that we are doing as a family. For those who would love to have a resource like this for your own family, I will also be selling copies of Sondra's book (more on that in a minute).
Chapter 2: Advent… With Your Family
This chapter is just brimming with different ways to celebrate the season of Advent, which typically lasts from Nov.30 until Dec.24 (some traditions begin it slightly earlier). Sondra notes that "Advent preparations put our Christmas celebrations into proper perspective. Observing Advent causes us to take the time to spiritually prepare ourselves and grow into the joy of Christmas."
Here are a few of her ideas: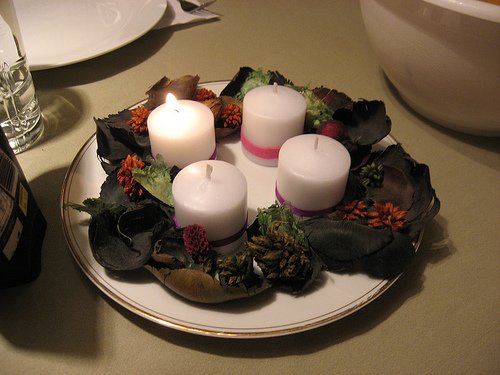 Advent Wreath- The wreath is a popular and familiar symbol of advent, with 4 candles to be lit throughout the 4 weeks of advent. It is meant to give us a focal point and to be used during times of worship and adoration. Many churches include an advent wreath in their service or somewhere at the front of the church, and having one in your own home is a wonderful way to make advent more tangible. Wreaths are traditionally made of evergreens, with 3 purple candles and 1 pink candle (though you can use any color you like). However, there are many different options- a decorated styrofoam wreath, an artificial evergreen wreath, even a bread dough wreath, or you could simple make your own with fresh evergreen boughs. I have a wreath made up of small branches of wood, woven together. I am going to decorate it with sprigs of evergreen and put candle holders in its center. A large candle can also be placed in the center to light on Christmas day.
Advent Devotions
There are so many possible variations, but here are a few that Sondra offers:
1) Use your Advent wreath with the traditional 4 candles, and each week, have a special family devotional time where you light one additional candle per week (1 the first week, 2 the second week, and so on).
2) If you are starting late or the month has become busier than intended, you can use the wreath each day for 7 days, during the week that precedes Christmas.To use this variation, you might like to use 7 candles instead of the traditional 4.
3) Another option is to use 24 candles (you may not want to use a wreath, but perhaps set up your 24 candles in a larger display that includes your wreath, perhaps on a side table or the top of a piano). As you follow a daily advent devotion for 24 days, you can light 1 new candle each day. You could also include your nativity scene in a display like this.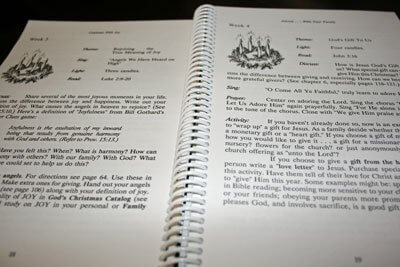 Celebrate with Joy includes a wide variety of Advent month devotionals to choose from:
4 slightly longer family devotions for use with your wreath, to be done each Sunday leading up until Christmas
Advent activities: a traveling advent calendar (for those who will be on holidays for much of the time), an advent chain (a paper link chain that is hung up somewhere prominent, and each day you remove one link to show that Christ's birth is approaching), advent chain memory verses (writing one memory verse and decorating each link on the chain), using an advent calendar (that you open daily) as a way to remember to pray for some specific people during this season, making an advent scrapbook or spiritual journal, etc… so many unique ways to add to this special time!
Advent daily devotions. There are two different plans included, each of which has 24 devotions: 1) Names of Jesus and 2) Symbols of the Season. Short and simple, these offer verses to read, questions to discuss, objects for an object lesson, or an activity to do.
Personally, instead of the Jesse Tree that we did last year, we are going to try something different and instead use the Names of Jesus daily devotional, which includes a few verses and a simple object lesson. I am going to create a Names of Jesus Garland with the names from the devotional, and we can add a new name to our garland each day.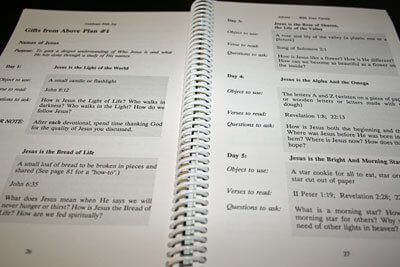 For those looking for some devotionals to begin with their family right away, here are a few links to some that I have found online (and please note that I have not been able to go through each one and check for sound doctrine, so be discerning as you select one!):
Over @ Kitchen Stewardship, Katie is putting up an Advent Daily Dose, which will be "a very short reflection, encouragement, lesson or challenge for you to read every weekday of Advent." As well, her first daily dose included a couple of links to Jesse Tree devotionals available (free) online.
Last year I posted on doing a Jesse Tree, and in the post I linked to where you can purchase a wonderful ebook of devotions as well as simple paper ornament cutouts.
Family Jesse Tree Devotions @ Reformed Church in America website
Better yet, you can purchase Sondra's book, Celebrate with Joy: Transform Your Christmas Season for only $24.95 US including shipping!
Celebrate with Joy is a 192-page spiral bound book that includes:
Advent resources, as discussed above
Symbols of the Season- their meanings, how to use them
A look at Christmas traditions- their value, ones worth keeping, how we can plan to establish unique family traditions
Gala Gatherings- meaningful Christmas parties and get-togethers, including ideas for evangelism as well
Grateful Giving and Gifts From the Heart
The Twelve Nights of Christmas- celebrating from December 25-January 6 (a lesser known Christian holiday called Epiphany)
More Than Just Recipes
Books can be purchased through my site only, and will be sent directly to you as quickly as we can get them out so that you can still use them for as much of the Christmas season as possible! Supplies are limited, so if you'd like to get one, make sure to place your order quickly.
How will your family be celebrating Advent? Any other creative wreath ideas?