Why This Pen and Paper Gal is Turning to Digital Organization (A Review of the New ListPlanIt)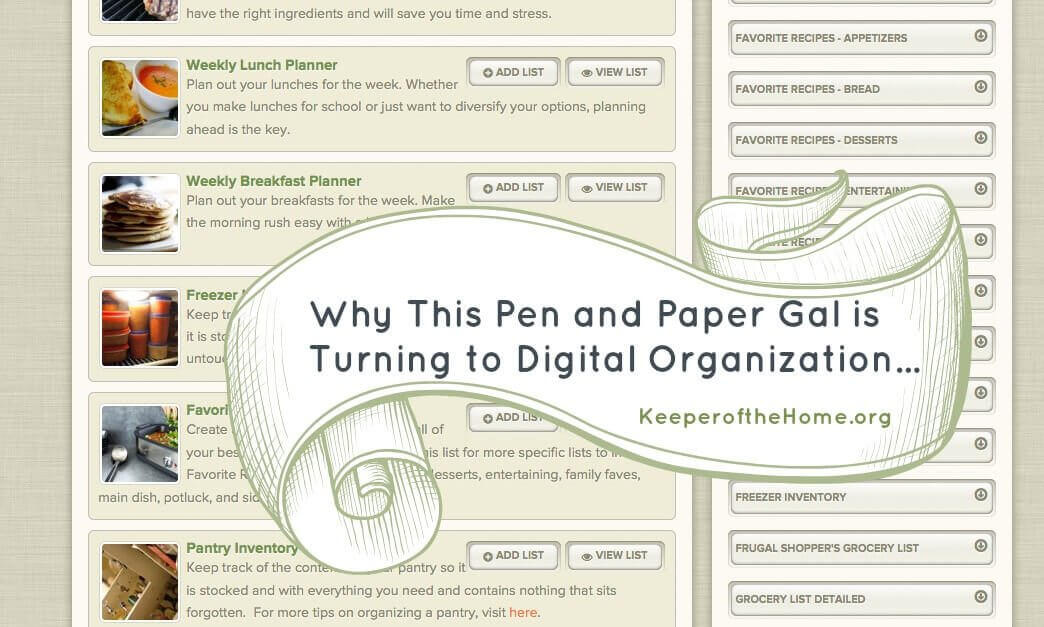 One of my favorite ways to stay organized has just gotten even better.
I've been using ListPlanIt's printable lists and organizational pages in my homemaking binder, menu plans on my fridge, shopping lists tucked into my purse, and anywhere else I needed them for the last several years.
Personally, I still love printable lists. I'm a pen and paper gal at heart.
These days, though, I'm sort of without my pen and paper. As we're traveling this year, we don't have printer access, nor do I have space to carry a homemaking binder, lists for my business tasks, general to-do lists, written menu plans, or anything to organize homeschooling.
For me, going all digital seems entirely practical and even necessary.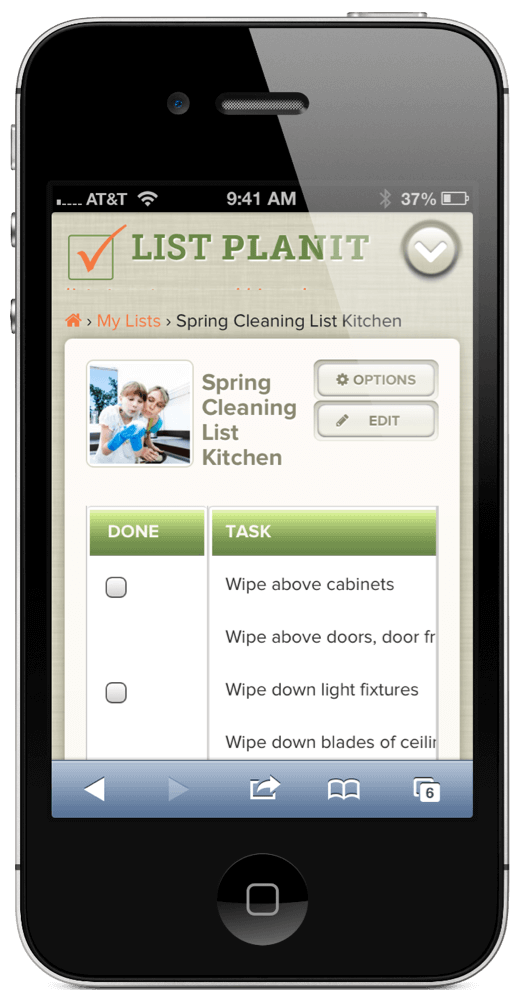 We love our devices.
Most homemakers and women these days are moving more towards digital methods of organization and list making, and I can understand why. Save money on printing, have everything in one device right where you need it, less paper mess to keep tidy… it just makes sense!
Recognizing that this was the direction where women were headed, Jennifer (a mom and homemaker, and the creator of ListPlanIt) set out to change the model of the hundreds of lists that she's made to help make life simpler.
Now, instead of printing out the ones that you want (although if you still want to print your lists, go right ahead!), you can access any of your lists on any of your devices (computer, iPad, smart phone, etc.) at any time, any place. It's brilliant!
An inside look at how the new ListPlanIt works
I took some time this week to browse through the new-and-improved ListPlanIt website and see how this digital list thing really works.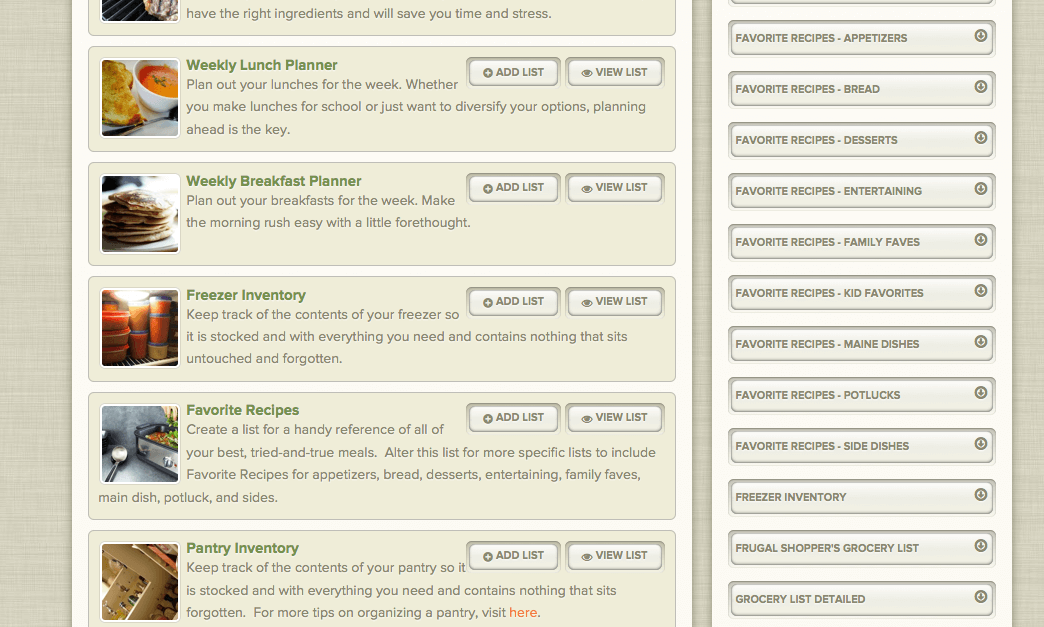 This is a good place to start. At this point, I'm browsing within one of the major categories, looking for lists that I would like to add to my account.
I'm in Meal Planning right now. Other list categories include:
Time management
Business planning
Contact information
Family matters
Financial planning
Holidays & occasions
Home management
Moving
Personal interests
Student planning
Travel planning
Each category consists of a huge selection of lists. Looking for something in particular? It's probably already in there.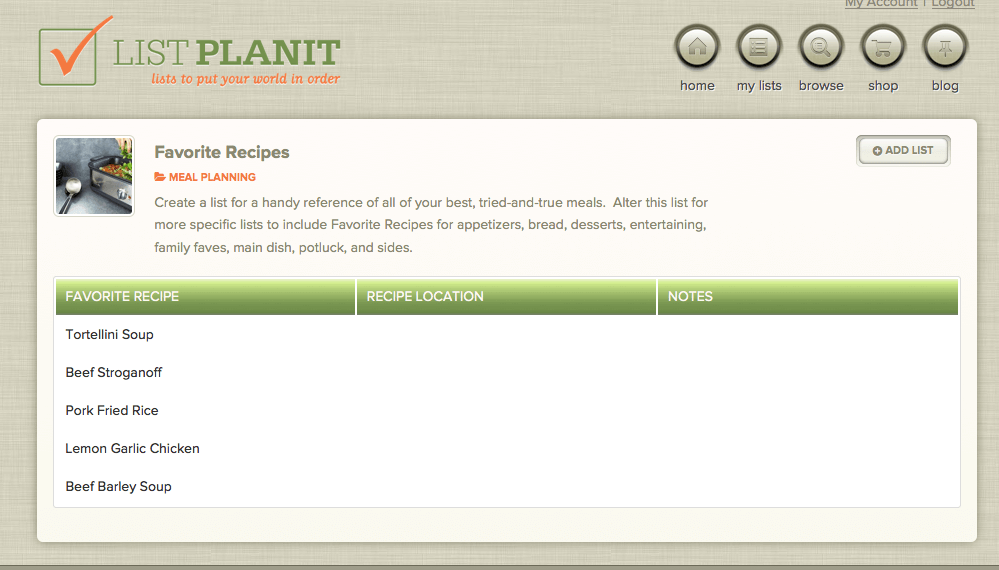 Once you find a list that looks like the one you need (or one that you want to stick in My Lists to use at a later time), you simply click "Add List". That's it! Now it's a part of your lists and you can retrieve it in seconds.
The first list I chose is "Favorite Recipes".
The specific purpose I had in mind is that I've recently begun to implement the Trim Healthy Mama eating lifestyle (at least, as much as I can while traveling) and I wanted a place to record the specific meals and recipes that are working for me right now so that I could see them at a glance when feeling hungry or frustrated. Hopefully this will help me not to cheat!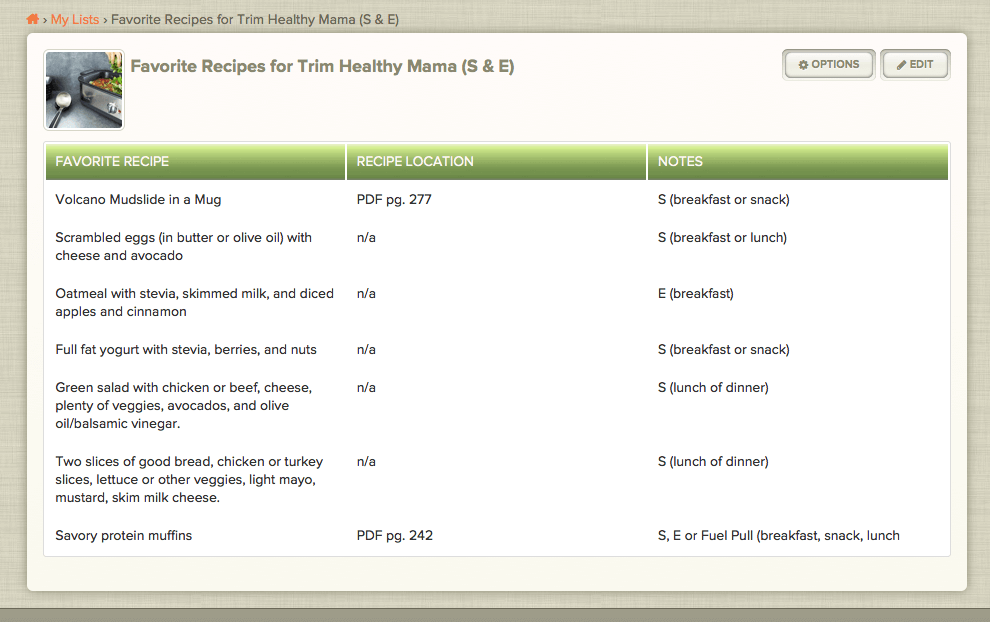 I clicked on "Edit" and now you can see how I've begun to personalize the list. I can save it for now, then go back and add more recipes and meal ideas later, as they come to me.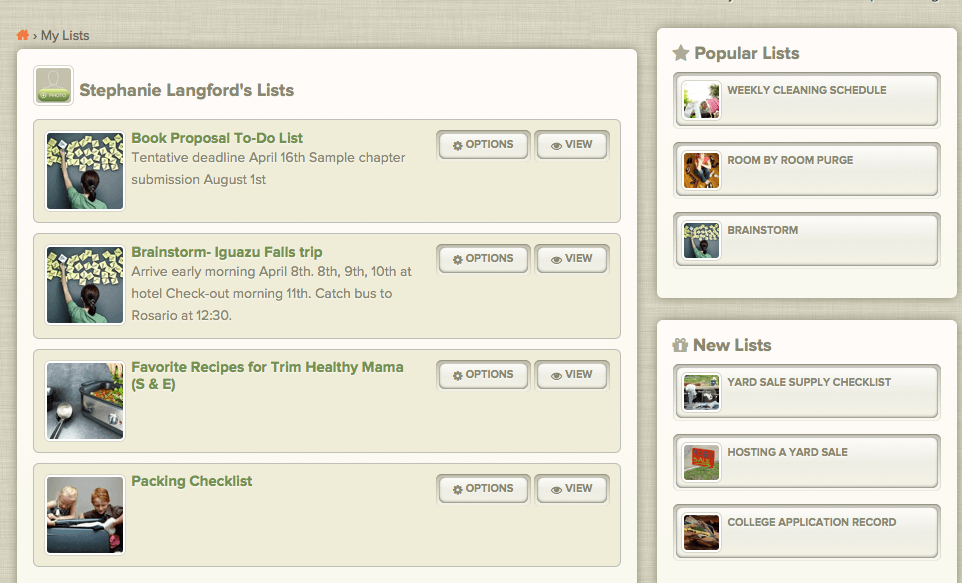 When I want to see any of my lists, I go to "My Lists" and can take a look at all of the lists I've currently saved in my account.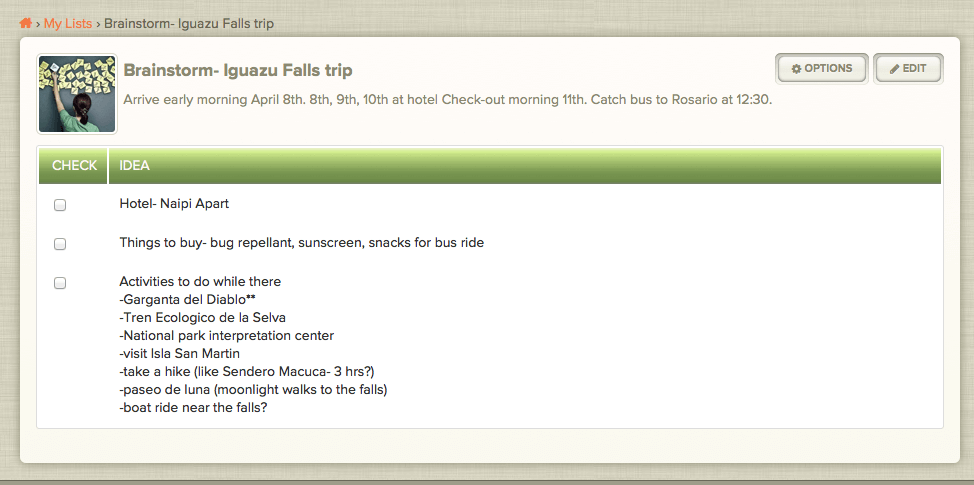 Here's another example of a list that I made. I'm planning our family's trip to visit Iguazu Falls in Argentina, and I needed a place to keep some notes for myself.
I chose the list "Brainstorm" which is such a versatile list and could be used for any number of things: planning a birthday party, business ideas, notes on a renovation or home decor project, or what you'd like to plant in the garden before you buy your seeds and seedlings.
The thing that I've always loved about ListPlanIt is that if you have a list you want to create, chances are that the list has already been thought of and made for you. With the new design, I feel like it's even easier than ever to find the perfect list and then edit it to make it exactly what you need.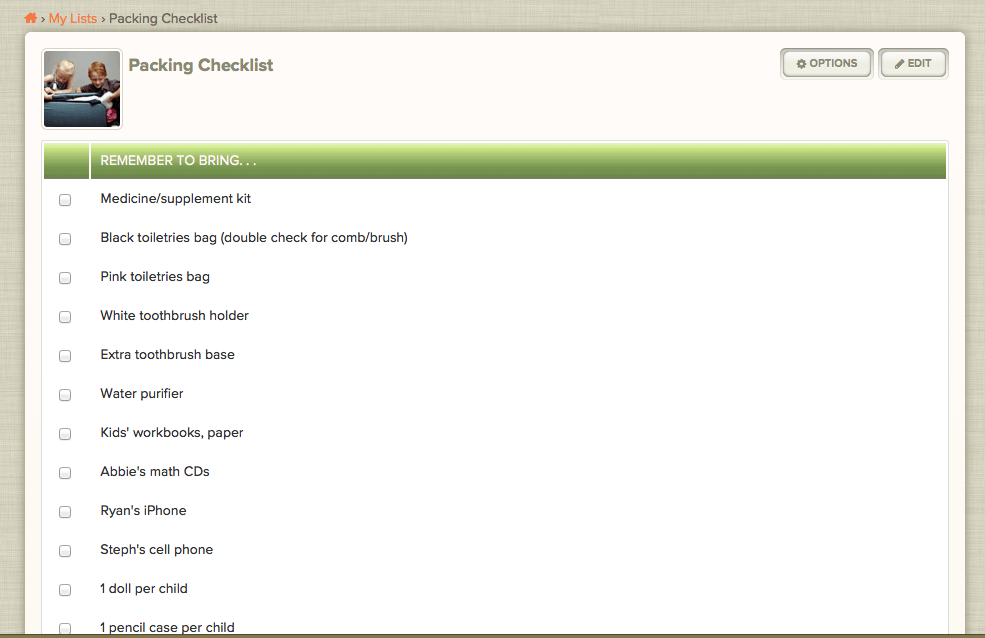 One more real-life example of how I'm using ListPlanIt… this is a travel packing list.
Even for those who aren't living out of backpacks like we are (soooo, that would be all of the sane people), wouldn't it be handy to create a standard packing list that you use every time you go camping, or take a weekend trip to visit the grandparents, or help your husband pack for a business trip? No more racking your brain to remember what you need to pack and bring- just find your list and get going!
I've used printable packing lists previously and what makes these online lists even better is that when I'm editing and creating my list, I can keep going, adding as many items as I like. With paper, you run out of lines or have to start printing multiple sheets. With digital, there is no limit. My lists can be as short or as long as I want them to be.
The verdict is in.
I like the new ListPlanIt. A lot.
This is something I can see myself using frequently.
For me, it's the sheer accessibility of the lists, plus the ease with which they can be edited  to suit my needs, that makes them utterly practical and helpful. At a mere $5 per month, I personally find it to be a no-brainer decision.
Being a mom, wife and homemaker is a full-to-overflowing job, with so many details and things to keep track of. For me to stay sane and manage it all in an orderly fashion (did I mention organization does NOT come naturally to me?), I need tools like this to help me keep it all together.
Want to try it out for yourself?
You can now test drive a ListPlanIt membership for 30 days, for free!
You get access to every single list, and during that month you can create as many lists as your heart desires. Sign up for your free membership here!
Because ListPlanIt loves the homemakers and moms here at Keeper of the Home (we love you, too, Jennifer- thanks for keeping us organized!), she's offering a couple code for all of my readers:
Get a 20% discount off membership, beginning with your 30-day free trial, and then it becomes just $4/month! Use code "KOTH20" to get your discount.
Disclosure: Although I have previously purchased a ListPlanIt membership out of my own pocket, this time I was given a free membership so that I could explore it and tell you what I thought. This post is generously sponsored by ListPlanIt, which simply means they paid and asked me to write about their website, but they didn't tell me what to say or how to say it. That part, ladies, is all me. And I only recommend things glowingly if I really like and use them, and in this case, I like it and I use it, hence the glowingness.