Creating a Homemaking Binder
**We're just back from Seattle after what has been a crazy week and a half! My blog schedule for January is now a bit off and I need to reassess it, but I will continue to putter along on my organizational projects that I've begun. More recipe organizing, and yes, the ListPlanIt download lists and giveaway, are soon to come. But first, here's a glimpse into the homemaking binder that I've begun…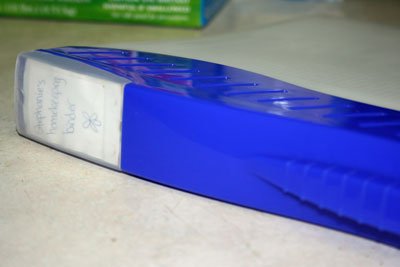 My simple binder. Nothing fancy. That white rectangle says "Stephanie's Homemaking Binder". No cutesy decorations, though I did draw a little flower. Does that count? 🙂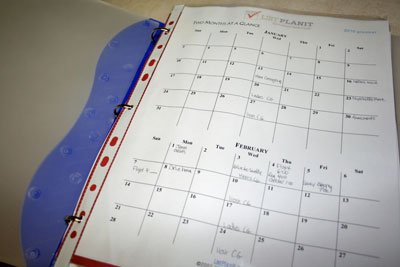 First page is a 2 month at-a-glance calendar. I use this just for set appointments (doctors/dentist, hosting caregroup, coffee with a friend, helping someone move, bringing a meal, etc.).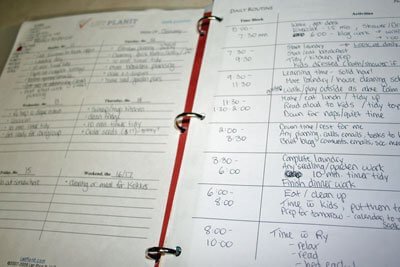 Next is my daily routine (sorry, a few of the items are cut off on the right hand side, if you were trying to get a peek into my oh-so-interesting life!). The page to the left is my weekly to-do list (it usually comes after the routine, but I pulled it out to show you). I am working hard to limit my to-do's to only 6 things a day, of items like cleaning, phone calls, projects, errands, etc. that aren't part of my routine. And yes, I am attempting to get myself into the habit of getting up at the insanely early hour of 5 am to do my blog work before the family is up (currently, I'm averaging 5:30-6:00, but I'm getting closer!).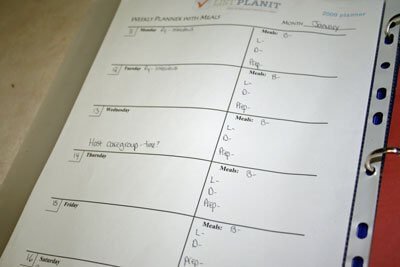 My weekly planner, with my meals down the side. This was the page that I began on Sunday night last week, before Ry went into the hospital so it was never completed. Usually I would add in all of our meals, as well as any meal prep that I need to do for future meals (thaw meat, soak grains or beans, etc.). The left isn't for my to-do's (because that's already covered above) but is a place to reinforce for myself any appointments or activities happening on a given day, to note that my husband is gone for dinner, that we'll have extra guests, that it is someone's birthday, that sort of thing.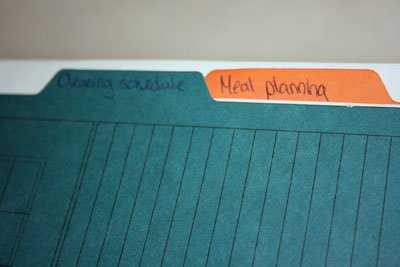 Some of the dividing tabs in my binder. Stephanie's words of wisdom to photographers out there… don't try taking pictures at night without your contacts lenses in, because yes, you will misjudge whether your images are in focus!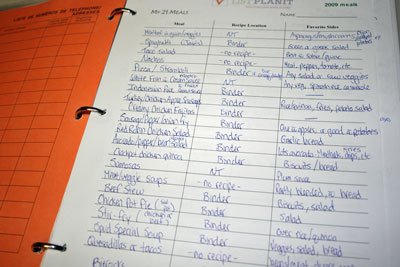 A familiar looking list (my 21 meals). This is the first page in my meal planning section. Behind this are all of my Favorite Recipes lists for easy reference. I don't keep my monthly meal planning calendar in this binder, but rather on my fridge in a clip magnet so that I can always glance at it.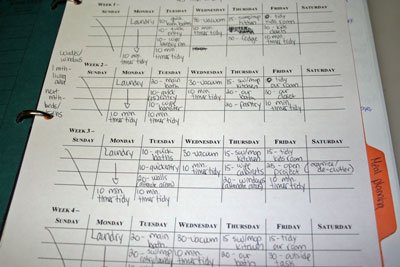 My newest cleaning schedule. I made this by listing out all of the cleaning tasks that I need to/would like to accomplish daily, weekly and monthly, and approximately how long they take. I slotted them in over the course of the month, trying to include no more than 45-50 minutes of cleaning per day, which includes my 10 minute timer tidy every day. This is a time for taking a basket around the house to gather random items, return them to their homes, and just give a quick once-over to the whole house. Monday is entirely devoted to laundry, though I will still finish up bits of other laundry throughout the week (like cloth diapers). I'm just beginning to try using this schedule, so I'll let you know how it goes.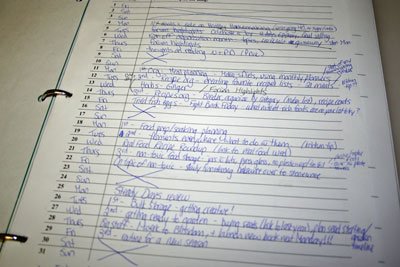 My blog monthly topic planner. It's now entirely off due to losing a lot of time over the last week and a bit, but I'll readjust it. It is sooo helpful to plan like this, fellow bloggers! Helps me to be much more intentional!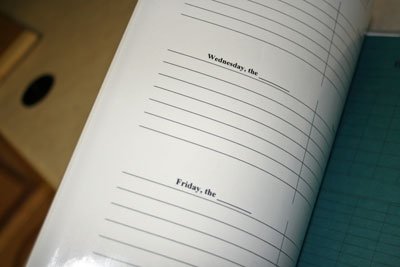 This is my attempt to show you the plastic page protectors that are towards the end of the binder, holding extra page printouts so that I don't need to print new pages each week.
Also in my binder are garden planning sheets, clothing inventory lists for each family member (which I've begun but not completed), a list of current household projects I'm working on or would like to work on, as well as some pages that I don't currently use for my devotional times, but have in the past and might use again in the future (Bible reading plan, questions I like to meditate on).
I just finished reading my copy of Steady Days: A Journey Toward Intentional, Professional Motherhood by Jamie C. Martin (aka Steady Mom), and she gave me a few more wonderful ideas for adding to my binder, so I hope to implement some of those and share them soon, perhaps when I review her encouraging book!
There you have it. The simple beginnings of my homemaking binder.
Side note: All of these pages came from List PlanIt which provides fantastic printouts to create your own homemaking binder!
What's in your homemaking binder? Do you use one at all? Why or why not?
Disclosure: This post includes affiliate links.