Why Our Family Leans Towards Classical Education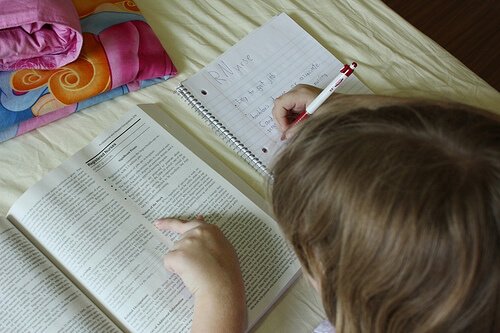 If you currently homeschool, or have spent any amount of time looking into it, you'll know that there is a veritable smorgasbord of theories and methods out there.
For our family, although we still throw in a few eclectic options and have also been influenced by educators like Charlotte Mason, we tend towards a Classical education approach.
Classical education places primary importance on the fundamentals of learning, and there is a certain rigor and discipline about it, with a focus on developing character and virtue.
It is based on "The Trivium", a pattern of learning which is based on the developmental stages and training of the human mind. In other words, it takes the natural ways that a child's mind develops and works with it.
The 3 Stages of the Trivium
Grammar (birth to ages 9 or 10): Language arts (grammar, spelling, phonics, copywork, reading) and mathematic facts will make up much of the work. Beyond that, these early years are focused on exposing children to a wide range of literature and facts in all areas of study, encouraging memorization, and overall just letting young children soak up knowledge as the sponges that they are at this age.
Logic (ages 10- 13): Students begin to ask "why", and learn about cause and effect, how different subjects and events relate to each other, and begin to learn logic and how to approach subjects more analytically.
Rhetoric (ages 14-18): The final stage is combines the knowledge of the Grammar stage with the logic and abstract thinking of the Logic stage, and they begin to write and speak effectively, creatively and persuasively. It is also the time of more specialized study and training, as the student moves into adulthood.
For a much more detailed look at what Classical education is, read this article.

What We Love About This Approach
Classical education (in our opinion) works so well with the way that children naturally develop and mature, as the stages of learning really match developmental stages.
It's a rigorous academic style of learning, one which we think will give our children all of the necessary skills that they need to apply themselves to difficult tasks and to be able to learn anything that they choose to put their mind to.
We hope that it will help to develop in them self-discipline, hard work ethic, and strong character.
My husband and I both appreciate a structured approach. Some parents can unschool amazingly, but I think we would really struggle to do it well.
Although I firmly believe ANY parent can homeschool, not just one that has a background in education, we really appreciate this strategic approach (and especially the way it is outlined in The Well-Trained Mind– more on this in a minute), because it helps us to make sure that we don't leave any gaping holes in our kids' education.
How Classical Education Looks in Our Home
Well, it's not perfect!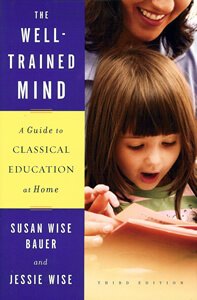 When I first read The Well-Trained Mind: A Guide to Classical Education at Home (which looks at each stage, and each subject within each stage, giving detailed curriculum and study guidelines), I was worried. Even in the 1st and 2nd grades, the sheer amount of information, curriculum and tasks that needed to be worked through looked more than a little daunting to this novice homeschooling mom!
I was so relieved when I read Susan Wise Bauer's description of a day-in-the-life when she also had young ones, including babies and toddlers in the mix.
If you're feeling like you can't match up with what you should be doing, read some of these examples of real days of Classical Educating moms, and breathe a huge sigh of relief.
Here's what we've been doing this past year for our 7 year old daughter (our other children aren't doing any formal schooling yet, though of course, they're learning all the time!):
Using First Language Lessons (grammar, memorization), Writing With Ease (narration/copywork/writing), Explode the Code (phonics).
Abbie reads and reads and reads. Sometimes it's random history or science books out of our large home library. Sometimes it's various novels (she reads everything from C.S. Lewis to The Boxcar Children series). She's now reading the Bible by herself as well.
We use Story of the World for our history, and we're on Year 1: Ancients.
She studies piano one hour per week, as well as drums 45 minutes per week, and practices both daily (or at least, we try for daily). She is also taking some casual art lessons from her aunt, who is a wonderful artist, and she does plenty of her own drawings and other crafts at home.
She is not doing Latin or Greek yet, but she is working on learning Spanish. She studies it with her Dad on Friday mornings, and then we have a Spanish tutor come to our home to work with the whole family two hours every Wednesday evening.
Our science has been a mixed bag this year. We had already done some human biology in previous years (biology usually goes along with studying the Ancients in history), so we planned to study Habitats (which hasn't happened), Rocks and Minerals (we've done this somewhat), and Simple Machines (we completed this unit). She's now taking an 8-week course one morning a week with a small group of Christian homeschool students, and their theme is Water.
We have LOVED using Legends and Leagues to study geography. She's learned basics of mapping (N/S/E/W, equator, lattitude/longtiude, how to read and draw maps, etc.), the continents and oceans, among other things.
She's almost completed Math-U-See Beta and is using the web program Mathletics to do extra math practice and drilling.
It you think we've got this whole Classical Education thing under control, we don't. I'll be honest and say that we had a very busy past two years between our home-businesses, having a fourth baby, etc. If you compared what we've done and are currently doing with where we technically should be, you'd find that:
We're over a year behind in history (if we were following the 4-year rotation properly, we would be on Year 2 by now)
We're going to have to carry most of our Language Arts into the summer.
Science was on and off this year, because I was having trouble fitting everything in.
Our focus on memorization was quite weak.
We haven't read nearly as many supplemental history and ancient literature books from the library as I wanted to.
Did I fail in my education goals this year? Although there were times this year when I would have told you yes, I think I'm coming around to see that although I didn't achieve everything I set out to do, I didn't fail, either. We've been strong in some areas, and weak in others. Overall, she's growing and developing and being exposed to the foundations of learning and vast amounts of knowledge.
This is just as much of  a learning process for me, as I push myself to do the best I can for my children, but also give myself grace and trust the results with God, and not myself. I'm not perfect, as a mother or as a homeschooler, but the One in whom I entrust my children's ultimate care to… He is perfect and completely trustworthy and He has plans for their good and His glory, no matter what my failings may be.
What I'm Excited About This Weekend…
I am so grateful to be heading out to Williamsburg, VA (in fact, I'm in the air as you read this post), where I will be spending the weekend with Susan Wise Bauer, a well-known author in the realm of Classical education, along with fellow homeschooling moms and bloggers, Tsh of Simple Mom, Jessica of Life as Mom, Mandi of Life…Your Way, and Heidi of Mt. Hope Chronicles.
We'll be visiting the headquarters of Peace Hill Press and checking out all of the curriculum they offer (which includes Story of the World, First Language Lessons, among many others).
We'll also be talking… a lot. The daily ins and outs of homeschooling, the bigger picture of Classical education, the balance of mothering and homeschooling and homemaking and even working or running a business. 
I'd love to bring along your questions this weekend. Where are you at with homeschooling? What are your struggles? What type of approach have you taken? What would you like to know about Classical education and what it looks like to put it into practice?
When I return, I'll be writing several posts, sharing some answers to your questions and interesting aspects of our discussions and time spent together!
What questions have I missed? Tell us a bit more about your own homeschooling journey and the questions that you have!
I'm so thankful to TriLight Health for their partial sponsorship of my trip to Virginia! You may have noticed me mention TriLight before, and that's because I'm such a big fan of their herbal liquid remedies and supplements. Our family uses them frequently, and they're one of my top recommendations for those wanting to use herbs for better health. Look forward to a 48-hour giveaway from TriLight Health coming up this weekend!