Safe Water This Summer: Win Sport Bottles With Built-In Filters!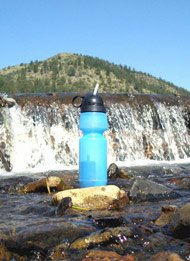 Several months ago I talked about the importance of water filtration. I shared the portable water filtration system that our family uses and loves, the Berkey Light.
Much as I love my large counter-top filter, and it is light and portable enough to use for emergencies or even to bring camping if I wanted to, there are times when it simply isn't helpful or practical. Like travelling somewhere with a questionable water supply, or a hiking trip, or even a full day summer outing where you will want to refill water bottles and not have to lug around a huge jug of pre-filtered water.
This is the Sport Berkey Water Bottle that I have been trying out from LPC Survival, one of this blog's fantastic sponsors and a retailer of Berkey Water Filters.
I know, first thought is that it's plastic and I don't love that fact any more than many of you do. It is BPA-free, though, and the website states that it does not leach plasticizers into the water. I haven't noticed any plastic taste in the water at all, and since I am a stainless steel gal, you would think that if it was in there, I would notice it.
What makes these bottles really unique is not whether they're plastic or BPA-free, but rather the fact that they have a built-in, heavy duty water filtration element. It is a miniature version of the filter elements used in the larger Berkeys.
We have a Berkey Light filtration system in our kitchen, and we love, love, love it. The water tastes pure and fresh, but without the minerals being stripped from it. I feel good giving this water to my kids, the science behind these filters gets a thumbs-up from me, and guests regularly comment on what clean tasting water it is.
The same filters in my larger system are exactly the same as the smaller filter used in the sport bottle. Here's what the website says about the power of these little filters:
The Sport Berkey Portable Water Purifier Eliminates or Reduces up to 99.9% of:

Unpleasant taste and odors, cloudiness, silt, sediment and chlorine.

Toxic chemicals: Trihalomethanes, VOCs, detergents, pesticides, etc.

Harmful microscopic pathogens: Cryptosporidium, Giardia, E-coli 99.99999% and other pathogenic bacteria.

Heavy metals: Aluminum, Cadmium, Chromium, Copper, Lead, and Mercury.

Radiologicals: Radon 222
How Does it Work?
Basically, you just fill it up with water. Any water- from a kitchen tap, from a water fountain, even from a mountain stream (because yes, the filter can handle bacteria, viruses, parasites, etc.).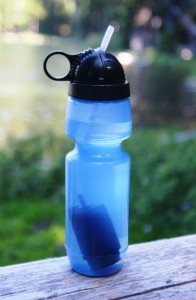 As you suck up the water through the straw, it goes through the filter and you get only fresh, clean tasting water.
Just like the larger filter elements, these smaller ones can be used over and over again for years, and washed with a dish scrub pad when they begin to show sediment on the outside or the filter speed slows down.
The bottles have an easy-to-use flip top that covers the straw (which is attached to the filter). When you first see and feel the bottle, it seems a bit bizarre to have the filter dangling like it is, but once the bottle is full of water you don't really notice that it's there anymore. I've also been able to carry the bottle in my purse and haven't noticed any leaking issues to this point, a definite plus for me.
Aside from regular use as a water bottle, they are also an idea thing to have on hand for emergencies when a larger system would be impractical. Although I am not willing to test it out for the sake of product review (bloggers do have their limits, you know!) the idea is that with such a thorough filtration system you could feasibly use water in any survival situation, dirty, contaminated, etc. and expect to be as well-protected as possible rather than putting yourself or your family at risk by drinking unsanitary water (which, by the way, is a major cause of much of the disease and death in developing nations or during natural disasters).
Would You Like to Win Your Own Sport Berkey Water Bottle?
I have 2 bottles ($49.98 value) to give away to each of two winners! Here's how to get entered:
(Please leave each entry as a separate comment)
1. Check out how the Berkey filters work and tell me why you'd like to win these Sport Berkey bottles!
2. Subscribe to Keeper of the Home by RSS feed or by email (and be entered to win our monthly email subscriber-only giveaways!).
3. Share about this giveaway through your blog or favorite social media, or follow LPC Survival on Facebook, Twitter or on their blog.
Giveaway is now close. Thanks for entering!
Disclosure: This giveaway was generously sponsored by LPC Survival, retailers of Berkey Water Filters and other survival products. I also received Sport Berkey bottles for the purpose of review.