Papas Chorreadas (Creamy Potatoes) Recipe
With all of the extra food that I bought and made last week, between the deals on organic dairy and some extra seasonal produce that I bought, I decided not to go shopping this week, but instead work on using up everything that I have on hand.
Every once in a while, I find this to be such a helpful activity, in forcing me to get resourceful and creative with what I have, learning to make substitutions in recipes, trying out new recipes, and just cleaning out my fridge in general. Here's what I came up with:
Monday: Quiche with canned salmon, peppers, and kale (I use the standard Better Homes and Gardens recipe, and just tweak it depending on what I have on hand), plus a leafy salad.
Tuesday: Pasta Melanzana (I need to use up an eggplant, and I will use kale instead of spinach, because that's what I have) with broccoli salad.
Wednesday: At a church event.
Thursday: Breaded whitefish (I'm using frozen cod) and Papas Chorreadas (this recipe was recycled from last week, as we ended up having a leftovers night)
Friday: Borscht (a friend made this for me recently, my first time trying it, and I actually really loved it- if you've never tried it, it is a Eastern European soup made with beets), homemade bread
Saturday: Beef stew with potatoes, carrots, onions and celery (this will use up leftover rib meat- oh, I suppose it's moose stew then, not beef stew!) and Yorkshire pudding (just for my hubby)
Sunday: Scotch broth (using ground turkey instead of lamb, because that's what I have) and a salad and bread.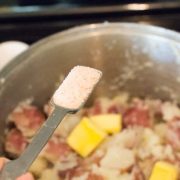 Print Recipe
Papas Chorreadas Recipe
Ingredients
Butter/oil

1/2

cup

onions

diced

6

green onions

chopped

5 to

matoes

diced

1/2

cup

cream

1

tsp.

cilantro

1/2

tsp.

dried oregano

pinch

of cumin

1/2

tsp.

salt and black pepper to taste

1

cup

grated cheese

any kind works
Instructions
Fry in butter/oil: onions, green onions, and tomatoes.

Turn down heat and add cream, cilantro, oregano, cumin and salt/pepper. Stir until combined.

Add cheese.

Pour sauce over boiled potatoes. I like to use a mixture of regular potatoes and sweet potatoes or yams. I chop them in larger chunks and boil til soft.