Celebrate with Joy: Week 2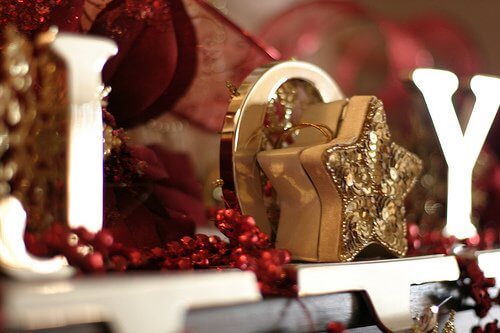 It's Week 2 of making this holiday season more meaningful using the book Celebrate with Joy!
How are your Advent activities going? We've been enjoying our special devotions (or "learning about Jesus' names", as my daughter says) so much. We've almost finished making our Names of Jesus garland, and it's going to be beautiful when it's finished. Each day we've been able to spend 10 minutes or so doing our Advent devotion, reading a scripture, doing a simple object lesson and then just discussing one of the many names that we use to describe our Savior.
Symbols of the Season- Chapter 3
This week I've spent some time reading through the chapter on Symbols of the Season. Here's what Sondra (the author of Celebrate with Joy) has to say:
"Wreaths, holly, bells, angels… these are not merely pretty decorations for the Christmas season. They are symbols rich with spiritual meaning. We should know why we use them and teach our children their significance.

In the Old Testament, the Jewish people were to preserve the spiritual importance of each key event. They were to teach the meaning of their festivals to their children. God knew His people had short memories. He commanded them to talk of His Law at all times. The parents were to focus their children's attention on God. Whether sitting at the table or taking a walk… they were to talk about Him at all times.

To restore the spiritual beauty of the Christmas season, let's pack our traditions with their true meaning. How much richer to hang a wreath on your front door knowing it symbolizes God's eternal love for His children… than simply to put up a pretty wreath because it is the "thing to do" in December."
There are a number of symbols discussed in the book, with some of the history into their meaning and some ideas for how to use them in your Christmas celebrations and decorating (candles, holly, stars, bells, etc.). Here are a few that I am going to work on including more in our own celebrations:
Nativity/Creche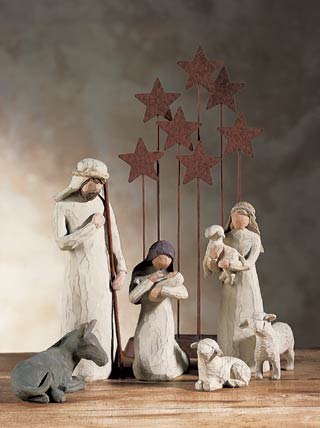 The only Nativity scenes that we have are children's ones (the Playmobil one and a really neat magnetic one for the fridge, where you add 1 new piece of the scene for each day of Advent). They're both fun and great for the children, but I've realized that I would really like to have a manger scene that I find beautiful to put out on display. Not sure that it's in the budget for this year, but I'm definitely thinking about it and will be keeping my eyes open when the after-Christmas sales hit. If anyone has some ideas for me of make-it-yourself projects that are simple and inexpensive, please share them in the comments section! In the meantime, I like some of Sondra's ideas for creating a putz scene (something depicting part of the story of Jesus' birth), like making a wall banner or decorating a window with parts of the story. It might be neat to decorate a large window with angels and stars and music notes, as the angels sang and glorified God at the birth of Christ.
Christmas Tree
Well, the tree is in the house, but not decorated as of yet. I need to remedy that today, as we're hosting a big Christmas party tomorrow night. Yikes! Sondra suggests making the tree more meaningful by doing themed decorations (angels, lamb of God, joy, Christmas story, etc.) and gives ideas of specific ornaments that you can make. One of the things that we have enjoyed doing in past years and will do again this year is use Adorenaments. These are a set of 12 ornaments, each portraying a different name of Jesus or aspect of who He is. Inside each ornament (they're thick cardboard and open like a card), there is something to read about Jesus as well as a scripture. On their fronts, they have an image (like a lamb, or a loaf of bread for the Bread of Life). We make these the last ornaments we put up, reading each of them before letting the kids put them on the tree. This adds a special element to our tree trimming time. I'm also considering making one new ornament with the kids and I found a lot of great craft and decor ideas here (scroll down to see a huge list of links to Christmas do-it-yourself crafts).
Wreath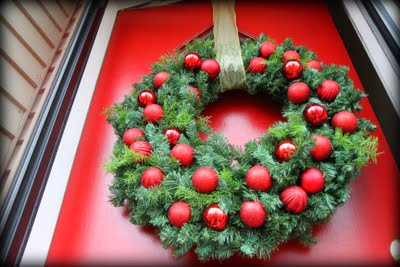 (This is the one I saw at MomAdvice and want to make!)
I've never thought about the symbolism of the wreath before, but here are a few that are mentioned in the book:
It speaks of God's never ending love… this should comfort us
It pictures eternity. We will live forever in heaven with Christ if we are a part of His family… this should fill us with joy
The evergreens are "ever green" and speak of life. His life in us can make us "forever fresh" with the goodness of the Lord… this should give us strength
I don't have a wreath, but I'd like to make one this year. I am thinking of attempting this beauty.
More Than Just Recipes- Chapter 8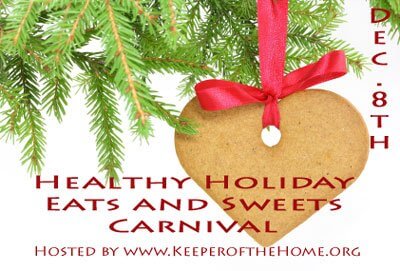 Thought I would mention this chapter of the book as well, as it fits in so well with what's been happening here at Keeper of the Home this week! In this chapter, Sondra says "Many of our fondest memories sweep over us when we catch a scent reminiscent of mother's hot apple pie, or Aunt Lizzie's rich fruit cakes. Christmas is a time to celebrate God's goodness, and His blessing of delicious foods certainly should be enjoyed by all." I definitely agree!
This week I hosted the Healthy Holiday Eats and Sweets Carnival, which is just brimming with not only scrumptious but healthy and nourishing recipes as well (though I did notice that there were significantly more Sweet recipes than Eats… hmmm, do I detect a few sweet tooths among my readers? :)) Take a look through the wonderful recipes included and see if there are any that you would like to add to your own food traditions (and yes, you may still comment with new recipes for me to add to the carnival!).
Celebrate with Joy can still be purchased for the remainder of the month (or until supplies run out):
Celebrate with Joy is a 192-page spiral bound book that includes:
Advent… With Your Family- wonderful resources for using the season of Advent to prepare your hearts for celebrating Christ's birth
Symbols of the Season- their meanings, how to use them
A look at Christmas traditions- their value, ones worth keeping, how we can plan to establish unique family traditions
Gala Gatherings- meaningful Christmas parties and get-togethers, including ideas for evangelism as well
Grateful Giving and Gifts From the Heart
The Twelve Nights of Christmas- celebrating from December 25-January 6 (a lesser known Christian holiday called Epiphany)
More Than Just Recipes
Celebrate with Joy can be purchased for only $24.95 US including shipping. Books can be purchased through my site only, and will be sent directly to you as quickly as we can get them out so that you can still use them for as much of the Christmas season as possible! Supplies are limited, so if you'd like to get one, make sure to place your order quickly.
How do you use symbols and special recipes to accentuate the true meaning of Christmas and add to your holiday traditions?