Real Food on a Real Budget: Finding Sources for Purchasing Real Food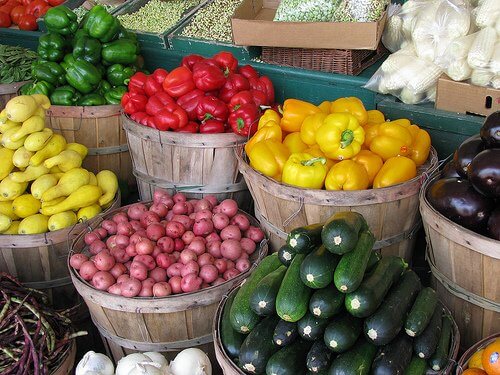 Today's post is a brief excerpt taken from Chapter 2 of my new book, Real Food on a Real Budget. The chapter explores how we can examine the options and resources available to us, as we seek to find sources of high-quality AND affordable food wherever we live.
*******
It's a bit of a game to me. I confess that I love the hunt of finding new resources for getting better and better quality foods on the same budget. I'm always on the lookout for new places to shop, new farmers or local suppliers to get to know, new services or co-ops or bulk suppliers to use.
The beautiful thing is that there are many options out there, if you're willing to look beyond the doors of your regular grocery store! Here are just a few of the different types of resources there are when it comes to purchasing food:
∞ Direct from the farm
∞ Produce Markets
∞ Small, local shops (meat or deli, specialty grocery, etc.)
∞ Farmer's Markets
∞ Co-ops or buying clubs
∞ Warehouse Clubs (Sam's, Costco, etc.)
∞ Conventional grocery stores
∞ Natural/Health food stores
∞ Neighbours or families with small hobby farms
∞ Online stores
∞ CSA's (community supported agriculture)
I'm sure there are others but these are some of the most common and readily available. You can see that the combinations and the ways that one might source out their food from these different options are endless!
For most of us, not all of these options are available. For instance, I am able to buy directly from a great produce market, but up until this past summer there wasn't a farmer's market within less than a 30 minute drive.
I currently live close enough to the US border (and have family who live there as well), which gives me access to a fantastic natural foods co-op. Should I move away from where we live now, that will cease to be an option for me and I will have to look into other options for buying many of my bulk foods, such as a going to a health food store or purchasing online and having my orders shipped to me.
It's a matter of taking stock of your options, how worthwhile each of those options are, and then determining how you will use those to source out the food that your family needs.
A Few Good Places to Start… (the really practical stuff, but you gotta get the book to read it! 🙂
Would you like to read more? Purchase Real Food on a Real Budget today, in either a paperback or digital version.
What type of creative options have you found as resources for purchasing real, whole foods? How did you find them?