Supercharge Your Nutrition with Swiss Chard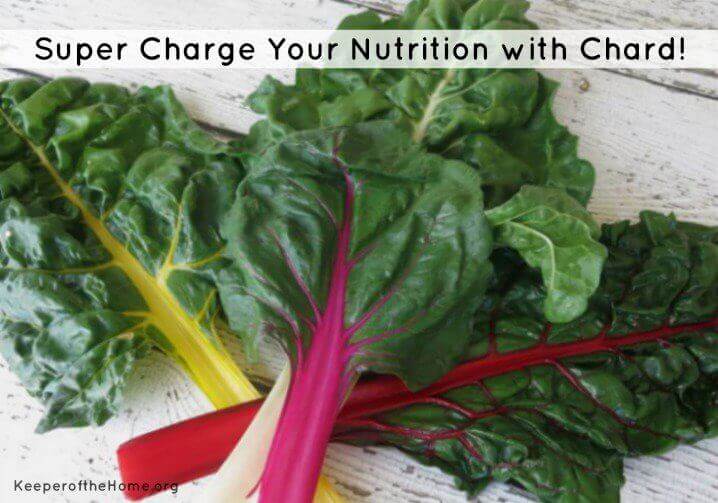 By Kelly Smith, Contributing Writer
Like most families, we have our share of picky eaters. I'm sure you know what I mean, and if you don't, count yourself blessed. Despite my best efforts, somewhere around the age of 8 or 9 years old, my boys adopted the philosophy that "if it's green, it's yucky!" Boo to that, so I've been on a mission to counter it with … "greens are great!"
That's why Swiss chard is one of my favorite foods to supercharge my family's nutrition. Personally, I've found that its mild flavor makes it the perfect green to introduce to those picky eaters in your family since chard does not have the strong, slightly bitter aftertaste typical of other healthy greens.
Health Benefits of Swiss Chard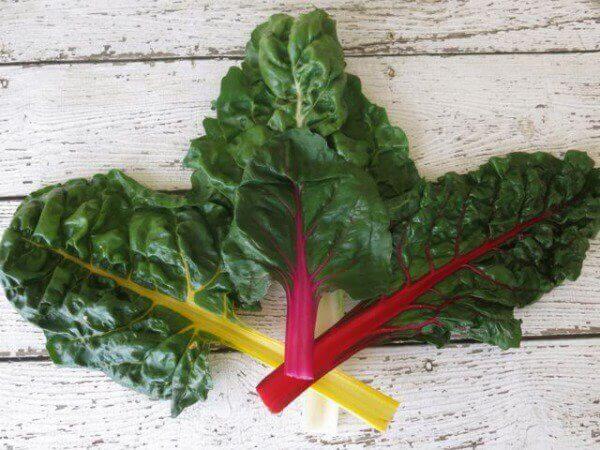 Yet, as mild as chard may be in taste, it's a strong powerhouse of nutrition. In fact, the wide variety of phytonutrients in chard is easily recognized by its vibrant-colored stalks and veins, as well as its dark green leaves. These phytonutrients work in tandem with chard's excellent nutritional profile to provide a host of benefits for the body, including:
• Antioxidant and Anti-Inflammatory Benefits: Chard offers a unique mix of both conventional antioxidants (in the form of vitamins C, E and A) and more than a dozen phytonutrient-based antioxidants, which are key in helping the body to reduce inflammation and fight oxidative stress.
• Blood Sugar Benefits: Multiple studies have shown that the rich phytonutrients in chard help the body's blood sugar-regulating system.
• Supports Bone Health: Chard is a good source of calcium and an excellent source of magnesium and vitamin K, making it an outstanding dietary choice for bone support.
How to Select and Store Chard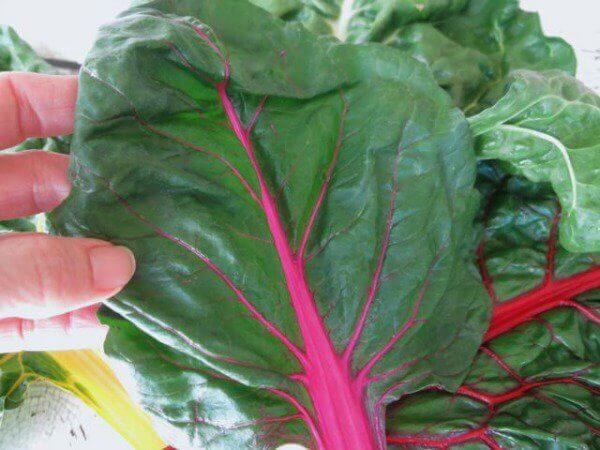 Swiss chard comes in a variety of colors. The most common are rainbow, ruby red and green. Regardless of the type you choose, it's important to look for leaves that are vibrant green in color without browning or yellowing. In addition, the leaves should not be wilted or have small holes, and the stalks should look crisp and unblemished.
When storing Swiss chard, do not wash it first since exposure to water encourages spoilage. Instead, place chard in a plastic Ziploc-style baggie and squeeze out as much of the air from the bag as possible. Then place it in refrigerator where it will keep fresh for about 4 to 5 days.
Tips for Preparing Swiss Chard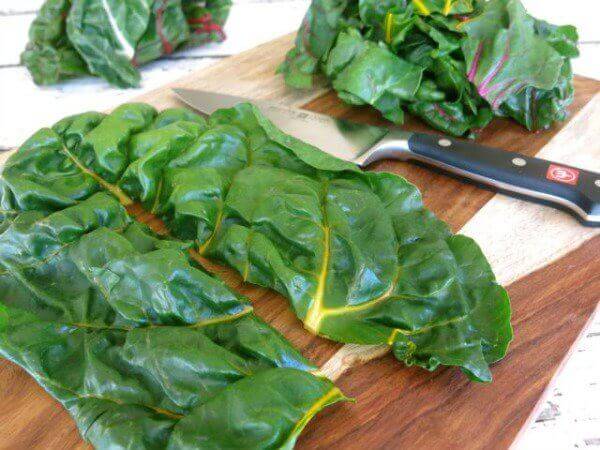 When ready to use, remove any area of the leaves that may be blemished or wilted. Then, use a sharp knife to remove the thick hard stem, as shown in the photo. In general, chard stems are rather tough and unpalatable, so most chefs recommend discarding them.
Gently rinse the leaves under cold running water and pat dry. Fold and stack the leaves; cut in half. Then cut into one-inch pieces using a sharp knife.
Fresh chard is absolutely delicious sautéed with a little onion and garlic. It's also perfect for adding to soups, stews or casseroles. It can even be eaten raw in salads, although I personally prefer using baby chard varieties for salads.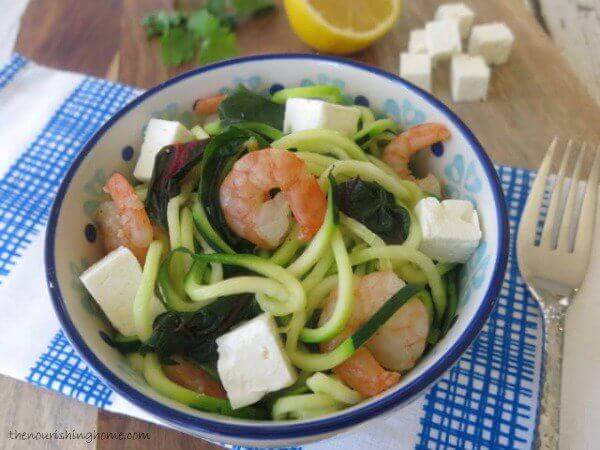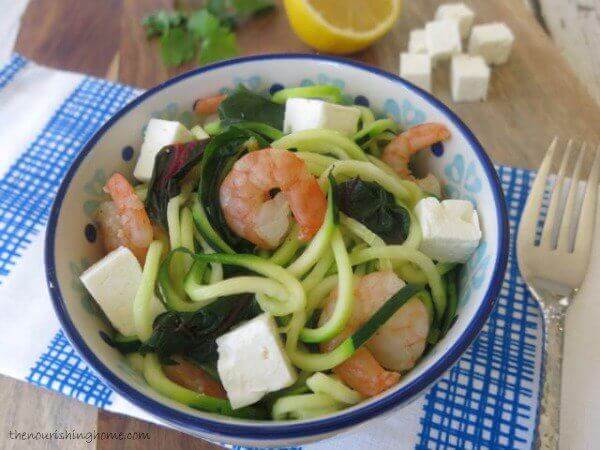 In celebration of this delightfully healthy green, I'm sharing a tasty Swiss Chard & Shrimp Sauté recipe (see below) that also sneaks in yet another healthy veggie that we affectionately refer to as "zoodles" (zucchini noodles) – a healthy and delicious replacement for pasta.
We're so enthralled with zoodles, that I've actually created an entire recipe series featuring them, including an Oodles of Zoodles Photo Tutorial that shows you how easy it is to make them. But rest assured, if you're not into veggie noodles, this dish works beautifully with your favorite pasta as well.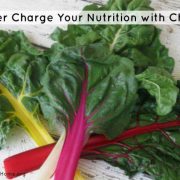 Print Recipe
Swiss Chard & Shrimp Sauté with Zoodles
Ingredients
4

medium organic zucchini

or 12 oz. of your favorite pasta

1

bunch Swiss chard

3

tablesoons extra virgin olive oil

5 to 6

green onions

thinly sliced

5 to 6

garlic cloves

finely minced

12

oz.

frozen shrimp

peeled, cleaned & tail-off (thawed)

2

tbsp

fresh lemon juice

about 1/2 of a lemon

1/2

tsp

sea salt

1/4

tsp

fresh ground pepper

Optional: 1 cup cubed feta cheese

Sea salt and fresh-ground black pepper
Instructions
Remove stems from the Swiss chard and cut leaves into 1-inch pieces as shown in photo above.

In a large skillet over medium-high heat, add olive oil, green onions and garlic. Sauté about 1 to 2 minutes until onion begins to soften.

Add the shrimp and toss well to coat. Then add the lemon juice to the skillet and give it a quick stir. Top with the Swiss chard.

Cover the pan to allow the chard to wilt about 3 to 5 minutes.

Next, add the zucchini noodles and toss well with the chard mixture. (If using pasta instead, add in place of the zoodles.)

Cover pan and allow zoodles to warm about 2 to 3 minutes.

Remove skillet from the heat and toss together to combine. Season with salt and pepper to taste. Divide among four bowls and top with cubed feta, if desired.
Looking for more great ways to enjoy Swiss chard?
Here are five more of my favorite gluten-free recipes:
• Creamy Swiss Chard & Eggs from Live Simply
• Chard Green Juice from It Takes Time
• Lentils & Carrots with Swiss Chard from The Nourishing Home
• Lentil Soup with Swiss Chard & Sausage from Deliciously Organic
• Swiss Chard Tart from Gourmande in the Kitchen
Fun Fact: Despite it's name, Swiss chard actually originated in Sicily and is a tasty staple of Mediterranean cuisine.
Does your family enjoy Swiss chard? What other greens are family favorites?