The Most Important Thing You Need to Know About Yourself—and Why

I'd Like to Introduce You to—Yourself
YOU are a WEMMICK.
Now before you click away thinking I'm off my rocker, let me just say that what I'm about to tell you could change the color of your world, and doesn't that sound interesting? So let's get to know yourself, but before we do, let's talk about where I get this Wemmick thing from.
Max Lucado has written a series of books for children that all revolve around these adorable little wooden creatures called Wemmicks. They all live in Wemmickville and do many silly things with great seriousness. Their Creator, the Woodcarver, lives in a cottage up the hill from Wemmickville, but the vast majority of Wemmicks pay him no heed.

There are a few Wemmicks who do know the Woodcarver and go to visit and learn from Him. It sort of reminds me of the story of Pinocchio. He's a silly wooden puppet who eventually learns enough truth to become a real boy—and real son to his adoptive father.

In each story that Lucado weaves, the Wemmicks are caught up in a different silliness that results in ultimate unhappiness for them all. For example, in one story they slap dots and stars on one another, depending on their own personal opinions of the worth of each fellow Wemmick. Some Wemmicks have all stars and are admired and loved. Some have all dots and are despised. Some have a mixture and strive hard to get more stars than dots.

In another story the little Wemmick folk have decided that boxes and balls are awesome—and the ones who have the most boxes and balls are the BEST. So they all scurry around doing everything in their power to get as many boxes and balls as possible. Their relationships don't matter so much—it's all about boxes and balls, after all. If you have to tromp on another silly Wemmick to get more of what you want, then go ahead and do it.

The only ones who are able to escape the nonsensical dorkiness of it all are the ones who get a higher perspective from Someone so much greater than any of the Wemmicks. Someone wiser. Someone Who knows the Truth. Those Wemmicks go to the Woodcarver and discover the futility of Wemmick ways. They remain Wemmicks. But they are Wemmicks with a hint of wisdom. Wisdom that comes, not from inside themselves, because no wisdom resides there—but wisdom that comes from "above."

(Excerpt taken from On the Ways of Wemmicks.)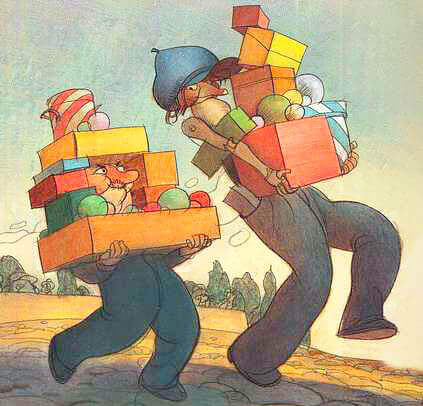 Seven Silly Things About Us
1. Wemmicks are unaware of reality because they are so caught up in Wemmickville and the silly little things going on there. They have no clue about what lies beyond their tiny world.
2. Wemmicks are attracted and distracted by silly things—and don't recognize real treasure when they see it.
3. Wemmicks are created, but they are not interested in their Creator. (Most do not believe they have one!)
4. Wemmicks think a lot of themselves, and they think little of others, and they think the least about the Woodcarver.
5. Wemmicks are beloved by their Maker – in spite of their smallness and ignorance. He loves them because He MADE them.
6. Wemmicks belong to the Woodcarver in spite of their silly beliefs to the contrary.
7. Wemmicks who spend time in friendship with the Woodcarver begin to see things from His perspective – and their lives change!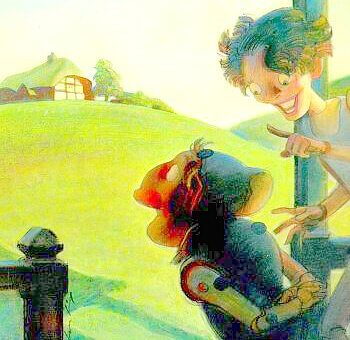 Why Do I Need to Know This?
Wemmicks Who Don't Know—Don't Grow
If we don't recognize our smallness and God's Bigness, we will remain in our blind, ignorant, foolish state of consciousness, and that's just not healthy.
"The fear of the LORD is the beginning of wisdom, and the knowledge of the Holy One is insight." (Proverbs 9:10)

"The fear of the Lord is the beginning of knowledge; fools despise wisdom and instruction." (Provers 1:7)
God has a purpose behind creating YOU, but it's all wrapped up in HIM. To fulfill your destiny, you need to be aware of your relationship to Him. You need to be, figuratively speaking, on your face before Him. That's how you rise to your royal heritage as His daughter!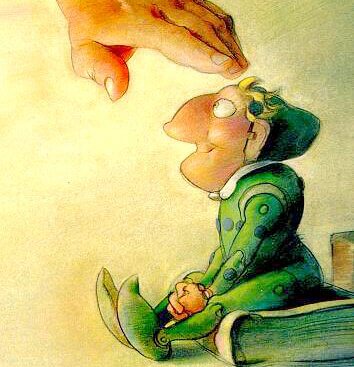 Wise Wemmicks Have Everything
You don't want to continue spinning around in Wemmickville having no clue what lies beyond. You want to know, really know, that there is Something bigger than yourself connected to the core of who you are. You want to know you are kept. You want to know you are loved. You can only know this—if you know the Woodcarver who made you. This is wisdom.
"Do not forsake wisdom, and she will protect you; love her, and she will watch over you. Wisdom is supreme; therefore get wisdom. Though it cost all you have, get understanding." (Proverbs 4:6-7)
The Bottom Line in Life
Get to know the Woodcarver. He is the Great Everything. Once you lose yourself in Him, you will become all that He made you to be.
My kids adore the Wemmick stories, and I must confess, I love them, too. Put them on your Christmas shopping list if you haven't got them already. Knowing your Wemmickness will change your life.

Punchinello and the Most Marvelous Gift

;
What have YOU learned about yourself today?