What to Do With Your Belongings Once You Purge Your Home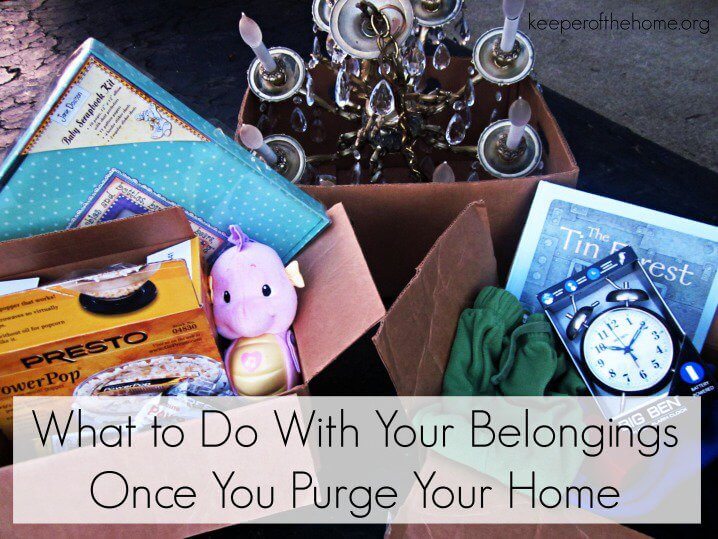 By Hilary Bernstein, Contributing Writer
While many people today are caught in an excessive, materialistic lifestyle, others are embracing minimalism.
Aspiring minimalists often have lived with too many belongings and appreciate the freedom that comes with un-stuffing their homes. When purging a home, Lorilee Lippincott suggests asking yourself:
Do I really want to keep this?
Would I miss it if it was gone?
How often do I really use this?
Some life events – like moving – can really help jumpstart minimalism. But without an urgent deadline, it might take a while to go through the purging process.
(I know. For the past couple years I've added decluttering and purging to my spring cleaning routine, and each year I feel the freedom to get rid of more and more stuff.)
Once you've decided to adopt a minimalistic lifestyle and start to purge, what do you do with all of your stuff?
Give it away.
Are you finally ready to get rid of baby clothing and gear? Pass it along to a family expecting their first baby – they'll appreciate the hand-me-downs!
If you know a college student is setting up his or her first apartment, pass along some of your rarely used housewares or furniture.
If you don't know of immediate needs, you can find a new home for your belongings through Freecycle.
You also can donate your belongings to Habitat for Humanity's ReStores, or at local shelters for the homeless or battered women. Or, drop your things off at a charitable thrift store.

Sell it.
Make some extra money by selling your belongings. Depending on what you have – and how much you have – choose how you'd like to sell it. You could:
Hold a garage sale. (Wondering how to hold a garage sale? Check out tips – along with decluttering suggestions – in the Keeper of the Home PDF, 8 Weeks to a Less Cluttered Home.) If you're looking for a virtual way to hold – or advertise – a garage sale, try Yardmama.
Take quality items to a local consignment store. While you'll only make a portion of the sale, the only thing you'll need to do is drop off your belongings.
Sell certain items through craigslist, eBay, classified ads, or online Buy, Sell, Trade groups. (Hint: Do a quick Facebook search for a Buy, Sell, Trade page in your community.) If you have a high-end wardrobe, sell women's clothing and handbags through Twice.

What do you do with your belongings once you purge your home?