Summer Giveaway Week: Win 1 of 3 One-Year Subscriptions to Plan to Eat
A few months ago, I decided to update my paper-and-pen ways and try online planning again, with an old favorite, Plan to Eat.
Now, it needs to be said that I'm a lazy Plan to Eat user. I don't make use of all of its MANY features and tools, but I use it in a really simple manner, sticking to the Recipe and Planner components, not the Shopping Lists (which I know many people find extremely useful).
Nonetheless, my planning has begun to go a lot faster than it used to when I used pen and paper. I could previously spend anywhere from 30-60 minutes doing my planning, but the last few times I've planned have been more like 20-30 minutes. When you know that meal planning will take a minimum of your time, it's all the more motivating to do it regularly.
I was trying to figure out exactly what made Plan to Eat faster, and this is what I came up with:
I can see my previous menus (if you use the Month view, not the Week view). This allows me to take any meals that didn't get made (because we had leftovers, or ended up going out somewhere, etc.) and just drag and drop them straight into my new week.
I can take a regular breakfast schedule and double it in one minute. To do this, just go to the previous week and hover over the breakfast item. You will see two small boxes, one with a "-" and one with a "+". Click the "+" and that breakfast meal is doubled. Go along and double all of your breakfasts (30 seconds) then drag the extra ones straight down to the new week's menu (another 30 seconds).
When I add recipes during the week, or sometimes I take 10 minutes to add several when I'm feeling inspired, I can stick things that I know I want to make soon into my Queue. This is a fancy word for "meals I want to make". When I start a new menu plan, I check my Queue first and add those to my plan right away. This fills up at least one or two spots in my plan with no thinking on my end.
There are a lot of recipes that I have access to, between the Plan to Eat blog recipes (169 at present) and my 15 other friends (with whom I can share recipes). I can currently search through over 2000 recipes, based on tags, categories, etc. If I'm trying to fill a gap in my menu, instead of getting completely sidetracked by Pinterest or some other such dangerous place where time ceases to exist, I can just search these recipes and usually find something suitable.
(Want to be my friend on Plan to Eat? I'm "keeperofthehome" and you can request to share recipes with me. The more, the merrier!)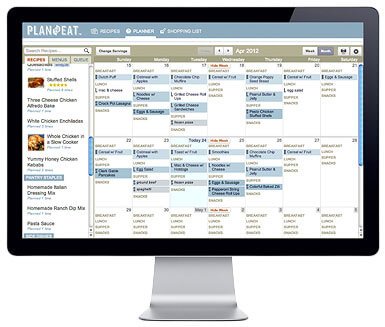 They keep making it better
Additionally, there are some new features, as Plan to Eat continues to listen to its users and make things even better than they already are!
To stay updated on new features and changes to the system, as well as find whole food recipes on the Plan to Eat blog, check out their Facebook page. I've noticed that they're very interactive with those who leave comments and ask questions, whether it's a feature that has you confused or simply something you would like to see them add or change, they really want to hear from their users.
Want to give it a try for free? Plan to Eat also offers a free 30 day trial!