Spring Giveaway Week: Win 1 of 3 One-Year Subscriptions to Plan to Eat

I have a confession to make. I may run a website. I may have self-published ebooks. I may own a laptop and an iPhone. BUT. I am not a technical, computer-loving person. No sir.
My husband actually finds it funny (or irritating, it may depend on the day) how incredibly inept I am when it comes to using most electronic devices. DVD players and universal remote controls? I'm useless. Using my iPhone for more than making a basic phone call? My 7 year old is teaching me how.
All that to say, you would think that when it comes to menu planning, I would be a pen and paper kind of gal. And you would be right.
However, last week I decide to challenge my technologically-impaired self and go back to doing my menu planning online. A couple of years ago I was introduced to Plan to Eat, an online recipe, menu planning and grocery-list program. At that time, I recognized how useful the program could be and I jumped into trying it out. I thought it was a brilliant solution and really loved the idea of using it. But, since most of my beloved recipes were in cookbooks or written on cards, I relegated to my pen and paper ways after a while.
Things have changed, though. Increasingly, I find more and more of my go-to recipes are from online sources (mostly blogs, some large recipe websites, and others from ebooks that I never get around to printing out). I've begun to somewhat use Pinterest as a way to at least store them and remember where they are, but I needed something even better than that.
Last week, I returned to Plan to Eat and realized just what a perfect program it is for those who find their food inspiration online!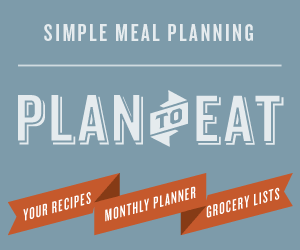 A Simple Way to Store and Organize Your Recipes Online
You can import and store your favorite recipes, using categories (breakfast, salad), food ethnicities (Mexican, Italian, etc.) and tags (fast, crockpot, guests)  to store them and then search through them later to find what kind of meal you're looking for. From some websites, importing them is as simple as clicking a button. From blogs, ebooks, etc. it's a copy and paste process, a few fill-in-the-blanks, and presto. Your recipe is in the system.
You can also share recipes with friends, giving them access to your recipes and vice versa. No more running back to Pinterest to find that recipe I think I store there, or to search through my most-frequented blogs, trying to find the recipe that I think I might have seen here last month.
Did I mention that it's super easy, even for the technologically impaired?
Once the recipes are in there, you go about your meal planning as you usually would, but you simply drag and drop the recipes you want into the days when you want to make them. As you do this, a grocery list is automatically generated. You can use it to compare it to what you already have in the fridge and pantry, so that you don't forget to buy anything required for one of your meals.
With my two-week meal plan complete, I printed it off (to put on my fridge) as well as a good number of the recipes that were included. Since they each print out nicely on one sheet of paper, I thought it might be a convenient way to build up a small binder with the meals we eat most often, so that I have all of those recipes in one easy-to-access place. As opposed to my current system (now which binder/website/recipe card/cookbook was that recipe in?). Ahem.
And, for those who actually know how to use their smart phones, you can ditch the pen and paper all together and simply view (and check off items) on your grocery list, using the Plan to Eat app. How cool is that? I'm sure my 7 year old already knew that.
Try It for Free
If you're totally unsure of what Plan to Eat is all about or whether you would use a system like this, they offer a free 30-day trial. Take a tour, try importing some of your recipes, play around with the planner functionality, see how the grocery list works.
Membership is very reasonable at $4.95 a month, or (a better deal) $39 a year, which works out to $3.25 per month.
Plan to Eat has been our premium sponsor at Keeper of the Home this winter, and they're definitely a business that I love to work with and highly recommend! Since I am a huge believer in meal planning, I've always recommended them to those who are friendly with technology, and yes, even to the backwards gals like myself. 🙂
Or You Could Win It… I have 3 One-Year Subscriptions to Give Away!
Rather than simply leaving comments, I'm trying out a new method for entering giveaways. Click below to complete one Rafflecopter form, for all of your multiple entries, and then you're done!
This giveaway is generously sponsored by Plan to Eat. I received a membership for the purpose of review. As always, all editorial opinions are my own.