Summer Giveaway Week: Win a $75 Gift Certificate to Apple Valley Natural Soap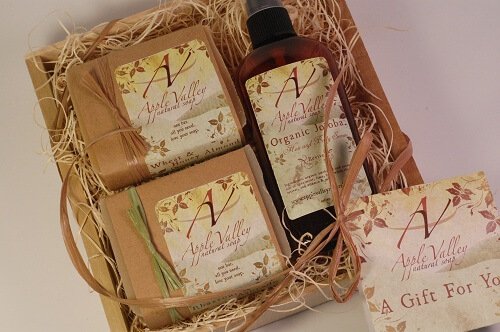 If you want skin care products that are:
absolutely pure and non-toxic
made with short and simple ingredient lists (that you can actually read and pronounce)
that are gentle enough for the whole family
… then you'll probably like today's giveaway from Apple Valley Natural Soap!
There are a growing number of companies making "natural" and "organic" skin care products. Many of them are now brand names that we are familiar with and they line the health food store aisles.
Many of these products are truly natural, made with carefully selected ingredients. But, as an avid ingredient-reader, I'm often surprised by how many aren't, and especially by how many still have those no-no ingredients that we want to avoid!
I haven't found fault with anything we've tried from Apple Valley Natural Soap. Not one bad ingredient. There is something to be said for a company where you can freely purchase what you need, without having to stop and analyze each individual product. That freedom and 100% confidence is what makes me willing to use them daily and recommend them to you over and over again.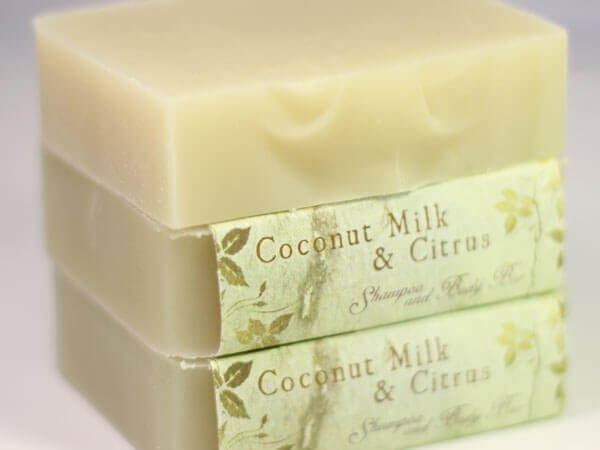 Our family's favorite Apple Valley products
Shampoo and Body Bars
It has been about one year since we first began to use the Shampoo and Body Bars. They are all I use for my body and for my hair. I used to be a fan of the "no 'poo" method, and I still am in many ways, but my thin, fine hair was experiencing some dryness and breakage.
Since I switched over to the shampoo bars and my hair adjusted, those issues have gone away and my hair is much more manageable.
Organic Liquid Castile Soap
I've been a fan of castile soap for years, using it for all of my children's bathing and hair washing, as well as for cleaning my floors and my toilets. Apple Valley's castile soap is affordable, comes in several scents, and a big bonus… no bizarre, confused spiritual sayings on the package (all the Dr. Bronner's users out there know exactly what I mean!).
Organic Balancing Facial Serum
This is a product that I would have never purchased on my own, but Natalie sweetly sent me a bottle of the facial serum to try. She suggested that after I wash my face at night, I spray it with the Lavender Hydrosol (another product that I was unfamiliar with, but this helps to explain it a bit), and then put a small amount on my fingertips and rub it in. The hydrosol helps to spread it all over evenly, while acting as a toner.
This serum is perfect for night time use, as it soaks in and really nourishes the skin during the night, and when you wake up, any oiliness is completely gone. It's a very different method of moisturizing than most of us (including myself) are used to, but I've been surprised at how well it works and how luxurious it feels.
Organic Foaming Hand Soap
We keep this foaming hand soap in our main floor bathroom, and it is fantastic. The pumps work well and never leaves a mess. One pump of foam is the perfect amount. The smell is heavenly (we have Citrus Splash, but it looks like the scents have since changed- so maybe similar to Orange Blossom?), and it leaves my hands feeling soft, not dried out. Plus, no antibacterial chemicals— a requirement in our home.
Essential Oil Blends
A couple months ago, my husband gifted me with a post-partum gift of an essential oil nebulizer. It's a high quality nebulizer and I love it, along with the oil blend he purchased for me at Saje, but I don't love the $26 price tag on the itty bitty 10 ml bottle. Apple Valley carries six of their own essential oil blends, 15 ml for only $10. That's my kind of price.
We're giving away a $75 gift certificate to Apple Valley Natural Soaps, good for anything in their shop!
These are just some of my favorite products, but they also sell handmade soap bars, facial masques, sea salt foot scrubs (oh yes, these were nice), baby wash and massage oil (which smells divine and makes my baby so very happy), lip balm, body scrubs, moisturizing butter bars, organic jojoba and argan oils, simple essential oils (only one oil, not a blend) and more. They are truly a one-stop shop for pure and simple skincare!
A few items currently on 20% off clearance include:
Organic Facial Serum
Liquid Castile Soap
Acne Battle Toner
Each month they offer Limited Editions, and June's include:
Organic Jojoba in the Lime Spa scent
Global Therapeutic Salt Soak in Lime Spa scent
Gardener's Scrubby Citrus Basil Bar
PLUS…
Use the code KOTHROCKS to get 10% off all full priced items at Apple Valley Natural Soap, excluding soap bars, for the duration of the giveaway!
Rather than simply leaving comments, I'm trying out a new method for entering giveaways. Click below to complete one Rafflecopter form, for all of your multiple entries, and then you're done!
**If you are reading this in an email newsletter: Please note that in order to enter, you will have to click the post title at the top of this email in order to visit the actual blog page, so that you can properly view the giveaway.
Giveaway ends at 11:59pm on Saturday, June 16, 2012. 
DISCLOSURE: THIS POST IS GENEROUSLY SPONSORED BY APPLE VALLEY NATURAL SOAP. I RECEIVED PRODUCTS FOR THE PURPOSE OF REVIEW. ALL OPINIONS ARE MY OWN.