The Encore Flash Sale– Did You Miss it the First Time???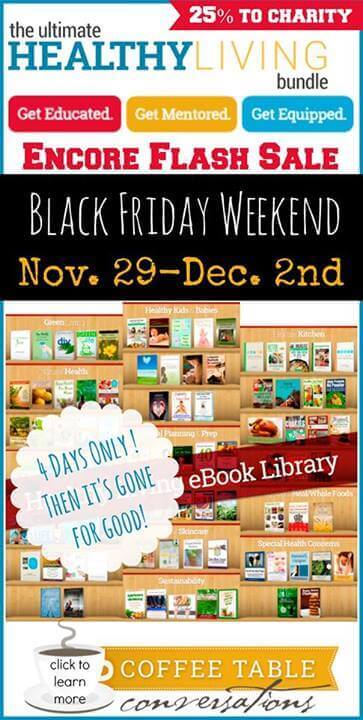 Note- This sale has now ended. Hopefully we'll be doing it again next year! 🙂
The only thing better than a fantastically awesome deal is bringing it back again so anyone who missed out the first time can get in on it.
It happens without fail. Whenever we run one of our Ultimate Bundles, we get a flood of sales, with more and more people taking advantage of it right up until the very last minutes… and then in the days after, we get a flood of emails and comments saying "Ack! I missed it! Is there any way I can still get this bundle??"
Well, actually, there is. (happy dance!)
For 4 days only, we've brought back the Ultimate Healthy Living Bundle for a brief encore flash sale. For the duration of Black Friday weekend, it's back! The same $1000+ value for just $29.97!
You should be interested in this encore sale if:
You're kicking yourself that you missed it the first time around.
You bought your own bundle, but only wished you had picked up an extra bundle or two to give as gifts.
You didn't hear about it the first time, but you love healthy living, helpful ebooks, getting free stuff, and would like to attend a free conference with your favorite bloggers.
Still not sure? Check out my 20 (yes, 20!) reasons why I think you should buy a bundle.
Even better, we always share a large chunk of our flash sale proceeds with some of our favorite charities, and this year is no exception.
From every bundle purchased, 25% will go directly to incredible organizations like Shelter Box (specifically for Philippines relief aid), Compassion International (child sponsorship), Hope for Women (equipping and empowering widows), and Love146 (fighting child trafficking and exploitation)!
So go get yours now!
And then, make sure that you check back here at Keeper of the Home throughout the weekend, because we're running no less than SEVEN fantastic flash giveaways, that just might include goodies like water filtration systems, essential oils, organizational helps, non-toxic products for your home, and more. Talk about a great weekend! We love being able to bless our readers like this!
;
What's in the Bundle?
We took 86 eBooks (plus 1 eCourse) by popular bloggers on topics like real food & recipes, green living, natural cleaning and beauty, mental and emotional health, fitness, herbal remedies and more.
Then we added the brand new "Coffee Table Conversations," a 12-week series of author mentorship through interactive online conference calls and private support groups.
We finished it off with 9 bonus sponsors offering you $150+ of incredible products and services to help you along your way. This includes bonuses like $25.98 of FREE eco-friendly laundry detergent from Dizolve (because we all need clean clothes). This bonus nearly makes up for the entire cost of the bundle!
How Much Does the Bundle Cost?
Ultimate: Maximum; decisive; conclusive. The best or most extreme of its kind.
We wouldn't call it the "ultimate" bundle if it wasn't true.
As our hard-working team pulled together the Ultimate Healthy Living 2013 Bundle Sale, we had 3 basic goals: to put a comprehensive health library at your fingertips, to offer something for everyone, and to provide so much value for an itty-bitty price that it would be irresistible.
In a nutshell? This bundle is brimming with more than 80 ebook and ecourse resources, from authors and bloggers known as authorities in their fields.
For less than $30, you can pick up your own bundle complete with more than $800 of ebooks, $67 of interactive "coffee table conversations" with their authors, and $158 of products and services to help you on your way toward healthier living. That's over a $1,000 value!
But you don't want to wait! This bundle is available for only 4 days, from 8 a.m. (EST) on Friday, November 29 to 11:59pm (EST) on Monday, December 2. After this time, this bundle will never be available for purchase again.

Get yours now for just $29.97!
(Psst… did you know that you can add on two extra bundles for the price of one? Just choose the bonus 2-for-1 option during checkout!)
What's Included in the eBook Library? ($800+ value)
Real Food Cookbooks
Allergy-Friendly/Special Diets
Menu Planning/Meal Prep
Natural Skincare
Natural Health
Healthy Lifestyle
Fitness
Gardening/Sustainability
Green Living
Special Health Concerns
Healthy Kids & Babies
Learning About Real/Whole Foods
What are Coffee Table Conversations? ($67 value)
For 12 weeks starting in January 2014, we'll offer a series of weekly one-hour live conference calls, where you can join in and ask your questions on relevant and timely healthy living topics to a panel of eBook authors. We'll look at issues like allergy-friendly cooking, fighting fatigue (and finding energy!), eating well on a tight budget, an introduction to alternative health and herbal remedies, and tips and tricks for making real food in less time. You'll be able to listen to authors converse with each other on any (or all) of the 12 calls that you choose to take part in, and get answers to your questions in real time!
We'll also provide a private Facebook group, where that week's "mentors" will pop in as often as they can and chat with you on the topics at hand. Talk about up-close and personal learning!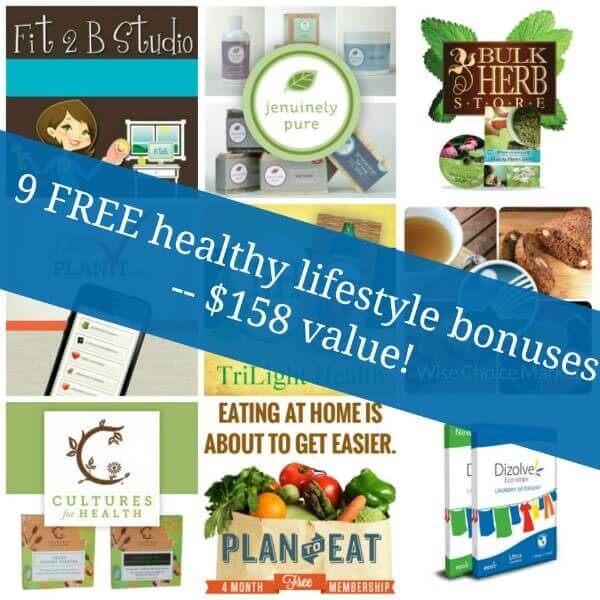 What are the Healthy Living Bonus Offers? ($150+ value)
All bonus offers are available for redemption until December 16th, 2013.

Important stuff you might want to know
Read the fine print. The details matter!
Check out our Frequently Asked Question page, particularly to learn about file types, how downloading works, transferring to eReader devices, redeeming bonus offers, and all that good stuff.
Remember, this bundle is available for only 4 days, from 8 a.m. (EST) on Friday, November 29 to 11:59pm (EST) on Monday, December 2. After that, this particular bundle will never be available for purchase again.

Affiliate disclaimer: As an author with an ebook in this bundle, I earn a commission from each sale made through my blog. Thank you for your support of this site!