Camping With Family: Enjoying Creation and Simple Living Together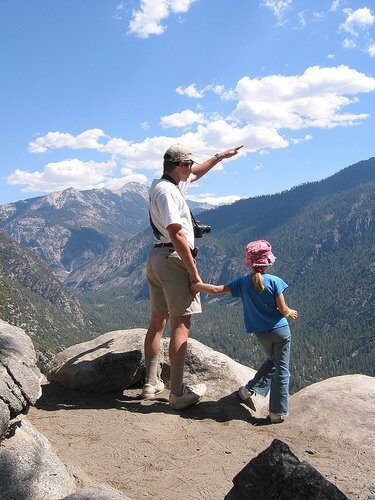 Photo credit Vlad and Marina Butsky
Written by Beth Corcoran, Contributing Writer
I'm so excited because next week is our family's first real camping trip! We bought a big family-sized tent because, well, we have a big family. And all my kids got to pick out their new sleeping bags. The kids are really thrilled about the prospect of sleeping in a tent (although they would be just as happy if it were set up in the living room instead of a state park.)  I find myself excitedly dreaming of all the outdoor fun we're going to have as a family on our camping trips this summer.
But let me tell you, this has not always been my attitude towards camping. In fact, until recently, I never would have considered camping to be a viable family vacation. You see, camping was something that my family never did growing up because we didn't own an RV. And no one in my family was going to set foot in a campground unless there was air conditioning, running water and a real toilet.
Rather, vacations were to large cities with nice hotel accommodations. And this attitude carried over into my adulthood. Things started to change for me, however, two years ago when my husband and I decided to take a road trip to Yellowstone National Park. It was my first experience in a park like that, and I was amazed! There was something so majestic about God's creation that it is something I have carried with me in my heart since our trip.
With six children in our home (and all of them under age 8), taking another road trip like that is not feasible for us right now. So my husband and I have been looking for ways to teach our children to appreciate nature and have awe for our Creator like I experienced in Yellowstone. For us, camping was the solution.
In fact, teaching our kids about creation and the Creator is just one of the many benefits of taking your family camping. So, if you are like me and have never really considered yourself to be a nature buff, take time to ponder the benefits that camping out this summer can bring to your family. Here are a few others to consider.
Hands on Learning
Who says that when summer starts the learning has to end? Our family homeschools year round, but during the summer I try to incorporate less book work and more hands on experiential type learning. Camping out as a family is a great way to do this. Think of all the lessons in botany, biology, meteorology, geology, ecology, etc. you could do with your children at a camp site!
Even if you are not a homeschooling family, you could still have a lot of fun doing lessons in nature. I get giddy just thinking about all of the fun activities we are going to do this summer.
Learning Family Cooperation
I read the Little House on the Prairie series to my children at lunch every day, and one of the things that has always stuck out to me is the way that the whole Ingalls family cooperated to achieve their goals. You don't see Laura locking herself in her room away from her family, and you don't see Mary going off to play without getting her chores done first. They all worked together because they loved each other.
When you are camping, there are plenty of tasks that must be done together. Our kids will get a chance to help each other and help their Momma and Daddy with things such as setting up the tent and cooking food. And since we will all be sleeping under one tent roof, my kids will have to learn how to live peaceably with each other. What an important life lesson!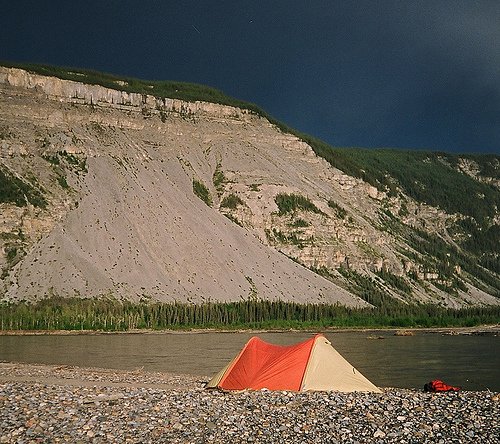 Photo credit subarcticmike
Learning to Live Without
My husband and I were recently wandering up and down the aisles at the local mega outdoor store, and we were amazed that people have come up with an outdoor version of pretty much every household luxury. If you have thousands of dollars to spend, you never have to go without while you are camping.
But I think there is a lot to be learned by going without and living a much simpler lifestyle—even if it is for just a day or two. I think it will be neat for us all to come back from camping, realizing that we can truly live without all our little gadgets and doodads (and air conditioning…well, maybe).
And learning to live a simpler life helps to rid our hearts of bad attitudes like entitlement, and replaces it with gratitude. So, yes, I want my kids to learn to live without, but learning to live a simpler life is something that I will be happy to learn as well.
Lots of family time on a little budget
The great thing about camping is that it can be done on the smallest of budgets. This year, instead of making our annual trip to the theme park, that money is going toward buying camping supplies. That means that next year, camping will be pretty much free for us. And instead of only a weekend of family fun, we can go camping however often we desire. My kids will be able to see parks all over our great state, and we'll have a whole summer full of wonderful family time driving in the cars and camping out while spending very little money.
Whether you are a veteran camper or have never considered taking your family on a camping trip, there are benefits for everyone. Camping can bring your family together in fun and unique ways, and at the same time it can give you the opportunities to draw closer to the Lord of all creation. I'm so looking forward to the sweet and special ways that our family will get to encounter our Creator and grow closer on our trips.
What are some special benefits that camping has brought to your family?