Homemade Belly Butter (All-Natural Pampering for Pregnant Mamas)
The gift of a child is certainly a blessing and pregnancy can be a wonderful experience. However, for many of us, the joy and privilege of carrying a new life comes with a few physical discomforts. Itchy, dry skin on our ever-expanding bellies is a common complaint.
While moisturizing a mother's tummy can bring some relief to this condition, ordinary lotion often lacks the power to soothe stretched out skin—enter belly butter. Rich and emollient belly butter does the job regular lotion can't.
Today I want to show you how easy it is to make your own belly butter. There are many good products on the market, but they can be expensive and may contain questionable ingredients. What we put on our skin is absorbed into the blood stream, so it's important to use natural ingredients whenever possible, especially during pregnancy. It always gives me peace of mind to know exactly what is in the products I use.
If you have ever been intimidated by the thought of creating homemade body care, I hope this post will demonstrate how painless it can be. Honestly, it is as easy as following a simple recipe. Once the ingredients are gathered, all that's left to do is melt and pour (and it only takes a few minutes).
Mama's Belly Butter
This recipe is adapted from the Stretch Mark Cream in Natural Beauty at Home by Janice Cox.
Ingredients
1/2 cup cocoa butter
2 tablespoons wheat germ oil
2 teaspoons sesame seed oil
2 teaspoons apricot kernel oil
2 teaspoons vitamin E oil
4 teaspoons grated beeswax
2 teaspoons vanilla extract (optional)
<h3 ">Instructions
Measure all ingredients, except vanilla, into a heavy saucepan. Warm mixture over low heat until cocoa butter and beeswax have melted (two to five minutes). Stir well.
Remove from heat and stir in vanilla, if using. Another option would be to add a few drops of essential oil such as those mentioned in this post.
Cool briefly then pour into jar(s). Leave lid off and allow to cool completely (this should take about an hour). It will look very runny at first:
The butter will begin to thicken and harden immediately. It will look something like this after 10 minutes:
Once completely cool, place lid on tightly and add a label. Then "wow" your friends at the next baby shower with a gift of homemade belly butter!
To help skin remain soft, rub a small amount onto the stomach daily. Upon application, it may appear oily, but will quickly be absorbed.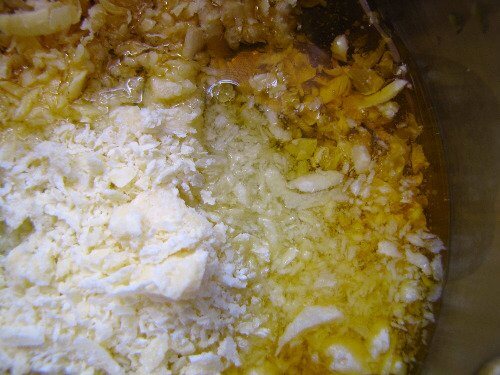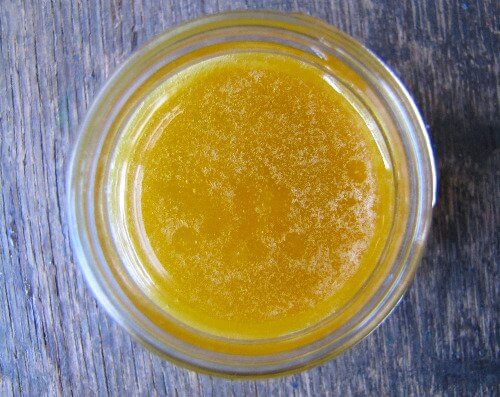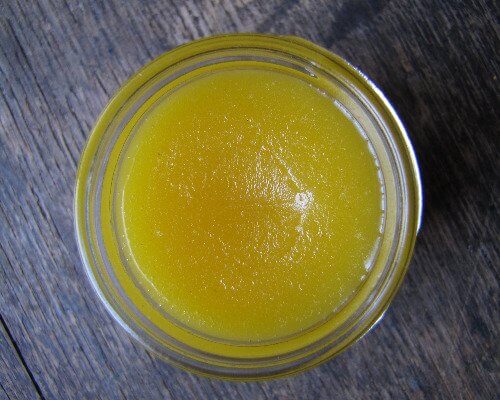 About the ingredients
Cocoa Butter, derived from the cocoa bean, has a mild chocolate scent. It is also rich in vitamin E, and is an excellent skin softener. Wonderful for adding a creamy, luxurious texture to personal care products, cocoa butter can also be used alone. It typically comes in solid form, but melts at body temperature, allowing it to be readily absorbed into the skin.
Wheat Germ Oil comes from the germ (or heart) of the wheat kernel. It is rich in vitamins A, D and E. Vitamin E is especially helpful in this belly butter as it aids skin cell formation and reduces scars such as stretch marks.
Wheat germ oil breaks down quickly and has a shelf life of about eight months. If you buy some, use it; don't let it sit waiting for a special occasion (as I did). It can often be found in the refrigerated section at the health food store.
Wheat Germ oil should not be used by those with wheat or gluten allergies. Can be replaced in this recipe with sweet almond oil.
Sesame Seed Oil is naturally abundant in protein as well as vitamins A and E. It is a stable oil with a long shelf-life, making it a desirable addition to body care products. Sesame seed oil can be found in the cooking section of most grocery stores. Just don't use "toasted" sesame seed oil, or you'll smell like a stir-fry dinner.
Apricot Kernel Oil is a wonderful skin softener. It moisturizes and tightens skin without leaving an oily residue. This oil is mild enough to use alone around the eyes. It can be found at most health food stores.
Vitamin E Oil is well known for its moisturizing properties and is often used to reduce or prevent scar tissue. It is also an antioxidant and acts as a preservative in lotions and creams, hindering fatty ingredients from going rancid.
Some suggest it is best to avoid using straight vitamin E on the face as it may cause eye irritation.
Beeswax is naturally hydrating and is found in many body care products. It often comes as a hard block and needs to be grated or melted for measuring. It is also available in small beads, which eliminates the need for grating, but is more expensive. Beeswax adds a lovely golden color to this belly butter and is the main thickening agent.
Vanilla is included in this recipe to add a pleasant aroma. Since vanilla is purported to balance mood and reduce stress, it is a perfect fit for the expecting mother. If vanilla is not something you enjoy, omit it. You may leave the belly butter unscented or add a few drops of essential oil.