Simple Strategies for Saving Time in the Kitchen!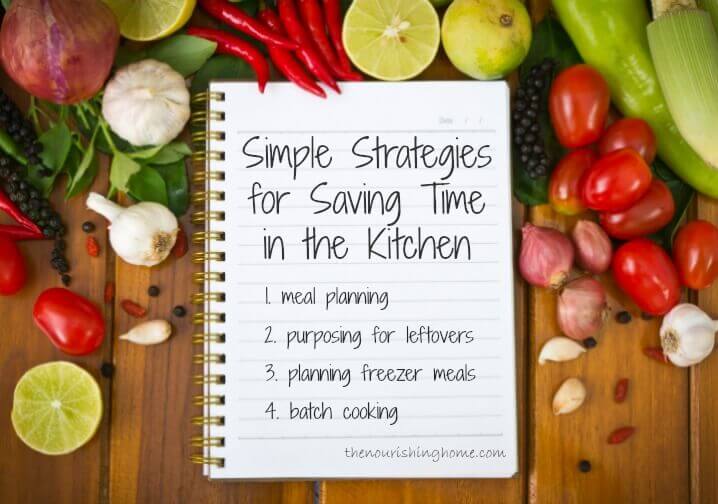 By Kelly of The Nourishing Home, Contributing Writer

The holiday season is just around the corner and with it comes some wonderful opportunities to fellowship with family and friends, as well as some challenges in the form of even busier schedules.
Throughout the year (and especially when our schedules get over busy), one of my favorite time-saving techniques is to "Cook Once, Eat Twice or More!" This basic meal planning strategy really helps you save time and work more efficiently in the kitchen, which is why I always incorporate it into each of my weekly meal plans.
In a nutshell, you cook a double portion of something and save half for another meal.
How does this save time? Well, think of all the work that needs to happen to get a healthy meal on the table – there's the preparation time, cooking time, and of course, everyone's favorite – clean-up time! So, if you make double of something during one cooking session, you're being more efficient because you don't have to repeat those same exact steps twice.
Cook Once, Eat Twice or More can take several forms, such as:
Purposing for Leftovers
One of the easiest and most common time-saving strategies is to intentionally plan for leftovers. Simply double an entire recipe, cook it and then refrigerate/freeze the leftovers for a future meal. In general, soups, stews, casseroles, and pasta dishes make excellent leftovers. In fact, some dishes taste even better as time passes, because the flavors have had a chance to meld.
And of course, there's also the option of "repurposing" leftovers, which simply means using your leftovers to create a slightly different meal. For example, leftover ground meat from taco night, can easily be used to make a taco salad for lunch. Or a bit of leftover steak can be turned into a delicious cheese-steak wrap. And the great thing is, repurposing leftovers not only saves time, it saves money too!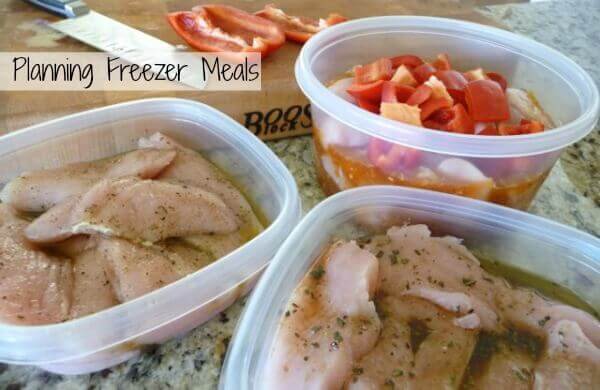 Planning Freezer Meals
With freezer meals, you simply spend a little extra time upfront prepping and freezing meals for future use. This is a popular strategy especially with crockpot meals, casseroles, soups, stocks and stews.
I find the most efficient method is to prepare (and cook, in some cases) two or more of the same meal in one session. Then use one of the meals for dinner that night, and freeze the other(s) for future quick-n-easy dinners.
One of our favorite crockpot meals is Sweet & Spicy Crockpot Chicken. This is a great example of a meal that can easily be prepped ahead and frozen. Then it's as simple as removing the ingredients from the freezer, popping them into the crockpot and coming home later to a delicious, healthy dinner.
Another example is doubling casserole-style meals. Whenever I plan to make Chicken Parmesan, I always make two at the same time. I cook one for dinner that night and freeze the other for a future meal. Even better – make two BIG casseroles. That way, you'll get two meals from each. Bonus!
Sidebar: If you participate in any meals ministries, doubling casseroles and freezing them is a great way to always have an extra meal on hand for a family in need!
Batch Cooking
Batch cooking is really just another way to describe intentionally planned leftovers – you simply make large quantities of a food that can be stored for later use. For example, on the weekends, I like to make double or triple batches of pancakes, french toast or muffins, which I can then freeze and use for quick breakfasts during busy weekday mornings.
One of my favorite batch cooking strategies is to double a main ingredient in a meal (such as meat, poultry, beans or rice) and save half to create a future meal that uses the same main ingredient.
For example, whenever I make our favorite Grilled Herb Chicken, I always double or triple the amount of chicken I toss on the grill. Then, I refrigerate or freeze the extra grilled chicken for use in future meals. It takes very little extra time to grill extra chicken in one cooking session. Yet, this simple step saves me a ton of time later when preparing other meals that include cooked chicken, such as pasta dishes, quesadillas, stir-fry recipes and more!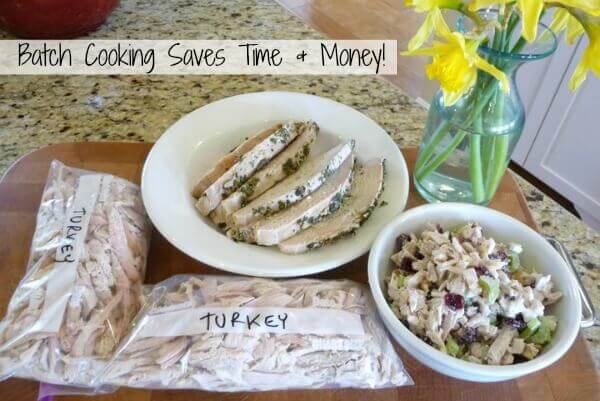 Extra Time-Saving Tips for the Busy Holiday Season
Now that we've covered a few basics on how to Cook Once, Eat Twice or More, here are a few simple ways to put these principles into practice during the busy holiday season.
Start Now!
It's not too late to plan ahead for the busy days to come. Why not make a meal plan this month with the purpose of stockpiling extra meals that you can quickly thaw, reheat or cook in your crockpot during the upcoming busy weeks ahead.
Big Bird, Big Savings!
This Thanksgiving, celebrate the joys of leftovers by cooking up the biggest bird you can afford (and that will fit in your roasting pan). That way, you can put all that time spent in the kitchen to work for you by freezing lots extra meat and side dishes for use in creating quick-n-easy meals during the busy days to come. You can also use those leftover turkey bones to make a nutritious stock right in your crockpot – how easy is that! And what a great way to stretch your dollar too!
Holiday Baking – Double the Fun!
These "Cook Once, Eat Twice" principles not only apply to dinner, but are perfect for multiplying your efforts with other kitchen tasks too, like holiday baking! Why not double or triple your favorite Christmas cookie dough, like Sugar Cookies or Gingerbread, and freeze the dough. Then, defrost as needed and bake away!
Three Cheers for Saving Time & Stress!
Once you begin utilizing these principles, I'm certain they will become a favorite time-saving strategy, especially when planning ahead for busy days when time in the kitchen is limited.
And remember, you can find even more time-saving tips in my post "Cook Once, Eat Twice or More!" as well as in Crystal's post here at Keeper of the Home. So please feel free to pop over and check out these posts for more details and encouragement.
What are your favorite tried-n-true tips for saving time in the kitchen?
This post is sponsored by Plan To Eat. Plan To Eat was born from our desire to eat real food — great food — prepared at home, together as a family. Plan to Eat is an online menu planner that uses your recipes, scheduled for the days you want them, automatically generating your grocery list, organized the way you like to shop. Eat well. Eat together.