Still Enjoying My Summer Harvest
Nope, you haven't missed anything! I haven't gone from longing for spring to beginning to eat a garden harvest.
We're still enjoying the canned tomatoes, the frozen zucchini and pumpkin puree, the pickles, the dried spices, etc. from last summer and can I just say what a beautiful thing that is!!!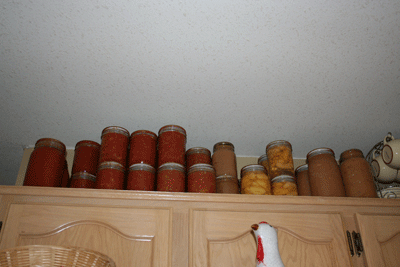 **I only wish I still had that much left, but that was some of what I originally started out with last fall**
The other night, I made up a Zucchini Spaghetti Bake, and it felt so good to know that half of the dish (zucchini, tomatoes, basil, oregano) were all from my garden. This is the beauty of preserving!
As I'm planning my garden, I intend to really do it from a mind-frame of not only what we enjoy eating fresh in season, but also what we can preserve through dehydration, freezing and canning, so that we can enjoy our garden's bounty all year long!
Have you also enjoyed the benefits of preserving from your garden's produce? Do you plan your garden with that in mind?