Prepare to Be Wowed by Bend Soap
By Ann Timm
I'm a bottle girl myself. I'm just fine with with a plastic pump or pop open top. I prefer the no-mess, non-stick bottles over the stuck-to-the-counter (or bottom of my tub) bar of soap.
But, seriously, mamas, when I opened the box of Bend Soap bar soaps and became drenched in the scent of oh so wonderfully smelling goat milk soap bars, I couldn't resist diving in! I can now say that I'm a reformed soap snob. A very nice smelling one.
Scents to tempt
Cranberry Wassail, yep you read that right and that's exactly what it smells like. I claimed it right away! Our girls are clamoring for the holiday scented bars like Candy Cane, Apple Pie, and Cinnamon Sugar. My husband, I think, would smell nice in the Mountain Bachelor Pine, a smell even the manly man would like. One of my teenage boys even snatched up a bar called Spiced Mahogany! Stocking stuffers, I'm thinking.
My favorite find in the box? Milk bath in a bag.
It looks like shredded cheese in a pretty potpourri bag. It doesn't smell like cheese, though! The Sweet Orange shredded soap, actually soap curls, smelled so delicious I went straight to my tub and started filling it with water. The soap lathered beautifully, smelled ever so delicious in a light sweet scent, and felt luxuriously silky in the tub and for hours on my skin afterwards.
When I rinsed off I expected to have that feeling that I would never get the soapy feel off my hands. Do you know that feeling? I have hard water and often good soaps are hard to rinse off. This soap, though, washed off clean and still left my skin feeling soft and silky.
It's Good for My Skin
Check this out. Bend Soap's four main ingredients:
Fresh, Raw Goat's Milk – which naturally exfoliates and supports healthy skin
Coconut Oil – is extremely moisturizing and skin softening
Olive Oil – loaded with vitamins your skin craves
Palm Oil – antioxidants that are said to combat and may reverse harmful UV skin damage
According to the company, "each of these all natural ingredients are full of antioxidants, vitamins, minerals, and healthy fats that will support, nourish and protect your skin," which makes all the luxuriating even better. Knowing that a cleanser can be this good and nourishing for my skin is like the cream on top.
The Story Behind Bend Goat Milk Soap Bars
I did my homework and found a lovely story behind Bend Soap Company's nourishing soaps. This isn't just any family business. Dwight and Marilee Johnson have seven, yes count them, SEVEN boys and one adorable little girl. They began creating their own soaps from a desire to help their young son Chance who was suffering from eczema.
In their search for healthy skin products to relieve Chance's itchy dry skin, Dwight discovered that the conventional soaps they had been using were full of gunky ingredients that were contributing to the dry itchiness. During his research he found that goat's milk was not only nourishing for your body when you drink it, but also nourishing for your skin.
Already having goats on their farm for drinking milk, they decided to try their hand at making goat milk soap with their own milk and Bend Soap Company was born. (You can read Chance's story about his battle with eczema here and see pictures of their goats here.)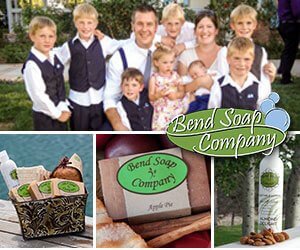 Have eczema or sensitive skin?
Start with their purest bars:
Pure and Natural – for very sensitive skin, this soap is made of only goat's milk, coconut oil, olive oil and palm oil. Good for babies, eczema and raw skin this simple soap moisturizes, hydrates and repairs.
Oatmeal and Honey – Just like the Pure and Natural soap with the addition of real honey and real oats. The oats for their anti-itching and anti-inflammatory properties to soothe the skin. Honey, also having anti-inflammatory properties, is extremely moisturizing.
Other soaps are scented with essential oils like peppermint, lavender, tea tree, and orange valencia (my new favorite). Friends and family noticed what they were doing and started requesting goat milk bars to take home for themselves. For the last four years the Johnsons have been making and selling Bend Soap.
Thinking of buying some for stockings? And maybe yourself?
Here are some special savings:
Use code soap25 = 5% off orders over $25.00
Use code soap50 = 10% off orders over $50.00
Use code soap100 = 15% off orders over $100.00
Free Shipping on Orders Over $50.
$2 shipping on orders under $5.
Flat Rate $5 Shipping on Everything Else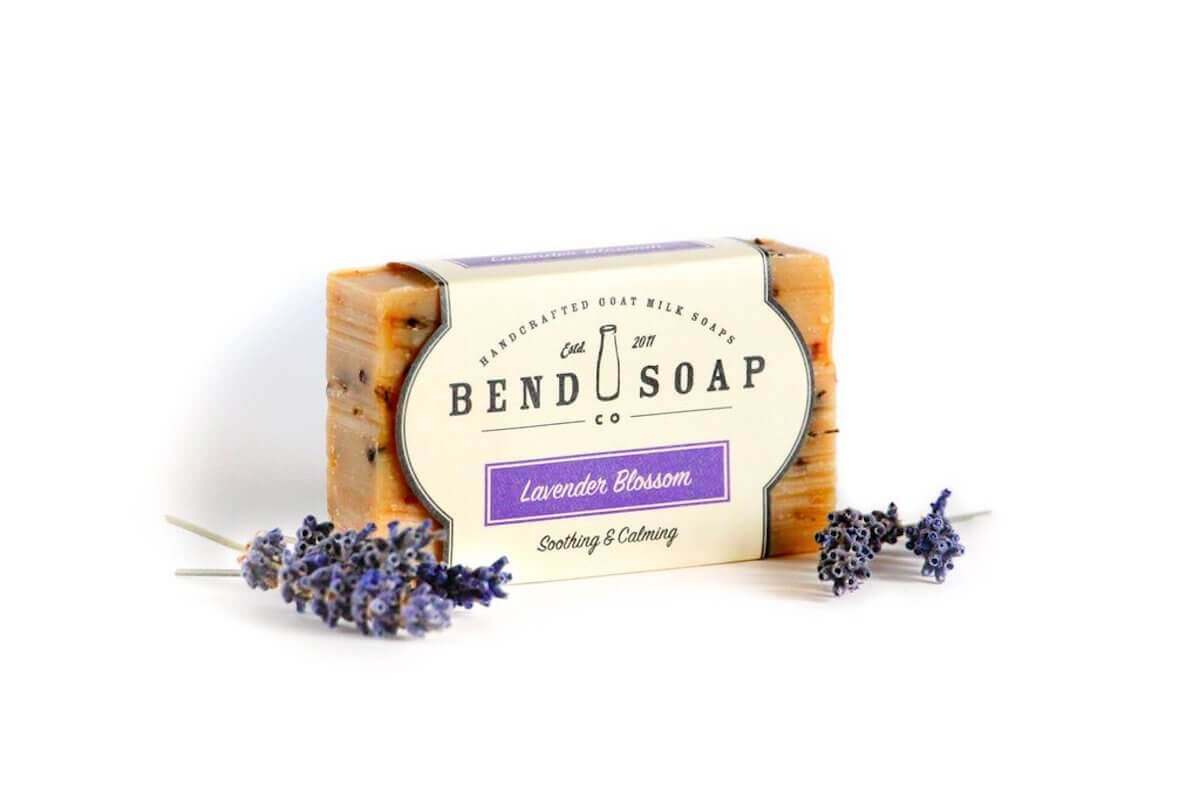 Be wowed: Here's how YOU can win!
Disclosure: The opinions above are those of my own and my teens. 🙂