Updated! Spring Book Sale: Real Food and Healthy Homemaking eBooks 50% Off!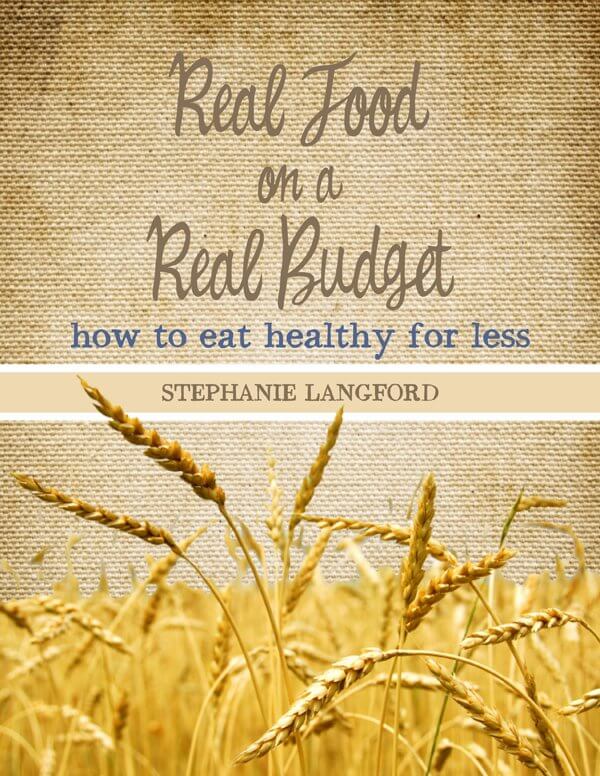 Celebrating the fact that it's spring, the sun is beginning to shine (and green things beginning to grow), and most of all that in 5 short days I will board a plane that will take me and my hubby to the Philippines for the adventure of a lifetime…
… how about a smokin' book sale?
Update: The sale has been extended to June 12th (Sunday) at midnight!
For the next two weeks, May 24th (that's today) to June 7th, here's what I'm offering:
Real Food on a Real Budget: How to Eat Healthy for Less
A primer for families who want to learn how to save an average of 20-30% on their food budget, while at the same time serving better quality and more nutritionally dense foods.

Based on 6 years of hands on experience and hundreds of hours of research, Real Food on a Real Budget will teach you how to drastically lower your food budget OR significantly increase the quality of the foods that you buy (for the same amount of money).

Think you can't afford to eat nourishing foods? Think again!
eBook copy is 50% off! Regular $18.97, now only $9.49.
Paperback copy is 25% off! Regular $21.99, now only $16.48 (plus shipping).
Click here to buy your copy (or to learn more about the book).
Healthy Homemaking: One Step at a Time
A compilation of practical, relevant and varied "baby steps", designed to take you on a one-year journey to healthier homemaking. Topics include nutrition, cooking techniques for whole foods, going greener and natural/non-toxic living.

One of the major premises behind the way that I've written it is to keep it from being overwhelming. The intent is to focus instead on the little victories in each positive step we take forward, one step at a time.
eBook copy is 50% off! Regular $12.95, now $6.48.
Paperback copy is 25% off! Regular $18.95, now $14.21 (plus shipping).
Click here to buy your copy (or to learn more about the book).
My Trip to the Philippines
My to-do list is almost completed, our bags are ready to be packed, our children will hopefully be less chicken-poxy when we take them to Grandma's (sorry about that, Grandma!)… things are almost a go.
I am now signing off until sometime this weekend, while I love on my kids like there's no tomorrow and finish getting ready to leave. There will still be fabulous content from my regular writers (including a spring/summer soup recipe and more frugality talk) for the rest of the week.
From that point, I will hopefully post briefly during our travels this weekend, as we head to LA, then Tokyo, then our final destination, Manila. If I don't get a chance, guaranteed my first post (as well as posts from my other awesome teammates) will be up by Monday, May 30th.
Wish I could just pack you all up in my suitcase and bring you with me, but the hotel room might get a little cramped (and you know, seeing how my husband is coming with me, I'm not too sure he'd approve). Instead, I'll just do my best to share with you what I'm seeing. It will probably not be polished or eloquent or possibly even coherent, but it will be real and honest and as vulnerable as I can handle.
We would so appreciate your prayers as we head off and while we're over there– thanks, everyone!