Need Grain Free Recipes? Against the Grain eBook Giveaway!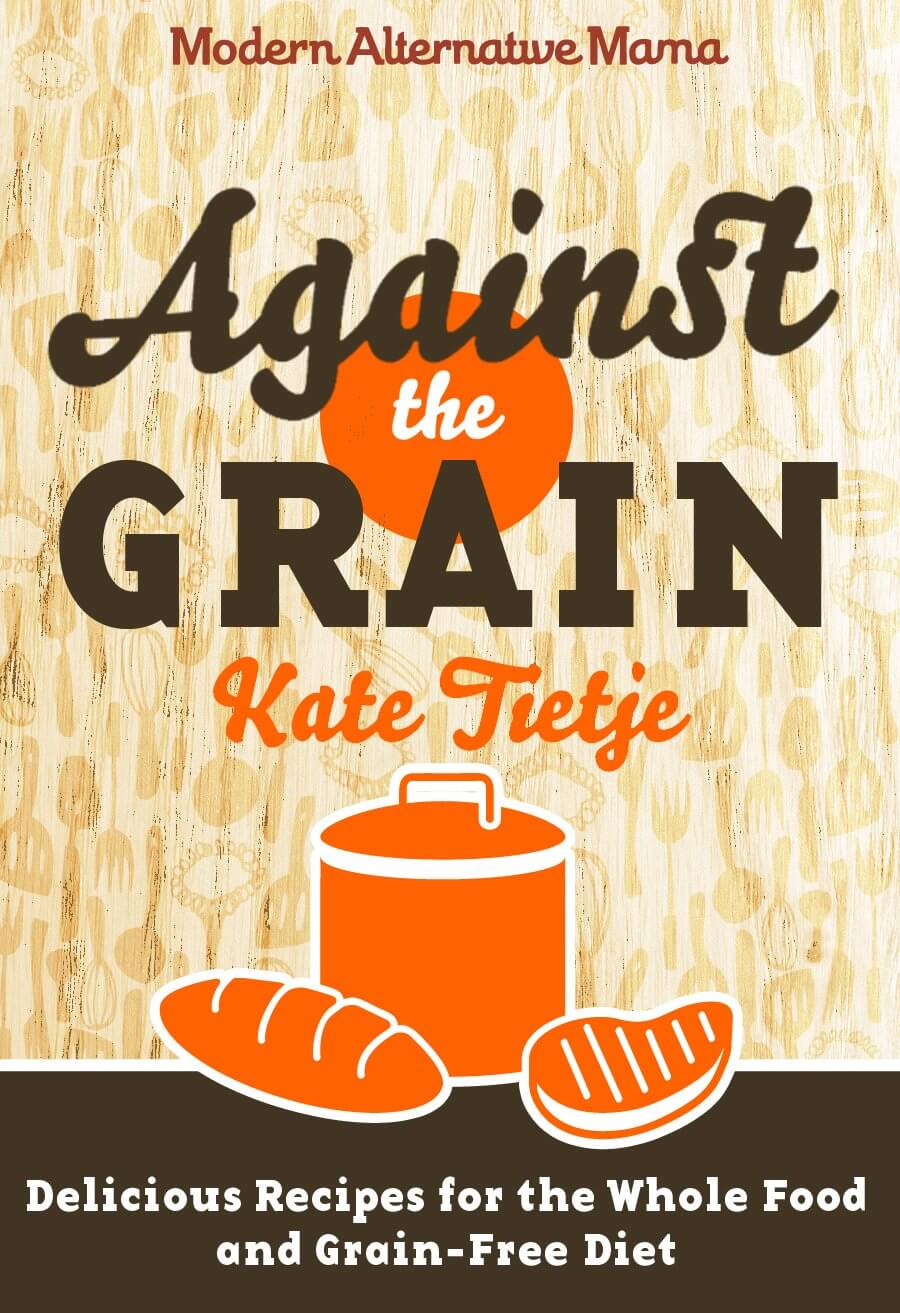 During the past 14 months, our family has gone on the GAPS diet twice. The first time we had excellent success, but I gave up too early because we were in a hectic season of life and I feared that I couldn't keep up with the demands of the extra kitchen time.
The second time, the biggest challenge I was experiencing was a lack of interest in the meals that I was making. It seemed that my kid's and husband's eating preferences had changed in the 8-9 months in the interim.
Meals that had gone over well the first time were flopping this time around. Everyone seemed bored and frustrated with the food, myself included. I don't know exactly why the difference, but it was evident and honestly, it was discouraging.
We could all handle eating foods we didn't really like for a short period of time, but we had only done 6 weeks and were aiming for 6 months, and I simply didn't see how to continue with things as they were.
What I Really Needed
Shortly after making the decision to stop the diet, a friend and I discussed it (as she had also been doing the diet) and she asked whether I had bought any cookbooks written specifically for those on GAPS. I hadn't, but now looking back I wish I had looked into finding some better resources.
I realized that I was functioning without a solid repertoire of meals that my family really enjoyed, and with little more than my own creativity for coming up with new ones (and there is good reason this isn't a food/recipe only blog!), it's no wonder I got stuck and frustrated.
What I really needed was some solid resources, full of fresh, new recipes that I hadn't tried yet or had to come up with myself, to carry us through and keep eating interesting and enjoyable.
Against the Grain: Delicious Recipes for the Whole Food and Grain-Free Diet
This ebook written by our very own Kate Tietje (also of the blog Modern Alternative Mama) was written for this very purpose. Here's what she says in the book's introduction:
My immediate frustration was with the lack of ideas and options out there. I found so many gluten-free recipes that were not grain-free. These weren't doable. Those gluten-free grains still contain a lot of starch and can prevent the body from healing (more on that later). The next thing I encountered was the sheer boredom in the options we had. Did I want to serve baked chicken and steamed broccoli or vegetable soup for every meal? No, not really. And I don't think most others do either!

I think it's a big reason why people give up on the grain-free diet so quickly – they're bored! They don't want to just eat fresh or steamed veggies with plain meats or soups, but they don't know what else they can eat.
I think she hit it on the head. We were bored! We needed more ideas to keep us going!
That's what Against the Grain is primarily about… broadening the eating horizons of those who want to remain grain free.
Note that not all of the recipes fit in with a GAPS diet perfectly (some include potatoes or beans or dairy that are not on the diet, for example) but most do work for GAPS or could easily be adapted.
What the Book Includes
Here are some of the main-dish recipes included:
Spicy Lime-Marinated Beef Strips
Sausage and Peppers with Spaghetti Squash
Salisbury Steak
Fresh Herb Burgers
Beef Stir-Fry
Beef Tips with Portobello Mushrooms
Garlic-Rubbed Pork Chops
Tomato-Cream Sauce with Chicken and Zucchini
Blackened Fish
Chicken in Sundried Tomato-Cream Sauce
Not to mention lots of soups, side dishes and some desserts as well! Kate has also included some helpful information on the why's and how's of eating grain free and tips for making it work for you.
Though we're eating grains again at this point and therefore haven't tried out many of the recipes, they've been well received by the book's taste testers and the look simple and yummy and definitely child-friendly as well.
Whenever we decide to get back on the GAPS bandwagon, this ebook will be one of the invaluable resources in my arsenal against grain-free boredom.
Want to win your own copy of Against the Grain: Delicious Recipes for the Whole Food and Grain-Free Diet?
I have 5 copies to give away! Here's how to get entered:
(Please leave each entry as a separate comment)
1. Check out what the book is all about and tell me why you'd like to win it!
2. Subscribe to Keeper of the Home by RSS feed or by email (and be entered to win our monthly email subscriber-only giveaways!).
3. Share about this giveaway through your blog or favorite social media (find Keeper of the Home on Facebook and Twitter here).
Giveaway ends Monday, May 30. 2011.
Disclosure: I've received a copy of the book to review. I am also an affiliate of this ebook, and if you decide to purchase a copy through my links, I'll receive a small kickback. You aren't obligated to use to these links, but when you do it helps to support this site, so thank you!