A Day in the Life: Work-At-Home Mom with 3 Kids (4.5, 3, 1 and pregnant)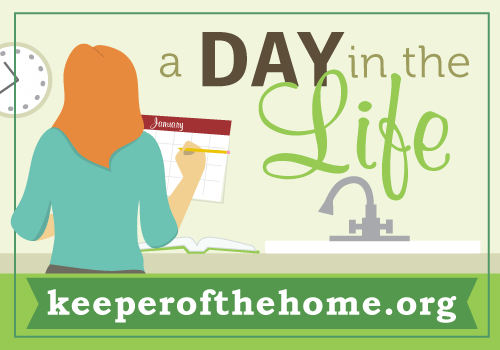 Written by Kate Tietje, Contributing Writer
I'm a busy mom.
Obviously I'm not alone! Is there really a way to be a mom and not be busy? Probably not. I guess if you're rich and you can afford a live-in nanny…but how many of us are in that boat? I know I'm not!
I am the owner of the Modern Alternative family of websites (there are now four — Modern Alternative Mama, Modern Alternative Kitchen, Modern Alternative Pregnancy, and Modern Alternative Health) as well as mommy to three, soon to be four children (ages 4.5, 3, 1, and due in Mar. 2013). I also cook constantly and do lots of other homemaking tasks, and I homeschool my kids.  
I get asked all the time "how I do it."  I assure you there's no magic involved! Nor do I really get it "all" done — impossible! Today I'll let you into our home to see just how it really goes down.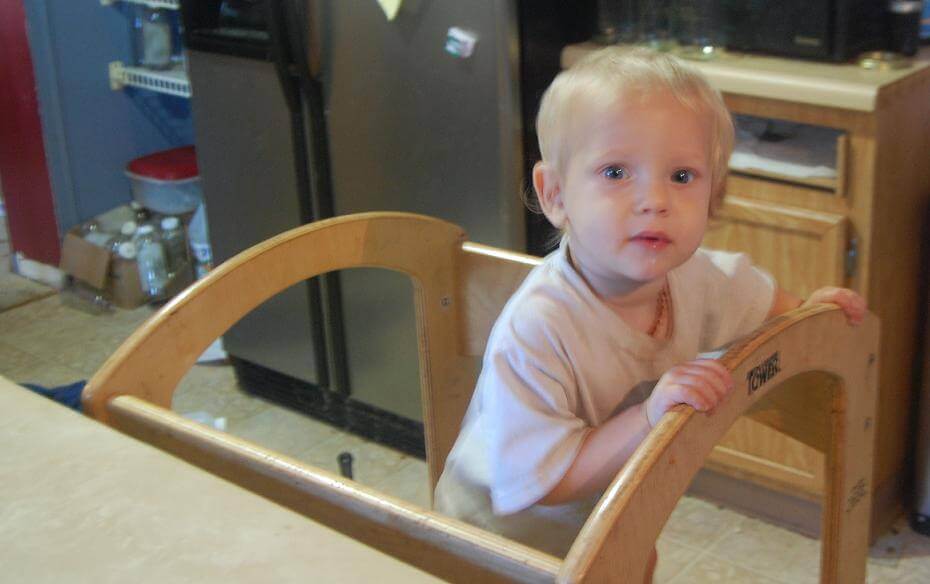 Our Busy Mornings
We have two different "main" schedules in our home. On Mondays, Wednesdays, and every other Friday, I don't do any work and we don't necessarily go anywhere.  We might have a playdate, but we don't have anything regular scheduled. On Tuesdays and Thursdays I work in the morning, and every other Friday we do our big shopping day.
On Tuesdays and Thursdays, we all get up around 7:30. I usually sit with the kids for a half hour and wake up, snuggle, talk, etc. Then I head into the kitchen to do my basic morning chores and make breakfast. This includes things like emptying the dishwasher (and reloading as needed), filling my Berkey water filter, filling the ice trays, possibly mixing more ingredients into soaked dough so it can rise, getting meat out to thaw for lunch/dinner, maybe sweeping the floor, etc.
The kids sometimes help with these jobs but not always. As they get older they'll have more formal jobs. Usually they are responsible for their clothes, their playroom, and a few other small things. These jobs happen more randomly. When we move into a new house in a few months hopefully, we'd like to get chickens and plant a big garden, and these things will be part of our morning chores and all the older children will help.
Typically I have finished up these chores and have gotten the kids settled at the table with their breakfast around the time the babysitter arrives, which is at 9 am.  I take my breakfast and head upstairs. No one's dressed, but the kids usually do some messy play in the mornings so I prefer they do this in their PJs anyway. We get dressed usually in the early afternoon. With the babysitter, they usually spend some time outside (often playing with water in the summer), maybe paint or do another art project, build Legos, etc.
I spend the next three hours answering emails, writing blog posts, checking in with my editors and contributors, scheduling Facebook posts for the rest of the day, and so on.
At noon, I head downstairs, pay the babysitter, and get the kids started on cleaning up their playroom, if needed.
On a non-work day, I usually spend much of the morning going back and forth between playing with the children and doing work in the kitchen (sometimes we get dressed early, sometimes not. I don't like to get us all dressed if I know we'll be doing messy activities at home anyway — I'd rather mess up our "blah" clothes than our nice ones. If we are going out, obviously we get dressed!).
I am spending more time in the kitchen than usual lately because it is preserving season.  I am constantly trying to cut up fruit or vegetables, boiling things down, and processing in the water bath. I spend 3 – 4 hours a day many days working on this.
In a few weeks when this season is over, we will spend more mornings going on play dates or out to do fun activities as a family. We'll also do more homeschooling activities, but we are "unschoolers" so formal/planned activities aren't as common as doing whatever interests us and learning as we live.
On Fridays, we have breakfast and then head out by 10 am and are usually out until 2 or so, hitting a variety of stores all over the city, then home for naps.
Calmer Afternoons
Either around noon or so on "off" days (except shopping Friday) or after I am done working, I head into the kitchen to quickly prepare lunch. I try to keep a pre-made option on hand that can be reheated, or something I can make easily. We like to do pita pizzas, meatballs, pigs-in-a-blanket, etc. Lunch is usually ready around 12:45. We eat, then if it's nice, head outside for awhile. If it's not, we usually watch TV.
Around 1:30 – 2, it's quiet time.  I watch the baby for signs of being tired, and when he is — I take everyone upstairs.
The kids typically all still sleep, although my oldest sometimes opts to read or color in her room instead. They all must have quiet time, though!
While they are sleeping, I usually start dinner, do more dishes, work on canning, laundry, or work on my blogs.  It depends on what most needs my attention at that time. I usually do several different things, tying up any "loose ends" on my mental to-do list.
The kids get up around 4, give or take an hour (my oldest and youngest like to sleep a lot less than my middle son). We usually have a snack, and often head outside for awhile. Sometimes we play soccer together (my 3-year-old is doing his first sports 'team' this year!), take a walk, or just wander around doing whatever looks fun. Often we are outside until Daddy gets home.
Once Daddy is home, the kids usually go play with him so I can work a little more while cooking dinner.  If it's nice out, he will take them on a long walk and/or to a playground. If it's not, they'll curl up and listen to music or watch movies together. Sometimes they build forts or work on science projects.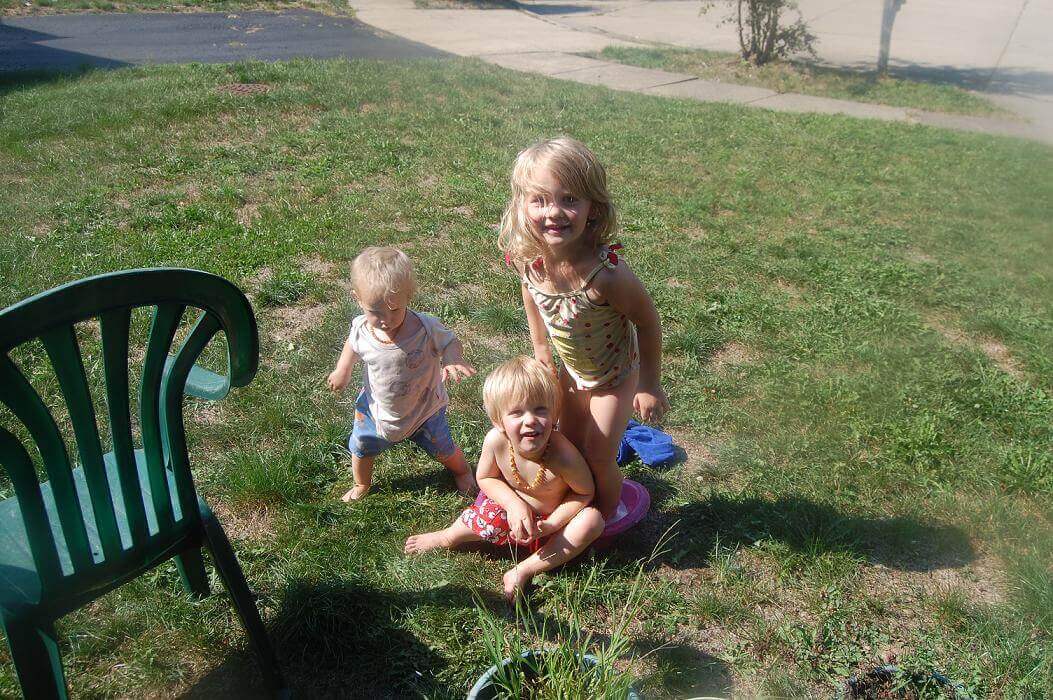 Family Evenings
Dinner time is around 6 or so, possibly later if they're out for a long walk.  By 7, they're usually settling down for the night — taking baths, getting into PJs, listening to some more music with Daddy, etc. while I am usually in the kitchen, finishing up any last-minute chores: dishes, making a bedtime snack for us, setting dough to soak, etc.
Every other Monday I go out to a Toastmaster's meeting from 7 – 9, and every Wednesday we have AWANA at church from 6:30 – 9, so the kids don't have much Daddy time on Wed. and they go straight to bed when we get home. I volunteer at AWANA so it's a busy night for all of us! Sometimes we have an evening appointment with the midwives or the chiropractor too.
At 8 it's bedtime (for the kids).  We take turns going into all the kids' rooms and singing songs, giving snuggles, and I nurse the baby. Then Daddy is the last one in each of their rooms before they are put down for the night. Since we make a point to get them outside a lot they usually fall asleep quickly.
We finish up anything that's left in the kitchen, then head upstairs to sit in our bed together, have a snack, and watch TV until around 10, when we go to bed. The baby usually wakes once per night to nurse and needing a diaper change, but otherwise we all sleep. Then we get up the next day and do it all over again!
Routines and Thoughts
Our days are very predictable and very busy. The only somewhat frustrating thing is not being able to spend much time with friends. Tuesdays and Thursdays are automatically out because I work in the mornings and afternoons are family/quiet time. Every other Friday is out due to shopping. Usually Mondays are out too because we need to rest from busy weekends and do several chores. Wednesdays are our only opportunity and even then I hesitate since we're out so late on Wednesday nights! I wish our schedule were a little more open, but there's no way that I could keep up with blogging and homeschooling (and homemaking, and…) if it were.
There are trade-offs. I don't do as much blogging work as I used to and I have more of it — which means I need to make some decisions there. The house is often not as clean as I wish it were. After canning season is done we'll have a little more free time, at least.
I wish we did more formal Bible/Jesus time, but that doesn't seem to be how we roll. We talk about Jesus randomly throughout our days and pray when we feel the desire to do so. He's very much a part of our daily lives but not a scheduled, specific-study part.
I'm still struggling with this one, trying to figure out if we really 'need' scheduled Jesus time if He flows so naturally with our daily activities and thoughts anyway…for now I'll leave it as it is. (I always feel guilty when I read about families that specifically study the Bible multiple times a day and do devotions and first-thing-in-the-morning scheduled prayer time because that is just not what we do. I often don't feel like a very good Christian mom. Though as I said, Jesus is alive and well in our home and frequently is a part of our conversations.)
That is what life looks like in our home!
And a sidenote… Kate's awesome ebook Simply Summer, which has over 30 fresh, seasonal summer recipes is 50% off now through Sunday (Sept.23) with coupon code ENDOFSUMMER. 
Do you struggle to balance your schedule and fit in "all the good things?"