There is nothing like the smell of warm gingerbread, wafting out of the oven on a cool winter day…
This is my favorite gingerbread cake recipe, which I made for my daughter's 4th birthday party. Guess somebody else thought warm gingerbread sounded just right, because they asked me to post the recipe, so here it is!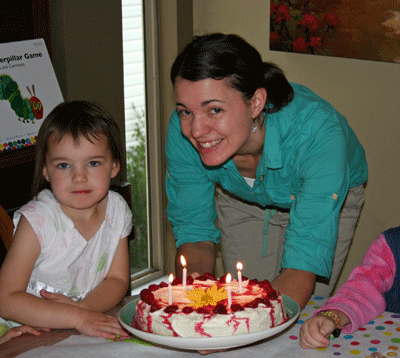 Gingerbread Cake Recipe
Ingredients
1/2 cup butter
1 cup brown sugar (I used a mix of Rapadura and Coconut Sugar, because that's what I had- it worked wonderfully- I think using either one entirely would be great and I'm sure it could also be adapted for use with honey)
2 eggs
1/2 cup molasses
1/2 Tbsp. cinnamon
1/2 Tbsp. nutmeg
1 Tbsp ginger
1 Tbsp baking powder
2 cups flour (wheat is fine, but you can easily substitute spelt or kamut, and possibly other flours)
2/3 cup boiling water
1 Tbsp baking soda
Instructions
Cream butter and sugar until fluffy. Add eggs and beat. Add molasses. Mix all well.
Stir flour, baking powder and spices together in a separate bowl.
Dissolve baking soda in boiling water.
Add water mixture and dry ingredients to creamed butter mixture alternatively (a bit of water, a bit of dry, etc.).
Bake at 350 F for 40 minutes.
Notes
(This is not a soaked flour recipe, which is the only kind I usually use. However, it's a rare treat and I needed a cake that was simple to make and guest-pleasing but not entirely unhealthy, so this fit the bill. It could definitely be made with sprouted flour, which would get rid of the issue of the unsoaked flour.)
Courses Desserts and Sweets
And the icing on the cake, of course…
Cream Cheese Honey Icing Recipe
Ingredients
Instructions
Add all to a small mixing bowl, including a few Tbsp of raw milk. Start mixing with handheld beater, and slowly add more milk until you achieve the consistency you like.
Taste many times, just to make sure it still tastes good. Share the beaters with your 4 year old and feel like a kid again.
Courses Desserts and Sweets
To make a colored icing, add a little less milk and instead thaw some berries to mix in. I use raspberry for red (but really more of a pink) coloring, blackberry for purple, and blueberry for (what else?) blue. You can see above that I didn't color my icing this time, but put frozen raspberries around the edge (note- frozen raspberries will melt and drip all over the white icing!) If you're brave, you can try using liquid Chlorophyll for green. Any ideas for yellow or orange?