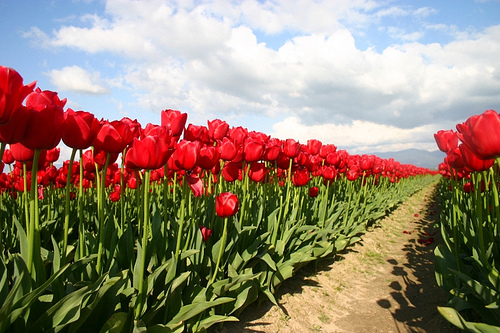 Image by LaserGuided
Though last week was so busy with my eBook launch and baby steps that I didn't take the time to mention it, our family went to Seattle on Thursday night so that my husband and I could attend a homeschool conference.
In random, stream of consciousness form, here are some thoughts and happenings from the weekend:
1) Thank you all so much for your kind support of my eBook, and for the excitement and encouragment you offered me in regards to it's launch. I was a bit overwhelmed by it (in a good way), and as always, am so privileged to "know" and share with you all. 🙂
2) I had a two-day "date" with my husband at the conference this weekend, and boy, was it fun! This was our third year attending, but this year Grandma offered to stay home with the kids so that we could more fully take in the speakers. What a wonderful time we had together, listening and being challenged and inspired, talking together about what we were hearing, having picnics on the church lawn, philosophizing over our homeschooling ideologies and discussing our goals for our children, plus some fun little dates and treats mixed in. Thanks, Grandma!
3) This is my last week of "Eating from the pantry and freezer", and truthfully, I haven't had time to plan it out yet. We got home in the late afternoon yesterday, only to bring in some coop food that I had purchased while down there, and to head right back out for dinner at my Nana's house an hour away, to visit with my step-Mom (down for the weekend from up North). When I got home, meal planning was not on my horizon. But, I will put something together today and share it with you later.
4) How excited was I to come home and see more green popping up in my garden, and even in the flower pots on my deck! My tomato seedlings thrived while I was gone, and we'll be out to water seedlings later this morning (we had a weekend without rain- in the Vancouver area, that means it must be spring!). Our big task of the day is to plant a garbage can with potatoes… my first attempt. I'll take some pics, as we get it all set up in our lovely "upcycled" garbage can that I grabbed last week from Freecycle.
5) I'm hungry. I better stop blogging and go make some oatmeal! (What did I tell you? Random, stream of consciousness!)
6) But before I do, here's one quick thing that I wanted to mention, as it's been on my mind a lot since Saturday…
Do I rejoice in the role that God has given me in my home? Is it evident? Do others, and especially my children, see that I love being a woman, love caring for them, love serving my husband and love making my home a haven, both for our family and for others?
In a session by Deborah Brown, on training and raising daughters to be homemakers and helpmeets, this question really struck a chord with me. If I want my daughters to grow up embracing the Biblical role of becoming a wife, mother and homemaker someday (because although not every daughter is assured of being married or having children, this is the normative path for women in scripture, and it is what we feel that we ought to be preparing our daughters for), then I need to consider the example I set.
The role that I have now is not the one that I trained for. I spent 13 years in public school, and 4 years in a liberal arts university, preparing to be anything BUT a homemaker (because I was "way too smart to waste myself on just being at home", or so the voices around me worked to convince me). It is still a learning curve for me, balancing housework, cooking, child training, home educating, and serving my husband. I still so often feel overwhelmed and under-equipped for the task at hand.
But regardless of how I feel… what do I communicate? That I revel in the role that God has given me? That there is absolutely no where else I would rather be? That I accept with joy even the mundane parts of my day (the laundry, the toilets, etc.)?
My daughters (and my sons as well) need to see a picture of a woman that is at rest, and even better, rejoicing in her role. They need to know that I love being a wife. Love being a mom. Love caring for my home and showing hospitality. That what God has called me to do is a privilege and NOT a burden.
My goal for today? To choose joy and contentment. To purposefully express to my daughter how very good God's ways are, and how right He was to place me right where I am- in my home!
Have you ever considered the effect of your attitude, words and demeanor on your children, and the messages that are being sent to your daughters in particular? Do you also find it a challenge to display and communicate joy in your God-given roles?