My Experience at Blissdom '10
I went into my time at Blissdom '10 not knowing quite what to expect and more than a little nervous. I was one of the only bloggers going from my niche and I wasn't sure who I would connect with, what I would learn and whether the whole thing would be worth it or not. Particularly since I had only recently been contemplating how long I would even continue to blog for. And the verdict?
I am so glad I went! The incredible women I was able to meet and connect with, the inspiration and information I received from sessions and just from sharing with other bloggers, the encouragement to press on in what I am truly passionate about, and the wonderful knowledge that I am not alone in this crazy thing called mommy blogging! There are others out there doing just the same thing that I am doing, dealing with the same ups and downs, the same challenges of balancing life with kids and homeschooling and homemaking, and desiring to use their blogs to honor the Lord. I came away from my weekend absolutely buzzing with excitement, ideas, encouragement and newly cemented friendships!
Here are some highlights: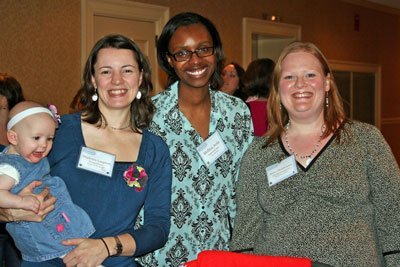 My awesome roommates, Melitsa of Play Activities and Rene of Budget Saving Mom. I absolutely could not have asked for better roomies and was really blessed to get to know them both. And they put up with me, night-owl tendencies, huge stollers (yes, more than one- see below) crowding the room, nursing baby and all! Thanks, gals!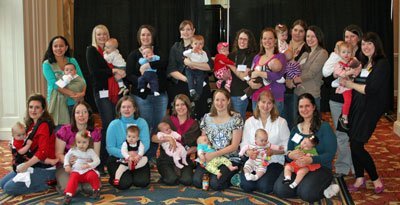 Speaking of babies, this is a group shot of most of the Blissdom Babies who attended. Aren't they a sweet bunch? We were utterly blessed by the swag bags provided primarily by For Baby Gifts, and organized by Christine who blogs at From Diapers to Dates.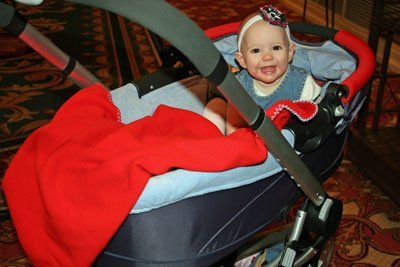 Not to mention, the strollers we were able to take for a test drive… and WIN! Thanks to the generosity of Safety 1st, Johanna and I walked away from Blissdom with this incredible, fancy-schmancy Quinny Buzz stroller! After trying it out during the weekend, I fell in love with its Dreami bassinet, which allowed my tummy sleeper to be able to take a nap throughout the day even when we couldn't get back to the room or when my back was hurting from wearing her. Bliss. Not only that, but it's so smooth and easy to push and came with an upright seat to replace the bassinet attachment, as well as a cushy travel bag. Wow!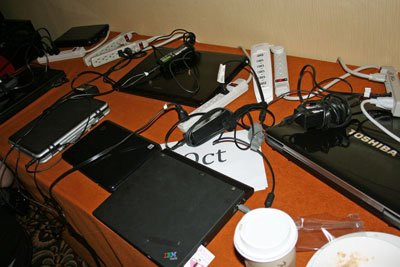 I couldn't resist taking this pic. What do you get when you put 500 female bloggers together in the same room? 6 tables full of charging laptops!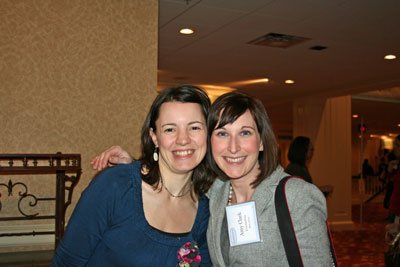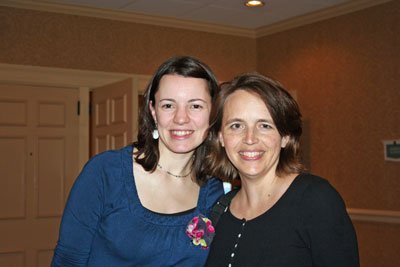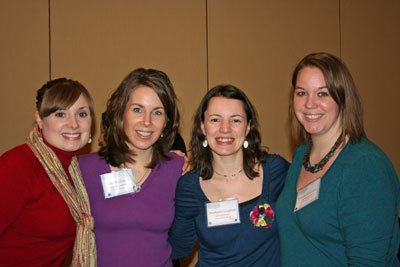 A few snapshots of some of the women I was so blessed to meet! Left to right, Amy from MomAdvice, Jessica from Life as Mom, and below, Myra from My Blessed Life, Amy from Amy's Finer Things, and Phoebe from Getting Freedom. And can you believe that Crystal (Money Saving Mom) and I forgot to get a pic taken of us together? Guess we were just having too much fun talking and getting to know each other!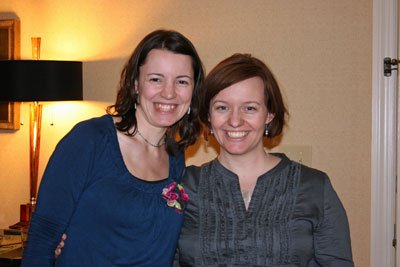 I had the privilege of spending an evening with the amazing Tsh of Simple Mom and I am so glad I did. Tsh is just the way her blog reads- organized and very intentional, but so sweet, easy-going and personable. I am thrilled to announce that as of this month, I am joining Tsh and the Simple Living Media team! I will be writing once a month for the blog Simple Organic, which is all about natural, sustainable living for regular people with a focus on simplicity. The kick-off was earlier this week and there are giveaways going on throughout all the various blogs (Simple Homeschool, Simple Bites, Simple Kids, etc.).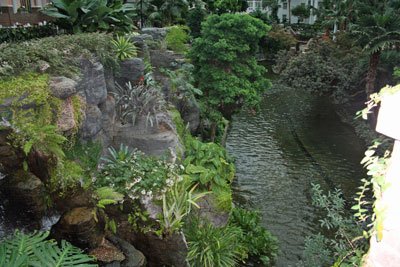 Just a few shots of the glorious Gaylord Opryland Hotel… it would take a whole post to do it any justice at all. This is the river that flows through one of the main garden conservatory areas (yes, that's right… I said the river).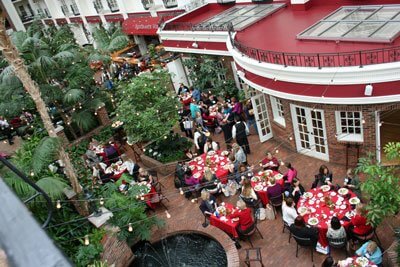 Here's a bird's eye view of the restaurant where we ate lunch on Friday, in another of the garden areas. In the upper left hand you can sort of see the balconies with wrought iron- I didn't stay in one but there are hotel rooms all throughout these gardens with the most incredible views. Next year, next year…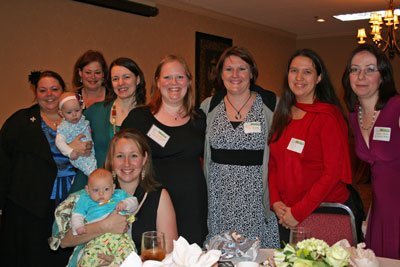 Our Savvy Blogging round table discussion members, led by Erin from $5 Dollar Dinners. The Savvy Blogging ladies put on a great event, and I loved the round table format where we just asked each other questions and shared from our own knowledge and experiences. Very valuable!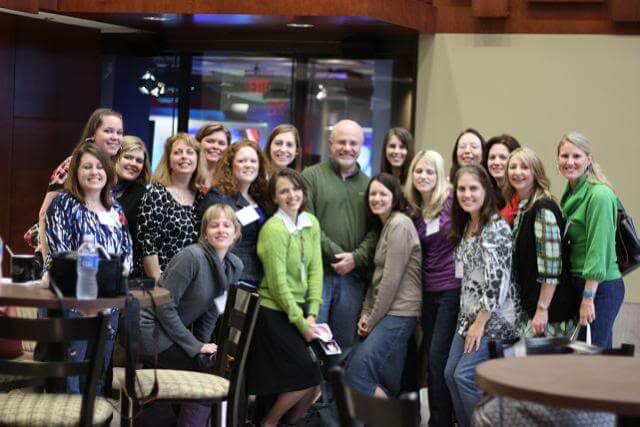 A highlight of my trip was skipping out of sessions on Friday afternoon to go to the Dave Ramsey headquarters! I've talked about Dave's books and his Financial Peace University course, which were instrumental in helping our family to get out of debt and get control of our finances. We were able to not only meet him, but ask a few questions and even watch him record his live radio show. Crystal wrote a great recap of our visit at Money Saving Mom. You can also find a short interview of Dave on the Savvy Blogging website.
There is so much more I could share about Blissdom. I haven't even gotten into the sessions I went to, all the other incredible ladies I met, the swag and gifts we were given (oh. my. goodness. Did we ever get given a lot of great stuff!), the sweet evening get-together and morning prayer with (in)courage, or being taken out to church and lunch by a local reader! I can't say enough good things about the conference itself (organizers Alli and Barbara and Paula- you outdid yourselves!). God willing, I will be back next year!