Giveaway: Beautiful Silver Handmade Mementos and Earrings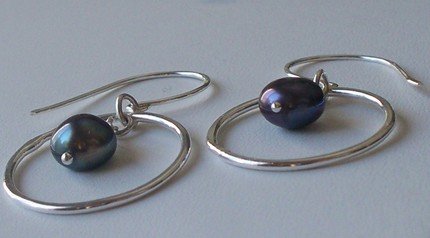 Have I got another treat for you! Today's giveaway is from bylynnkrestel's lovely jewelry shop on Etsy. Lynn is a designer who works primarily with silver, as well as vintage or found items, and is inspired by objects in nature. Her work is absolutely beautiful– delicate, simple, unique.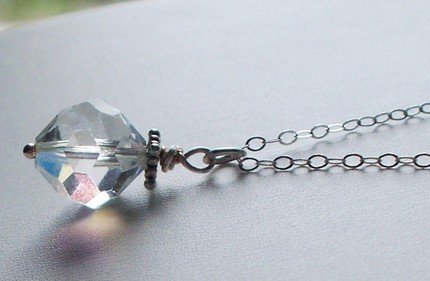 I asked Lynn to tell you a bit about herself and her work, and here's what she had to say:
I have been blessed to be able to be a stay home mom to our two daughters. When my girls were little, I knew it was important for me to be there. Little did I realize how much more it would be as they became teenagers! This year has been a great transition for our family as we saw our oldest off to college in California. I have been able to supplement our family income through the years working from home. This last year has been a great blessing – building an online shop through etsy.

I love every minute I get to create. I developed the resin photo mementos so those special ones can stay 'close to your heart'!! I also love working with silver – creating simple, stylish pieces – perfect for giving or wearing!!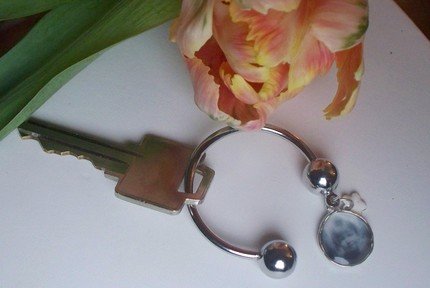 One of my favorite things in her shop was a group of memento items. These are made using your own images (scanned copies- not the originals) in order to create a meaningful piece of jewelry with photos or other images (childhood drawings, etc.) that you would like to preserve as a precious keepsake.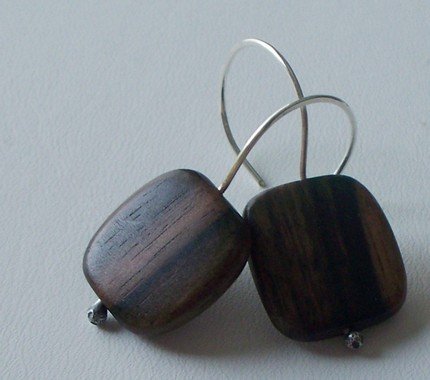 Lynn has kindly offered to giveaway EITHER a memento key chain OR a pair of earrings! Sigh… again, the dilemma of not being able to win my own giveaway. I've already fallen in love with half of Lynn's items, so I may have to begin hinting about my upcoming birthday… 🙂
But you, dear reader, you have a chance to win one of these lovely items! Here's what you have to do:
1) Visit Lynn's shop. Enjoy oohing and ahhing over her work, then come back and tell me what you would like to win. Options are either the Memento Key Ring, or a choice of any pair of earrings in her store.
2) Blog about this giveaway (leave a separate comment with post url)
3) Tweet this giveaway (again, separate comment)
4) Either subscribe to my blog or follow me on Twitter (or both!). One entry for each, and again, separate comments please.
5) Become a member of the forum and either start a new topic or post a comment on an already existing comment (and tell me about it).
Giveaway ends Tuesday, Nov. 3 at 4pm. Happy looking and dreaming!
This giveaway has now ended. Thanks for entering!