Menu Plan Monday- April 27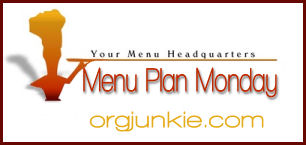 Short and sweet, here is my menu plan for most of the rest of the week. I am going to go until at least May 2 before I shop (completing my month of "Eating from the pantry and freezer" throughout April). I may or may not add some plans in for this Sunday with what I have, or I might wait until I shop. We'll see. 🙂
Breakfasts:
Oatmeal (raw milk, honey, cinnamon) x2
Waffles with homemade blueberry syrup
Toast and eggs
Sprouted English muffins and smoothies
Homemade soaked granola (I'm going to try out a recipe I was given, combining it somewhat with this recipe) with yogurt and berries

Dinners:
Cream of Broccoli/Cauliflower Cheese Soup
Chicken Sausages, millet, random veggies (depending on what's left!)
Macaroni and Cheese (with brown rice pasta, raw milk and raw cheese), carrot sticks
Spicy Meatloaf (Nourishing Traditions), brown rice, salad (brought by friends who are coming over)
Spaghetti squash with tomato sauce
Butternut Squash Soup with sourdough bread
Menu Plan Mondays are hosted by Organizing Junkie.
Has anyone else continued to eat mostly from their pantry and freezer this month? How has it gone for you? Did you save money? Do you feel like you still ate well?