What is Moringa?
Though some argue that this is the healthiest leaf on the planet, Moringa is still little known in the U.S.
I was largely unfamiliar with the plant myself until friends of mine who had been missionaries in Africa came by for a visit. They quickly noticed my green bag of Moringa tea and asked where I had found it.
Then began to regale me with stories of growing their own Moringa trees, drying the leaves, and even making their own capsules! I was totally intrigued by their excitement over this product and wondered what Moringa was that these people value it so much.
They explained that the health benefits of this plant are so great that in Africa they were actually growing Moringa in order to share it with local children who were malnourished in the areas they were ministering.
Immediately I went to A Healthy Leaf to learn all I could about this plant and why it could be something I want to incorporate into my own families nutritional arsenal.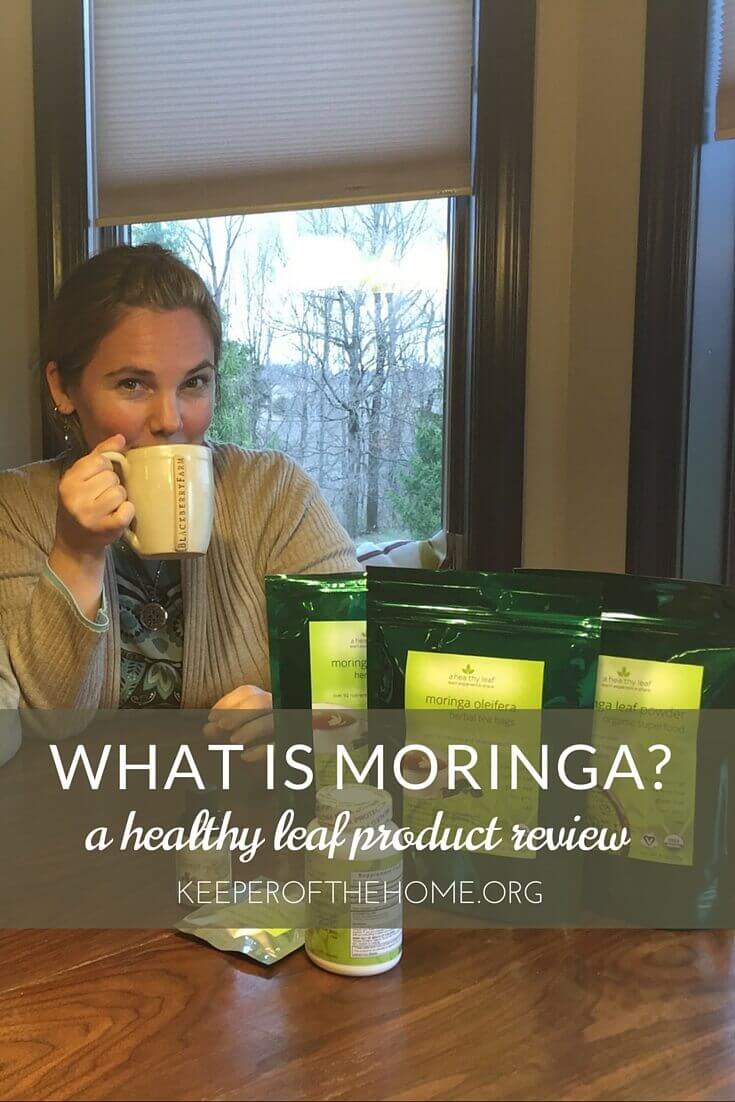 Here's what I learned about Moringa
First, let's talk about the Moringa leaves.
Gram for gram, fresh Moringa leaves contain:
4x more calcium than milk
3x more vitamin C than oranges
2.5x more protein than yogurt
2x more iron than spinach
the same amount of potassium as bananas
the same amount of vitamin A as carrots
18 amino acids including all 9 essential amino acids required by the human body
Native to northwestern India, the Moringa tree is cultivated and used through much of the world's tropical regions.
It is proclaimed to be one of the most nutrient dense foods available:
Moringa powder is a source of over 90 nutrients, and is acclaimed for having 47 anti-oxidants and 36 anti-inflammatories. It also contains 25% protein. [source]
When compared on a gram for gram basis, the Moringa powder (which is more concentrated than the fresh leaf) contains:
7x the Vitamin C found in oranges,
4x the Vitamin A of carrots
4x the calcium of milk
3x potassium of bananas
It also contains zeatin, quercetin, beta-sitosterol, caffeoylquinic acid, kaempferol, silymarin, and essential minerals such as zinc and iron.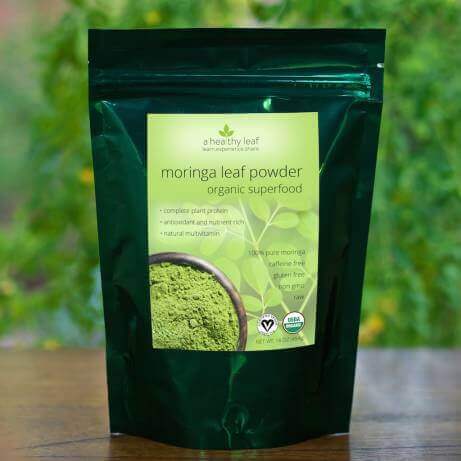 A Healthy Leaf has Organic Moringa Oleifera Powder available for $17.95 for 8 oz.
What are people using Moringa for?
Here are a few of the benefits of Moringa:
Boost the immune system
Increase energy levels
Reduce blood sugar levels
Reduce blood pressure
Reduce cholesterol
Reduce inflammation and joint pain
Increase libido
Treat ulcers
Balance hormones and slow the effects of aging down
Improve digestive health
Protect against arsenic poisoning
Treat and protect against liver dysfunction
The Food and Agricultural Organization of the United Nations (FAO) has this to say about Moringa:
Leaves are rich in protein, vitamins A, B and C, and minerals – Moringa products have antibiotic, antitrypanosomal, hypotensive, antispasmodic, antiulcer, antiinflammatory, hypo-cholesterolemic, and hypoglycemic properties.
So you can see why Moringa is something worth taking a look at!
You can get 120 Moringa capsules for $19.95 with free shipping when you buy three or more.
Now let's talk about Moringa oleifera oil.
The Moringa oleifera oil is derived from the inner seed kernel. On average, the kernel contains 40% oil by weight.
Typically this oil is extracted by compressing the Moringa seeds in a screw press. A Healthy Leaf uses the practice of cold pressing the Moringa oil, which produces the highest quality product. Cold pressing also extracts the least amount of oil from the seeds.
What does this mean?
To extract more oil from the seeds, some manufacturers will heat the seeds and then press or even add solvents increasing the amount of oil obtained by nearly 50%. While this sounds awesome at first, it's at the expense of the quality and purity level of the final product.
It takes 500 seeds to produce 1 oz of cold pressed oil! If you purchase Moringa Oil be sure to look for cold pressed and know your source.
Moringa oleifera oil is also shown to have anti-microbial, anti-bacterial, anti-fungal and antioxidant properties. Combining those benefits with a good moisturizer is like liquid gold for your skin!
When I tried this on my skin it was actually a nice surprise. I use both olive oil and coconut oil for my skin care daily so I will compare it to them.
I feel that the Moringa oil was thicker than coconut oil, but not nearly as heavy feeling as olive oil. It was a nice in-between weight and felt very silky. I found the scent to be very, very light and almost nutty. I liked it well enough that it is something I would use on a regular basis especially considering the health benefits.
It seems a bit costly for a 2 oz bottle, but when you use it you can see that like coconut oil, a very small amount goes a really long way!
Also note that this oil is not sticky and it absorbs quickly into the skin.
A 2 oz. bottle of Moringa oil from A Healthy leaf is $19.95.
Suggested uses for Moringa oil:
Skin Moistuizer with possible anti-aging properties
Facial cleanser to help with acne
Hair conditioner without that greasy look
Carrier oil for homemade massage oils
Base for homemade perfumes
Base for homemade soaps
Benefits of Moringa oil:
Similar to olive oil, moringa oil is made up of high amounts of fatty acids which give it the characteristics of a really great moisturizer.
In addition it is a good source of vitamin E which has its own very long list of benefits for skin, hair, eyes, and more!
To read more about the benefits, uses, and history of this oil, be sure to read the extensive information A Healthy Leaf has compiled.
There's also Moringa tea!
My lovely grandmother was here at the time I received this package and we enjoyed a cup of the tea together.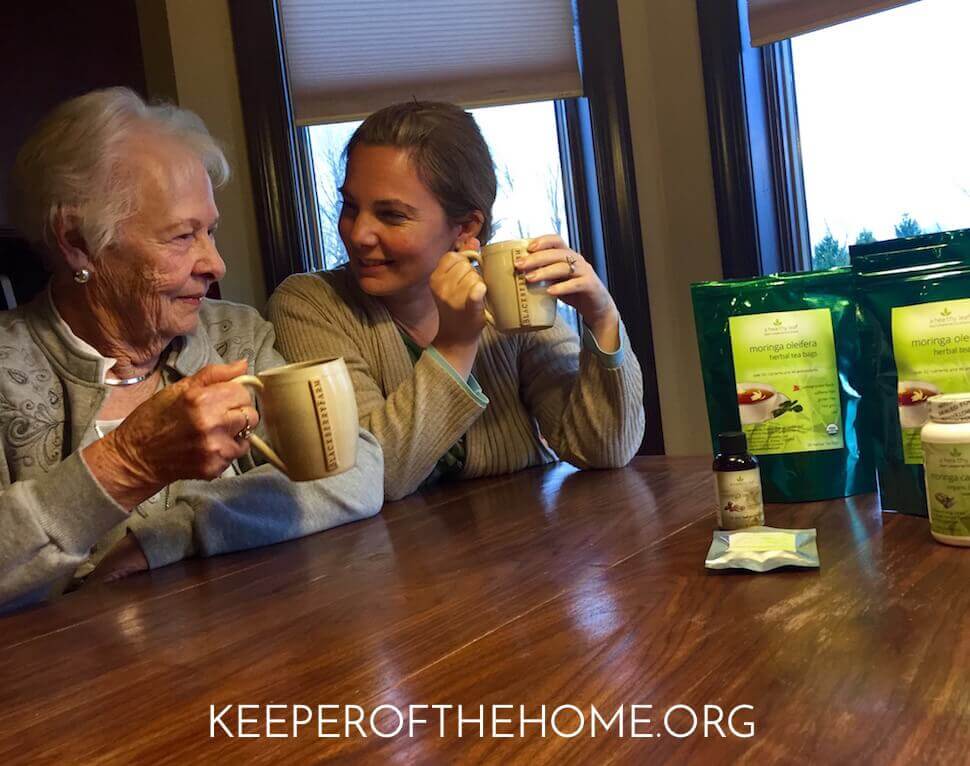 We found that by itself there was not much flavor, but that it easily blended with any of our favorite teas.
We both chose a fruit blend and enjoyed our time together with a warm cup of tea.
It's raw 100% Organic Moringa, and includes these benefits:
Caffeine Free
Gluten Free
Non GMO
A Healthy Leaf has 60 bags of Moringa tea for $24.95
My Final Thoughts about Moringa and A Healthy Leaf
I can't really say that the capsule, tea, or powder really gave me more energy or not because I have been working with a nutritionist for several weeks to increase my energy levels. I can say that it did not give me that caffeine high feeling which I am usually pretty sensitive to.
Moringa seeds are also available on the A Healthy Leaf site: $5.95 for a pack of 10 or on sale a whopping $13.95 for a pack of 100!!!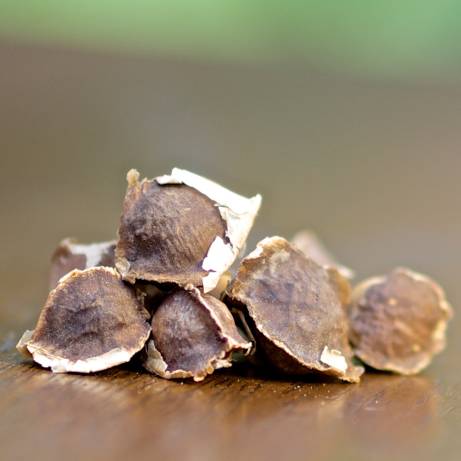 This is a tropical plant, but can winter indoors when grown in other climates.
Click here for more growing tips and instructions! How cool would it be to grow your own source of such a nutrient dense plant?
Have you ever used Moringa in any of these forms? What was (or is) your experience?
Disclaimer: Although this is a paid review, all opinions remain mine. I choose to write reviews based on the relevance to our mission at Keeper of the Home.