Lavender Beef Stew: A Taste of Home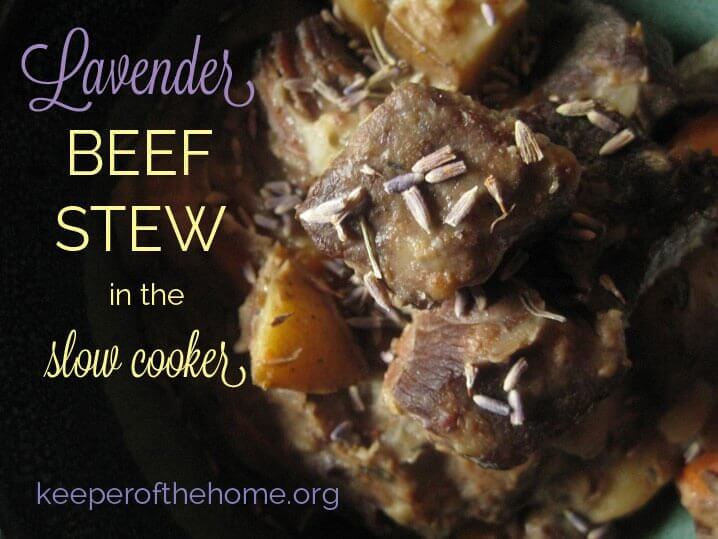 By Kresha, Contributing Writer
Several years ago, I moved to an area of the U.S. where lavender grows natively.
I had never been in a place where a small gust of wind could suddenly surround you with such a heavenly scent, and I cherished those blustery moments.
Now, of course, whenever I smell or taste lavender, I am reminded of that wonderful place. So, I started adding lavender to various dishes and have been surprised at what a lovely, subtle, sweet note it adds to both sweet and savory dishes.
This beef stew, then, is homey and cozy and really, just about perfect on a February night that's either cold or blustery. It's an easy choice for romantic dinners too – say those times when you really want to connect with your husband but know you've got a long, busy day as well.
But first, let's take a quick look at lavender….
Why on earth would one put lavender in an otherwise good stew?
Well, as Louis Armstrong once said, "If it sounds good, it IS good."
Same here – "If it tastes good, is IS good."
Beyond that, lavender does provide some healing benefits, just as using other herbs in culinary applications does. (Obviously, when ingesting the flowers in these small quantities rather than using it as a concentrated essential oil or tincture, the effects are far less pronounced.)
Lavender is known for promoting relaxation. This effect can come while smelling the stew cooking as much as from eating it.
Lavender also is a mood booster, a "feel-good" herb, and can help lighten the symptoms from depression. (Here's one particularly interesting study.)
Lavender essential oil has been shown to combat candida and other fungal infections. But ingesting essential oils can be iffy, since they are quite potent and vary greatly in safety from brand to brand. Ingesting the blossoms can be a gentle way to help fight candida from the inside-out. (source)
For more uses and benefits of lavender, read this article at Fresh Bites Daily for a great run-down.
And of course, remember to check from whence your lavender came…. you don't want to be ingesting pesticides (if it came from a large commercial grower) or dust-control sprays (if you gathered it from the road-side), so just know where it came from to ensure that it's safe.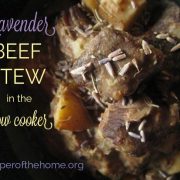 Print Recipe
Lavender Beef Stew
Ingredients
2

pounds

beef chuck or stewing beef

cut into 1-inch pieces

1

heaping tablespoon dried lavender flowers

1

teaspoon

dried thyme OR 1 sprig of fresh thyme

1

teaspoon

sea salt

1/2

teaspoon

black pepper

1

cup

beef stock

mushroom stock, or vegetable stock (see how to make homemade bouillon cubes)

1/2

cup

full-bodied red wine

1

large onion

diced

4

cloves

garlic

minced

5-6

carrots

julienned in 1-inch wide pieces

1

pound

white or yellow-fleshed potatoes

cut into one-inch pieces

8

ounces

cremini mushrooms

quartered

1

large sprig fresh rosemary

1/2

cup

flour

any variety OR 1 tablespoon arrowroot powder
Instructions
Cut the beef into bite-size chunks. If you're using grass-fed beef, be sure to leave all the fat on, as grass-fed beef tends to be lean and you're going to want all those fat drippings in the stew. Place in a 6-quart slow cooker.

Sprinkle the lavender blossoms, dried thyme (if using), salt, and pepper over the beef cubes.

Combine the stock and wine and pour over the beef.

Layer the remaining ingredients over the beef in the order listed and do not stir. Lay the fresh sprigs of thyme and rosemary on the top.

Cook on high for about 6 hours or on low for 7-8 hours until the vegetables and beef are very tender.

About 10-15 minutes before you want to eat (or just as you're setting the table), combine the flour or arrowroot powder with 1-2 tablespoons of water - just enough to make a pourable slurry. Pour it over the stew and stir gently so as not to break the potatoes and carrots. Return the lid and let cook until ready to serve.
Enjoy!
Have you ever cooked with lavender? What is your favorite way to use lavender?