Be Refreshed – Spring Gardening For the Soul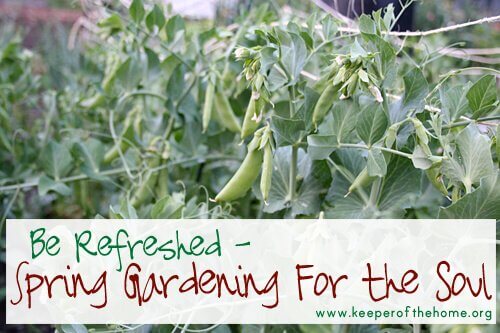 By Diana, Contributing Writer
This post was intended to be all about spring gardening – spring vegetables that children love to grow, which vegetables will produce the most for your family, which types you can grow in containers, etc…
However, my mind and thoughts are in other places.
One of the things that I love about writing and being a part of the community at Keeper of the Home is that we're real. We're wives, mothers, and daughters doing the best that we can to nourish and love on our families.
As a KOTH mom, some of us homeschool, we take pride in feeding our families well even on limited resources, we do the best that we can to keep toxins away from our home, lay our own desires and ambitions aside to better that of our family and, most importantly, we do all of this with the strength that only God can provide.
As a writer and author, I've had to screen what I write about in order to protect those that I love and my own family's need for privacy.
However, I can tell you right now, I'm struggling. I'm hurting.
My husband lost his job this past February. Within this past week our plumbing backed up which needs an extensive repair and my dog, my Boaz, passed away.
It's raining hard over here. 
My first instincts were to hide all of this pain. To lift up a facade of happy Christian mama with a solid foundation of faith. I can do all things through Christ who strengthens me…right?!
I can't do that, and I'm writing this because I know there are other woman out there that need the encouragement that I've only finally started feeling this week.
In the midst of my anger, I got angry at my Lord.
How could he let this happen to my family. How could he do this to His children that He adamantly promised He would take care of and bless?
I kept praying, "God, what is going on?"  "How is my family going to get through this financially," and "Why did you have to take Boaz right now?"
In the midst of these questions, I stepped outside and saw this.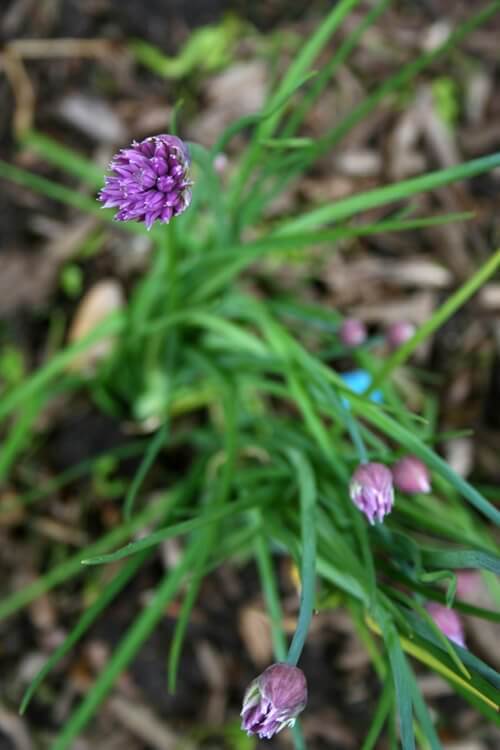 My spring chives starting to grow.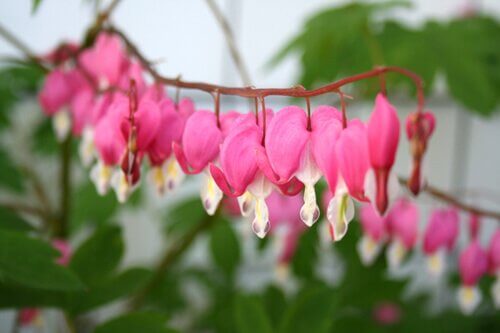 My bleeding hearts starting to produce their beauty once again.
All at once I felt a rush of peace and security.  As if my Father in Heaven wrapped Himself around me and whispered, "I'm shaping and re-growing who you are."
My soul was refreshed and I was encouraged by my God that soon there will be joy.
How to Be Refreshed During Difficult Times
As I write these words, I know the Holy Spirit is working.
I'm still uncertain of where my family will be or how He's going to see us through it, but I am certain without a doubt that God wants the best for my family and will get us there.
However, these feelings, this faith, didn't just come naturally to me. It wasn't an "aha" moment, and it certainly didn't just happen by stepping outside.
I've been built up by seeking and being in His Word, the Bible.
As believers, we can be assured that there will be times of trial and suffering. (For some reason, I thought this was true for everyone else but me and mine – Wow, was I ever wrong!).
It's during these times of hardship that we have a choice to make. Either cling to God's promises and be built up stronger in faith or turn from Him and be consoled by this world.
For me, it's been during this time that I've had this unquenchable thirst for His word.  My morning routine has been in time of prayer, pleading with God for understanding, and then reading through my study from Good Morning Girls. Every morning, God's left me with a little something to get me through my day – to let me know that this time of hardship is what I need spiritually in my life right now.
One day, He really spoke to me through Luke 5:12-16.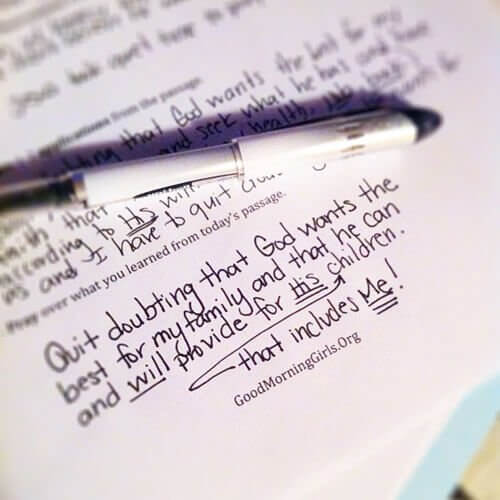 It was in this passage that a man with leprosy saw Jesus, fell to the ground and begged him to be healed. He said, "Lord, if you want to, you can make me well again." Jesus reached out touched the man and said, "I want to," he said, "Be healed!"
In this, I learned that I've spent too much time doubting that God wants the best for me. That he really, really, loves me. He LOVES ME!!
As mothers and keepers of the home, we spend so much time worrying about our families and that they are cared for that we forget that God wants the best for us, too. That we are his daughters, His children, and that it's okay to come to him like a child, broken.
I don't know what the future holds for my family, but I do know that the only way I am going to get through this is by holding my Fathers hand.
Oh man, does that ever give me peace.
All of our needs are being met so I'll just keep allowing Him to grow my spiritual soul and be refreshed knowing that the buds are blooming, the birds are chirping, and that my Father in Heaven loves me.
Guess what? He loves you too, so don't be afraid to come to Him, to beg Him, to plead with Him to show Himself to you. Get in His word and be refreshed – He will deliver!
*One thing that has been important to me is sharing about my menu plan on a budget.  It has helped many families, including my own, to continue to nourish them even through difficult times. If you're going through difficult times, and you need the help of my menu plan to learn how to cook real foods to nourish your family, please contact me for a free subscription. Please don't hesitate to ask; I would love to bless you as He has blessed me!
Are you going through trials? Please share how God is working in your life.