Caring, Keeping, and Gestating: How To Do Life While Pregnant
That first pregnancy seems like a walk in the park, now that I look back on it. I was twenty-four, young and energetic. My household consisted of just my husband and me, so I could easily take a nap after work, eat pickles and ice cream if I wanted, take a nap after dinner, lie around all evening, and go to bed at 6 pm. While I certainly had the normal symptoms of pregnancy, it wasn't that difficult as I really only had to care for myself. And, since we lived in a small apartment my household responsibilities were few.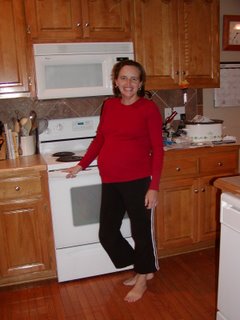 But, several years down the road, my pregnancy experiences changed. My home had grown from a one-room studio to a four bedroom, four bath house, and my family grew from just the two of us to the two of us plus a small army of children. I learned that pregnancy looks different when you're already a mom.
As you know, the gestation period is an important season for a mother. Your body is working hard to build a baby. You tire easily. Queasiness may make food preparation or cleaning tasks much more difficult. And older children still need you. You may still be waking in the night to help a young child back to sleep.
How do you function as a mom and homekeeper at the same time as realizing the limitations that your body is placing on you for a greater purpose? Here are some things that have worked for me:
1. Prioritize. Realize that not everything you want to get done is going to get done in this season. Think through what is most important and put your energy into those tasks. Consult your husband and see what he thinks is the best use of your time for your family.
2. Limit your commitments. Practice saying NO. As your family grows, you will need to adjust your outside commitments anyway. Pregnancy is a great time to start. Err on the side of fewer commitments as you can always add more in later if you find that you have extra time to serve outside your home. Avoid putting yourself in a position where you feel stressed to get something done for someone other than your immediate family.
3. Ask for help. When someone asks what they can do to help you, tell them. Grandparents, friends, and other family members are great sources of assistance. Be specific about what you need. Explain that you are having a hard time with meals or laundry or other household tasks. Enlist their aid for child care so that you can take a nap or a shower. Your children can help you, too. You'd be amazed at how much cleaning a toddler can do when you are patient and take the time to teach them. Which leads me to my next point…
4. Lower your standards. Realize your limitations and give yourself permission not to be SuperWoman for a season. Your family will not suffer to eat cold cereal rather than a hot breakfast every morning. Unless meal prep is very high on your priority list, find quick and easy, budget-friendly menus that your family enjoys and stick with those for the duration. Reassess your cleaning schedule. What is the bare minimum you feel comfortable with? Find it and make that your goal. Cut out unnecessary tasks, such as ironing. In fact, put wrinkle-prone clothes in storage. Allow your family to wear low-maintenance garments to increase their chances of having a clean supply. Simplify your life and your household as much as possible.
5. Remember that relationships matter most. Pregnancy is a season. Many things can slide. The one thing you don't want to neglect are the relationships you have with your husband and children. If given the choice between folding laundry and reading a book to your littles, choose the snuggle time on the couch. If the kids go to bed early, spend some alone time with your hubby rather than catching up on email. Don't let what appears urgent to supersede the important. Laundry and email can wait.
Life looks different with each new baby: during and after the pregnancy. Be prepared to adapt to each change as it comes. And enjoy the ride.