Saving Big Money On Your Little Ones

By Emily McClements, Contributing Writer
Most people believe that welcoming a little bundle of joy into their life means parting with a big bundle of cash to get everything that little baby will need. From diapers and wipes, to clothes, car seats, bedding and feeding supplies, it is true that there's a lot of stuff that babies need.
But, we really don't have to bust our budgets just because we have little ones at home. There are many ways to practice frugality and reduce expenses while still providing for the littlest ones in our lives.
Stick to the Essentials
The first step is to really think about what things are truly essential for babies and young children, although this can sometimes be tricky when they hand you an overwhelming multi-page list of everything your baby "needs" while registering at the Baby Store, or when every mom you know has a different suggestion the one thing you "must have".
It is crazy how much stuff such a little person needs. But not everything is truly a necessity. Some items are essential for some families, but not for others. For a good place to start, Stephanie did a great post over at Simple Mom on her essential baby items.
And although so much baby and kids stuff looks so cute and fun, you have to remember the reality that it all will take over your house. Sticking with less baby stuff from the beginning will save you money and save your sanity trying to organize, and store, and clean so much stuff.
Buy Used
The second step is to find what you need second hand. There is so much baby stuff out there that can be bought like-new or gently used, either because a child used it for such a short amount of time, or because it wasn't an essential item for someone else and it never got used. I am a believer that you can find just about everything that you need for babies and kids second hand.
Garage sales, mom-to-mom sales, thrifts stores and consignment shops are obviously great places to find good deals on used children's items. And now there are also so many online resources for buying used stuff it is becoming easier to source even specific or not well known items used from other families.
Saving Money on Baby Essentials
While there are many things that are negotiable as far as whether they are essential or not, there are still several items that pretty much every baby needs to have. Here are some ideas for saving money on those essential baby items.

Photo by 114bberry
Diapers
Cloth diapers are more economical than disposables in the long run, but they require a greater upfront commitment. One way to ease the cost is to buy used diapers. Yes, this may seem gross to some, but really, you're little one is just going mess it up right away anyway. I have purchased many of our cloth diapers used and have never had a problem with the quality. The best place I have found to buy used cloth diapers is diaperswappers.com.
If you're not going the cloth diaper route, you can save lots of money on diapers by using coupons and following sales at big box retailers, drugstores and even online. Many of the deal bloggers will post when there's a great sale on diapers, so be sure to follow a deal blog for your area.
**Stephanie's note: The absolute best price I've found on chlorine-free disposables is Seventh Generation dipes from Amazon, by the case, and using Subscribe & Save through the Amazon Mom program. We buy these occasionally for trips, etc. and I've never found them cheaper!**
Although I haven't tried it myself, the idea of elimination communication is intriguing to me, if not mostly for the reason that it would save money. Whether using cloth or disposable diapers, you would need to use fewer diapers, and you're little one would probably actually potty train much earlier, eliminating the need for extended diapering. Just trying to present all the different options here!
Wipes
With cloth diapering, we also use cloth wipes. Instead of purchasing the more expensive actual cloth wipes, I bought thin cotton baby wash cloths from the store and they work great for us.
Another option is to make your own cloth wipes. You can find flannel receiving blankets at garage sales or thrift stores, or use some extras that you may have received, and turn them into cloth wipes. You don't even need to have any sewing skills. Pinking sheers will help to reduce fraying when cutting up flannel into squares to use for wipes.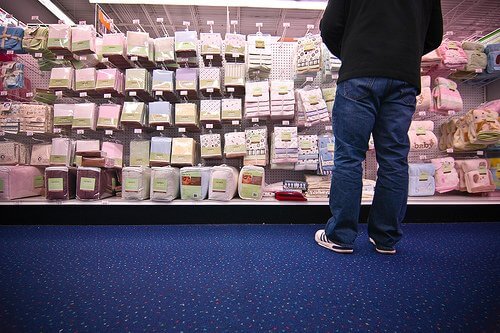 Clothing
Over the past few years, I've kind of made it a game to see if I can clothe my children with only used clothing. I love to find cute, high quality second hand clothing at garage sales, thrift stores and consignment shops. There are also tons of great resources online for finding gently used childrens clothing. I believe, with a little bit of effort you can save a lot of money by building a complete wardrobe of quality used clothing for your kids.
Hand-me-downs are another great option for kids clothes. We have been blessed with generous friends who have given us all of their son's outgrown clothing. They're not planning to have any more children, so they pass along everything to us, and whatever I don't want or use I can donate or pass along to someone else. I have only had to buy a few items of clothing for my son since he was born almost two years ago! I can't even begin to calculate how much we have saved in clothing by receiving these hand-me-downs.
Find a family friend with children slightly older than yours, and ask if they'd be willing to pass along their kid's outgrown clothing to you. You can either return them when you're done, or pass them on to someone else. Also, as your kids outgrow their clothing, be sure to bless others by passing along your hand-me-downs as much as you can.
Toys, Baby Gear and Other Kids Stuff
If diapers, wipes and clothes were all that a baby needed, it would definitely make life a little easier. But beyond those things, everything else is pretty much up to you and your family's needs.
There are really very few kids things that have to be purchased new, but there are probably many things that you would rather purchase new, like socks and underwear. For baby items that you will be purchasing new, make sure that you always shop the sales, and use any and all coupons that are available.
Baby stores, as well as big box retailers, regularly run very good sales on kid's stuff and often have coupons available to go with those sales. Watch the deal blogs, check out a store's website, and just basically do your homework and wait to buy something until you can buy it on sale and preferably with a coupon.
For everything else, my main tips are, again, to buy used, and borrow from others. Once you have an idea of what your essential items are, keep your eye out for a second hand item that would work for you.
Also, let your friends and family know what you are looking for, and you might be surprised by what people will offer to lend to you, or just give to you if they are done with it. I think most parents understand that baby stuff can and should be shared with others as much as possible.
How do you save money on your essential baby and kids stuff? What's one essential baby item you can't live without?