When I'm Caught in the Rip Current of People Pleasing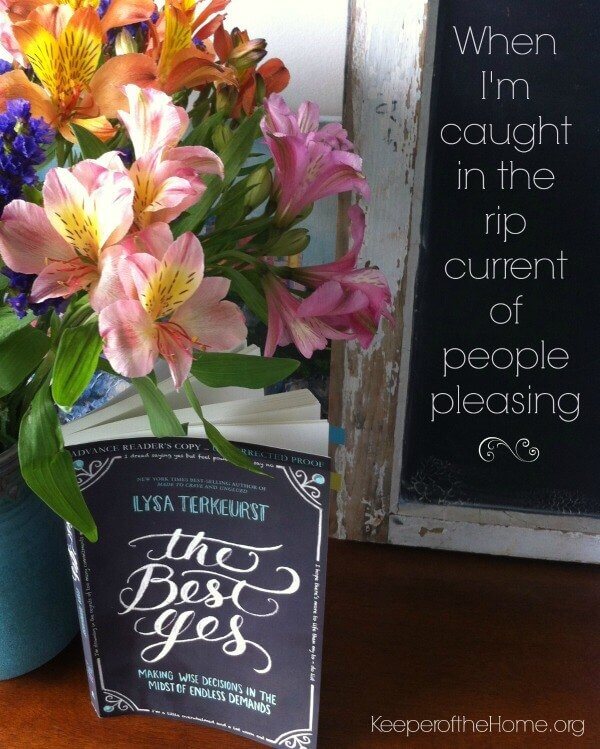 Today I'm honored to be a part of Lysa TerKeurst's "The Best Yes" Blog Tour, along with many other fabulous bloggers. Learn more here – http://goo.gl/bQVJW0
Our lives seem to be one bumpy, gravelly mess of road work lately, like we've living in a construction zone.
It's this season of transition we're in–  trying to get planted in a new community, changing up how we do homeschool, settling in to a recently purchased home, and moving forward with some big business changes.
Along with that, we've altered our family's regular routine and some of our roles, and well, it feels like there ought to have been flashing orange signs warning us "Detour Ahead".
I'm no good at detours. These unfamiliar, unexpected routes we end up taking when life shifts and changes.
I forget that they can be more complicated, require more concentration, and usually take more time. I have to leave more margin in my life during these hectic seasons, for the unexpected and the delays, so I don't run through my days perpetually late, stressed and breathless.
(Which in reality equates to losing it on my kids, snapping at my husband, forgetting important dates, or putting milk in the pantry instead of the fridge.)
It's that whole margin thing that really trips me up.
I rarely live with margin in my life. You know, that extra allowance of time and space to be used as we need it.
Instead, I'm usually pushing the limits, trying to see how much I can stuff inside these finite hours and days, until they begin to bulge and tear and come literally undone, full to overflowing with so many "good" things, but clearly more than they were intended to hold.
Reading "The Best Yes" was a reminder I desperately needed.
It showed me clearly that I was struggling, yet again, with taking on too much. With trying to please everyone. With feeling burdened by endless demands. With saying "yes" out of obligation.
It's ironic, actually, that I'm writing this post right now. With all that's on my plate, I should have been saying a gracious "no" to the many requests and opportunities that come through my inbox each week as a blogger. Not because this wasn't an opportunity worth taking, or a book that I didn't want to read (because I did), but because I was already maxed out, barely holding myself up.
And yet, I still said "Of course, I'd be happy to!", not only to this opportunity but several others of late. (Which clearly shows just how much I actually needed to read this book right now — so thanks for asking me, Lysa! How did you know? 🙂
I've been struggling with insomnia at night recently, common for me in seasons of stress, and so I keep pulling this book out in those quiet, late night hours as sleep eludes me.
Among other things, it is revealing my motivations for saying yes, and they aren't so pretty. Fear. People pleasing. Anxiety. Guilt. Ambition.
I'm reminded that each time I let myself say yes to the wrong things, I'm equally saying no to something else.
This is inevitable. Our lives can only contain so much, and so each yes also represents a no, and on the flip side, each time we thoughtfully say no, we grant ourselves margin and permission to say a resounding yes to something better down the road.
Right now, each time I say another guilty, fearful yes, I am forcing myself to say "no" to something far more important — Sleep and rest. More quality time with my kids and husband. More energy for my relationships. Exercise. A tidy and peaceful home. Steadier moods and emotions. A phone call with a girlfriend. Remembering a family member's birthday.
As I face the reality of the yucky motivations behind some of my "yes" decisions, I'm convicted that "no" needs to play a greater role in my vocabulary.
And what Lysa is gently reminding me in these late-night, lamp-lit reading sessions is that when "no" is said appropriately, it makes time and space for the very BEST "yes" choices.
Do you see what I mean? We feel bad for saying no, because we think that's what a good mom (or wife or Christian or friend or daughter) does. So we say "yes" all the time, never daring to let anyone down.
But ultimately, we let even more people down when we do that. And even worse? We often let the most important people down.
;
[Tweet ""I'm caught in a rip current of people pleasing when I dread saying yes, but feel powerless to say no." @LysaTerKeurst @KeeperHome #thebestyes"]
One of the concepts that jumped out at me most in this book is the power of a "small no".
Here's how Lysa defines it:
"I've learned there is power in the small no if only we'll choose to use it. The power is in saying no before things grow to the place where a no becomes even harder to give, more painful than if given early on, or so much is already put in motion that now the no feels nearly impossible to realistically implement.

As I talked with friends about this concept of the small no, there's an interesting dynamic at play each time a small no should be given. Almost without exception it's when the minute we receive a request we know deep down our answer should be no. But we delay – as if delay will somehow make this request go away so we dont' have to deal with it…

I know it feels like either delaying your no or just saying yes and dealing with the consequences would be better than saying no. Boy, do I ever understand that dilemma. Most of us were raised to be nice. And somehow we've taken up the notion that saying no is not nice. But what if small nos can be given in such a way they become a gift rather than a curse?"

Taken from The Best Yes
Whoosh… did you see that? It was a massive weight that just flew right off of my shoulders.
I really, really love this. When we give small, immediate nos to things we know in our hearts we shouldn't give a yes to, they become a gift to us, instead of ultimately becoming a burden. 
I can't tell you how much I struggle with making decisions. I delay, put things off, think the decision will get clearer later, give people vague answers. Particularly if it's a decision I think will disappoint or displease someone, I tend to delay even more.
It's very difficult for me to make clear, firm nos. But make them I must.
I appreciate Lysa's wise admonishment that even as we do this, we shouldn't go to the extreme and turn our nos into weapons, karate-chopping away at people and their requests.
Her gentle suggestions for saying no firmly, but kindly and lovingly, resonated with me…
While my heart wants to say yes, the reality of my time makes this a no.
I'm sorry but I can't give it the attention it deserves.
While I would love to _____, my previous commitments of _____ makes this one of those seasons when I must decline lovely invitations. But thank you for thinking of me.
Is anybody else releasing a deep exhale of gratefulness for the permission to graciously and purposefully choose what we say no to, so that we can save our yes for the best things?
"The Best Yes" is now avaialble in bookstores, and online in both paperback, Kindle and audiobook format.
What is the hardest part of decision making for you? Saying yes when you should be saying no? Putting it off?
I received this book for the purpose of review. This post includes affiliate links.