Pregnancy Update: 24 Weeks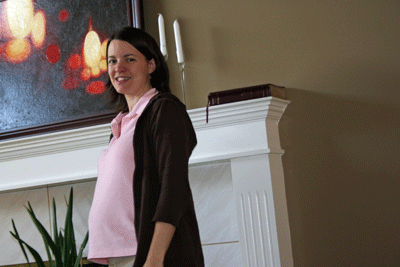 **This was taken by 4 year old Abbie. It took about 30 shots, but I think she did a good job, don't you? In the process of all these pregnancies photos, you may just get a small tour of my house, too.

You know, I think it's actually started to sink in that I'm having a baby in 16 weeks! 🙂
It's taken awhile, but I'm really grasping now that this baby is coming, and in not so very long at all! I think it's just been such a busy, and at times stressful, winter and early spring that pregnancy was often relegated to the back of my mind (not that I can ignore morning sickness, etc. but just that aside from feeling yucky, I didn't have much energy to really think about the coming baby).
Now, I am keenly aware that there is a little one moving around and preparing to make it's appearance in less than 4 months! I started to finally feel baby regularly around 21 weeks, which has been so much fun. I love to lay down at night and enjoy feeling baby doing acrobatics while I fall asleep (or write a blog post, like right now!). We're working on getting baby to cooperate and move when Ryan tries to feel. It'll happen one of these days, I'm sure!
There is soooo much to do in the next little while. Here's a glimpse into my to-do list:
Spend several full days implementing a new system of organizing and filing, based on the book Getting Things Done
(more geared towards business, not home, but my husband has begun using this system and loves it, and the more I read the book, I think I will, too). I mentioned my need to do this in my last update, and this is what has come out of that realization.
Get my garden entirely planted up for spring/early summer (I'm getting close!)
Restock my freezer and pantry, with several months supply of all dry goods, as well as a new batch of grass-fed beef and whole free-range chickens
Make 20-30 meals for the freezer for after baby arrives
Sell several items that need to be sold on Craigslist (some Denby dishes, bike trailers, strollers, etc)
Get my eBook up and selling (look for it next Monday!), and make some more changes to my blog, as well as prepare ahead (guest posts, pre-written posts, etc.) for my 6 week "babymoon" where I won't have much energy to blog
Help my husband with some big changes that are coming for our family, which I will let you know about as soon as I am able 🙂
Attempt to potty train Caden, and work on some more training issues and establishing routines with my two sweet children
Plan out my next year of home educating, finish buying any curriculum and supplies (at least, the ones I can anticipate now), and try to get a head start on some of it this spring and summer, since I'll be doing a little less "learning time" (school time) in the early fall months with the new baby
Finish clearing out the clutter from our house (I am working my way systematically through each room of the house), and doing as much spring cleaning as I can at the same time. I've promised my husband that I won't have a garage sale, but we will be donating and giving away what is becoming a pretty big pile of "stuff" in our garage
Phew! Sounds busy, but so far my energy level is good and holding, so we'll see what I accomplish. 🙂 I will be writing some more detailed, specific lists, and will share those and my progress on them from time to time.
Aside from my busy plans…
Honestly, I'm doing really well. Now that the stressful tenant issues are over, we have a bit of a respite from house guests, I'm sleeping well again, and most of my own and Caden's current eczema issues have been dealt with, I am feeling relaxed, peaceful and back to my usual self. Praise God!
My appointment with my midwife yesterday morning was great, as usual. She was relieved to see me much less stressed and tired, and said that baby is doing well. I just need to encourage it to get vertical instead of horizontal (baby is sideways right now, which is fine at this stage, but having baby turn earlier rather than later would be a good thing).
I had been having a bit more pelvic/achy pain, especially while sleeping and when getting up and moving around the first few hours each day. My midwife was great to quickly pinpoint the reason: I had run out of my calcium/magnesium supplement a few weeks ago, and that's right around when it started to get worse. I love easy solutions like that!
I also bought some pregnancy nutrient tea while at the midwives (which is connected to a my naturopath's office, so she has a great natural pharmacy at her disposal). I had been planning to make my own, using dried nettle, alfalfa, red raspberry leaf, peppermint, oatstraw, etc. When I had been researching where to buy each of the individual dried herbs, it was just getting expensive quite quickly, even though I was trying to go the frugal route by making my own. I decided to ask if they had their own pregnancy herbal tea, and sure enough, they did!
It has red clover, nettle, red raspberry leaf, peppermint and oatstraw, so it's very similar to what I had planned on making. It is just full of important pregnancy nutrients, as well as uterine toners, so I will start taking it one cup a day, and slowly work my way up as I get farther along.
The heartburn, which had mercifully gone away for about a month or so is now back. I think, though, that it's just because my stomach is getting a bit squished and not able to digest large or complex meals quite as efficiently as it was. I'm trying to be conscious of this and eat 5-6 smaller meals a day, rather than the 3 larger meals that I was eating. When I keep myself from eating too much at one sitting, and drink or take something to aid my digestion beforehand, it keeps it very manageable. See this post for more detailed heartburn tips!
That's it for me! How are all the other pregnant mamas out there doing?