News From a Proud Auntie!
Well, I may not have been there for the birth, but I'm a proud Auntie once again!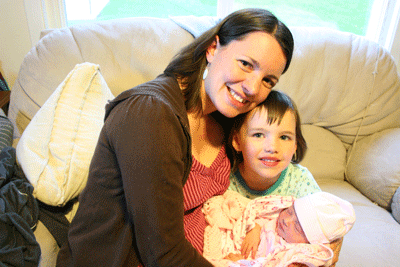 Lilah Beth was born on Sunday morning, while we were out of town on a trip that we simply couldn't cancel despite the fact that she hadn't arrived yet and I was to help with her birth. In the end, it didn't matter anyways, because Lilah decided she was in a real hurry and arrived in 40 minutes, even before the midwife! Mommy and baby are doing great, and we got to meet sweet little Lilah last night. Abbie is thrilled to have a girl cousin!
As well, Caden and Lilah got to share a "birth" day on Caden's birthday! My husband thought that was just the coolest thing, being that it's his twin sister's baby. Since the two of them share a birthday, he thought it was really special that two of their kids get to as well!
Speaking of Caden's birthday, the celebration is yet to come. Last week was incredibly busy, and we were away in Kamloops and Kelowna all weekend. We had a mini celebration with our friends in Kelowna, but are planning to have a special dinner and cake one night this week, to properly celebrate the fact that Caden Nathaniel is 2 years old!
Despite it's busyness, our weekend was wonderful, full of visiting two sets of friends up in the sunny and hot interior of the province. It felt like a vacation for us, and we had a blast, though we're tired from late nights of fellowship with friends, and early mornings with the kiddos who are off their usual schedule. 🙂 We got in late Monday night, and fortunately had a restful sleep.
Today is yet another day where my friend is watching my children so that I can continue to work on my "Getting Things Done" system, as well as continue on with the rest of my spring decluttering! Here's my plan for the day:
10:00 Blog post
10:15 Sort through my Getting Things Done inbox, and continue setting up my projects and tasks in OmniFocus.
12:15 Lunch break and review GTD book and system
12:45 Finish up loose ends with GTD stuff
1:30 Finish decluttering the house and setting things aside to get rid of:
        1) Kitchen
        2) Family Room
        3) Hall closets
        4) Master bedroom
        (I've already done the rest of the house)
4:00 If my hubby's back with the car, take a huge load of stuff to the thrift store!
5:00 Pick up my kids
I'll let you know how it goes!