Our trip to Arizona, Part 3
This is the last installment of our Arizona pics (Part 1 and 2 here)…
Day 6: Our last big day of sightseeing, we went back to the Sedona area to see some ancient ruins and heritage sites. First, though, we stopped in town for some gelato and to purchase fudge for a special someone.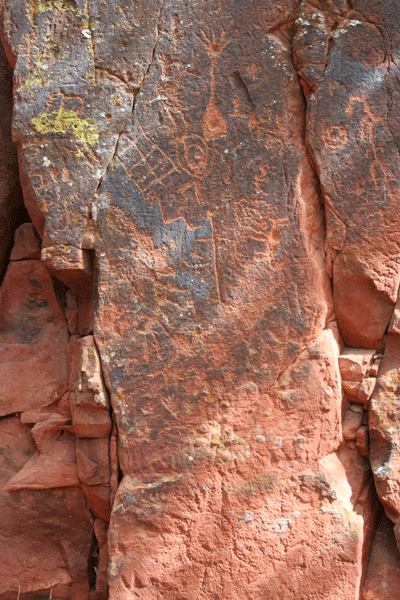 Next, we made our way over to V-Bar-V, where we literally saw the writing on the wall (ancient petroglyphs and pictographs).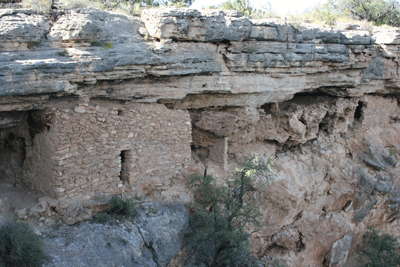 Now we're over at Montezuma Well, which is a very large sinkhole (looks
like a small lake), that used to serve as a major water source for the
ancient peoples. See what looks like a little house with a door opening? These are stone dwellings, literally above the well.
If you could see the whole thing, you would be able to see that these
cliffs go straight down, more than 100 ft, right into the well. Can you
imagine living up there?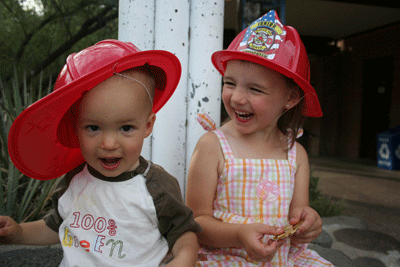 We encountered some very friendly fireman, who bestowed hats upon my children. Too fun!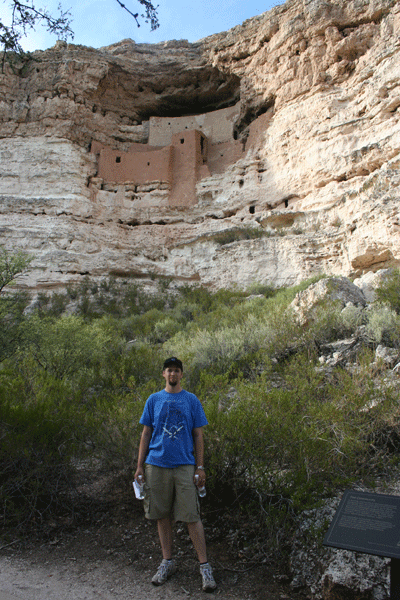 Ryan in front of Montezuma Castle, which literally is an ancient castle
built into the cliff walls. It is huge and amazing, to just stare up at
and imagine how they came up with building it. Why on earth do we have
this notion that people who lived long ago were less intelligent than
we are? This is some pretty fine engineering and building, if you ask
me, especially since it's mostly still standing 1000 years later.
Day 7: Our last day in the Flagstaff area, we pack up at the hostel,
and say goodbye to the lovely older couple we had become friends with
(he is an Anglican minister in England), with whom we had a wonderful dinner the night before.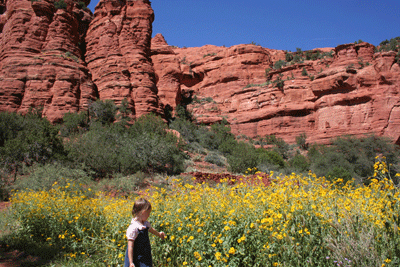 Early in my motherhood, I once read "What is a picture of a beautiful autumn tree without a child standing under it?" It stuck with me and I've felt the same way as I look back on many of the photos I take during a vacation. My favorites always include my favorite people. This is taken with the backdrop of the red rocks near Sedona, at a national heritage site called Palatki, which has ancient pueblo ruins.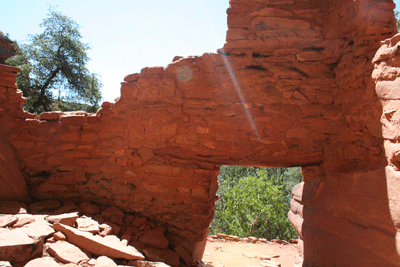 Just inside the entrance of the ruins, at the base of the red cliffs.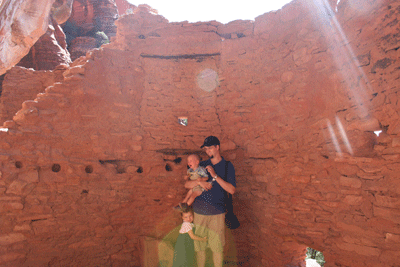 The largest room in the ruins. Doesn't Caden look thrilled to be there? 🙂
At this point, we had planned on visiting a little artsy town called Jerome up in the hills, but we ran out of time and out of steam. We hit road work and had a bit of a time crunch, and so we decided to just head straight down to Scottsdale, where we had a dinner date with the recipient of the fudge…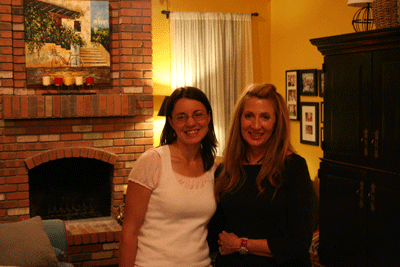 My delightful friend, Lylah and her wonderful husband, Michael. Lylah and I had never met, but had connected through our blogs about a year ago. It was so kind of them to invite us over, and especially after a week of making simple food in the hostel, the feast that Lylah spoiled us with was absolutely incredible!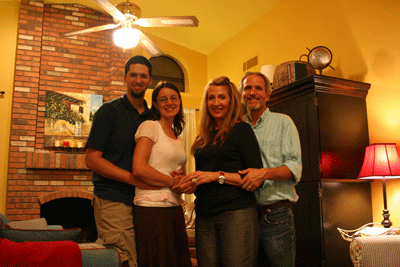 We had such a good time of fellowship and had endless interesting things to talk about. What a blessing! Straight after, we drove to the Crowne Plaza, the deal of a hotel I scored on Priceline.com. What luxury, after a hostel!
Day 8: We took it very easy. We had been planning to see Phoenix a bit, but we were just worn out and even I (the one who always wants to see, see, see) was a bit done. We slept in, lounged around in our hotel room, bought breakfast from a local Target (because it turned out the continental breakfast here was incredible… if you want to pay $13 each!), and then went swimming at the hotel pool. In the afternoon, we found a cheap theatre and went out to see a movie.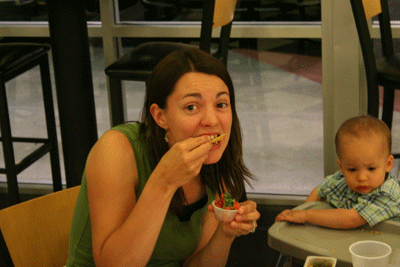 We finished off with dinner at my absolute favorite restaurant in the USA- Baja Fresh! I just love Mexican food (authentic or not), and their food is soooo much better than any other fast-food style restaurant, and their salsa bar is just the best. Mmmm…
Day 9: After packing up at the hotel, we headed into one of the downtown areas of Phoenix (by accident), as our GPS led us to the nearest Baja Fresh (again) for our last lunch (isn't my hubby sweet?). We realized how much time we had to kill, so we drove around to look for a park or something, and stumbled upon a large Mexican market. We ate in the car, then walked around inside for an hour. I wish our camera hadn't been packed, as it was such a fun experience! We even saw a cow's head (seriously, an entire one, without the skin, but with the eyes) in the deli section. We passed on that one, and ate a Churro instead.
And then, we flew back to Seattle, and arrived on a cool, drizzly night. Good-bye Arizona sunshine and heat, hello Seattle grey and rain (and then we went North, on up to Vancouver grey and rain)!
As I'm sure you've gathered, we had a wonderful time. We were able to spend so much time bonding as a family and just enjoying one another, and Arizona was such a great place to visit. God blessed us with many sweet times of fellowship and refreshment, with each other, with friends we met along the way, while visiting a church, etc. We're so grateful that we were able to go on this vacation, and as with any good vacation, we were so glad to be home sweet home once again!