15 Fun & Frugal Memories To Make With Your Kids This Summer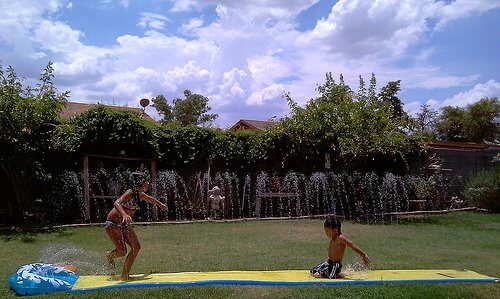 Written by Stacey T, Contributing Writer
I want to take you back for a moment… What are your favorite summertime memories from when you were growing up? What were you doing? Where were you? Who were you with?
Some of my favorite summertime memories from growing up were running through the sprinklers, sleeping out on the tramp, watching the Fourth of July fireworks and having bonfires at the ranch with my family.
My favorite memories were very simple activities but there is two common threads among them: They all include being with people that I love, my family and my friends, and they didn't cost a lot of money.
Sure I have good memories from family vacations and other more expensive activities, but the things that have stuck with me and mean the most to me now are the fun yet frugal activities I did while growing up.
Summertime is the perfect time to be creative in the activities you do with your kids. School is out and you have a little more time to be together (hopefully!) and the season of summer brings a natural feeling of fun and relaxation.
Here are 15 fun & frugal memories that you can make with your kids this summer: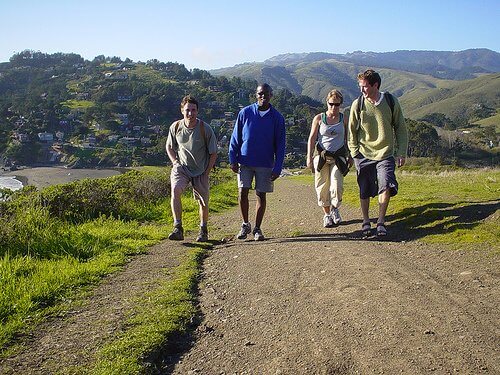 Go on nature walks
Get some exercise and some fresh air by going on a walk. But rather than just walking around the block, go on a themed nature walk. For example, go on a Bug Walk where everyone keeps their eyes glued to the ground looking for bugs and other fun insects. Other ideas include a flower hunt by looking for and identifying flowers (don't pick the flowers unless it is legal to do so); a bird walk as you look for birds, etc. You and your kids will be amazed at all that's around you once you start looking more closely.
Build Forts
Whether it's in the back yard or in the basement on a rainy day, get blankets and chairs and build a fort. Younger kids will especially find this fun. Read or watch The Swiss Family Robinson about a family that lived in one of the best forts, a tree fort!
Story Times
Most public library's have story times throughout the year but during the summer is an especially great time to take advantage of story times offered at other locations as well. Check for free story times at museums and bookstores too.
Paint Rocks
For just the cost of some paint and paint brushes, rocks of all shapes and sizes around the yard can be turned into bugs, animals and even landscapes. It's a creative and unique activity, and a fun way to decorate your yard and garden as well.
Dinner at the Drive-in
Pack a picnic dinner and head to the drive-in to watch a family flick. Admittance to drive-ins is typically much less expensive than admission to the movie theater and you often get to see two features, rather than just one. Make sure that bringing food into the drive-in is allowed.
Have a Game Night
Pop some popcorn and get the board games out for some good old-fashioned frugal fun. You could even invite another family to join in on the competitive fun and play, family against family, or boys against girls.
Play Hide and Seek or Sardines
Speaking of old-fashioned frugal fun, get the whole family involved (even mom and dad!) in a game of Hide and Seek or Sardines. The best way is to play in the yard after dark!
Host a cooking show
Pretend that one (or all) of your kids has just won the next Food Network Star competition; what will they make for their cooking show debut? "Air" the show in front of the whole family who can also be taste-testers. For even more fun and giggles, get out the video recorder and record it.
Have a Scavenger Hunt
Depending on your family's ages, you can play in teams or as individuals. Come up with a list of items to gather or take photos of, and see who can complete the list in the quickest time. This is another great opportunity to get together with another family or families who can join in on the fun.
Write a book
Assignments for writing and illustrating could be done individually or the entire book could be one collaborative effort. Whether simple or involved, long or short, this activity is creative and fun! And it also can help your kids practice and strengthen some of the writing skills they are learning in school.
Have a Backyard Campout
Even camping can get expensive these days but you can still enjoy camping without having to pay for a tent site if you camp in your backyard. Make oven s'mores and look at the stars, just as you would if camping in the woods.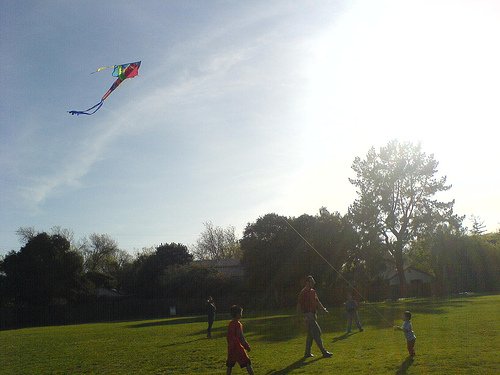 Go Fly A Kite
Kites can be purchased inexpensively and make for timeless fun. Or if you're really adventurous, you can make your own kite! Older kids especially might get a kick out of making their own kites.
Make Homemade Popsicles
You can buy inexpensive popsicle molds or simply use Dixie cups and popsicle sticks to make popsicles at home. If you're interested in a non-toxic but also reusable options, check out Tovolo molds. There are flavor possibilities galore but for a naturally sweetened option, puree fresh peaches, a tablespoon of honey and a few whole blueberries (or Strawberry Coconut Cream or Limeade). Mix, freeze and enjoy.
Make an Obstacle Course
Turn your backyard into an obstacle course using things from around the house and yard. Family members could hop in the kiddie pool, crawl under the picnic table and barrel down the slip and slide to the finish line, just as an example. Whoever gets the best time wins! Your obstacle course could be as simple or elaborate as you want but it's active fun for all!
Volunteer as a Family
Find volunteer opportunities in your community for the entire family. A few examples would be to help a widow in your neighborhood with yard work, volunteer at a local soup kitchen or try to get involved with Habitat for Humanity or The Ronald McDonald House. Whatever you do, whatever service you perform, if only once or throughout the summer, is guaranteed to be memorable for your family.
What fun and frugal things do you have planned for this summer? What memory making activities could be added to the list?