I think this guest post from Manda will resonate with all of us who struggle as we attempt to make the best possible choices for our families, while knowing that we cannot do everything and some compromises must be made. Making choices between frugality and toxins, convenience and nutrition, and everything else in between, is challenging and I appreciate her perspective on the topic!
Guest Post by Manda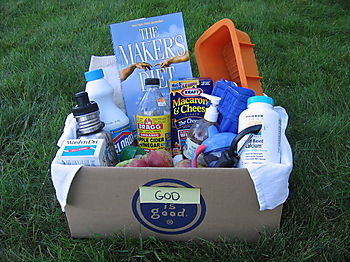 Parenting and homemaking are full of decisions. There are the big choices that everyone debates: breast or bottle, career or stay home, vaccinate or refuse. For some of us, these may be easy choices to make. But
beyond the major decisions, there are many day-to-day alternatives
available that can cause inward struggle for those of us who are
constantly bombarded with information on how to take the best possible
care of our families. In trying to be good
neighbors, good stewards, good wives, and good mothers, it is easy to
feel overwhelmed and unsure of which choice is best.
Take apples, for example. If
I can't afford organic, should I encourage my children to eat the skin
because that's where the fiber and nutrients are, or peel the apples to
minimize the exposure to pesticide? Or mattress
and pillow covers – is it worth buying plastic allergen covers to keep
dust mites at bay, or should we avoid sleeping on any man-made material? What
about cups – should I convert to only stainless steel sippy cups, or
keep some of the cheaper plastic ones that may leach toxins, but won't
break a toe when a toddler inevitably drops them? Should I risk Alzheimer's to wrap our food in aluminum foil, or risk cancer by using plastic wrap? When
our family is struggling to survive on one income, should I spend extra
money on nutritional supplements, free range eggs, the safest (and
therefore most expensive) car seat, antibacterial wipes, or books that
promise to make me healthy and wealthy and wise?
Books can certainly be informative and helpful, but only one Book contains the answers I am seeking. I truly believe that the Bible is relevant to all of life, and my seemingly over analyzed questions are no exception. While I may not be able to find a verse that mentions mattress covers, I can look to God's Word for wisdom in every decision. There are some basic Biblical principles that guide my thinking: for example, in Creation, God designed our bodies to eat real foods and to exist in harmony with nature. The Bible instructs us to use our money wisely without making an idol of it. And the often studied Proverbs 31 woman provides an example
of a wife and mother who diligently watches over the affairs of her household. She is wise, hardworking, generous, thrifty, and resourceful – attributes that I aspire to embody. With this foundation, I feel confident that I am doing God's will by seeking the best and healthiest solutions for my family. But
when I start to worry about the little choices, God is faithful to
remind me of what my priorities should be with some help from these
three passages.
1. Wives, submit to your husbands.
As the keeper of my home, there are many areas in which I am allowed to use my own discretion. When
we needed a new vacuum cleaner, my husband trusted me to research the
best model, buy it at the lowest possible price, and decide how to
dispose of our old vacuum. However, there are some areas where my husband and I have different opinions. Particularly
when it comes to my strong preference for more "natural" things, I have
had to learn the truth of this Biblical command:
Wives,
submit to your husbands as to the Lord. For the husband is the head of
the wife as Christ is the head of the church, his body, of which he is
the Savior. Now as the church submits to Christ, so also wives should
submit to their husbands in everything.
Ephesians 5:22-24
My husband tolerates
some of my natural-minded preferences, like our baby's cloth diapers
and my spray bottle of vinegar for cleaning, but there are other times
when my decisions must be made out of reverence for him. Since
he happens to value saving money and does not value higher priced
organic foods, I rarely, if ever, purchase organic groceries. It
is not worth compromising the Word of God to avoid a little pesticide,
so I have learned to enjoy my cheap, chemically grown apples (with or
without skin!) as a joyful act of submission. In
other families, the husband may prefer to purchase organics or vitamins
or the latest safety equipment, and a wife who does so will be honoring
her husband. The point is that the husband is
the head of the family, and even in seemingly small matters, a wife's
submission to what he considers best will result in more blessings than
any health food or product could offer. I
also find it very freeing to know that my husband is the one who will
be held responsible for the decisions he makes; I am only responsible
for being a submissive helpmeet to the man whom God has placed over me.
2. Do it all for the glory of God.
My friends and family
know that nutrition is important to me, and I try to stay informed
about the benefits and risks of various foods. It
seems like every new scientific report lengthens the list of foods to
avoid: trans fats are bad, sugar is bad, artificial sweeteners are bad,
MSG is bad, nitrites are bad, pasteurized milk (or whole milk,
depending on what group you listen to) is bad, soy (or meat) is bad,
the week-old leftovers in my fridge are bad. When I start to worry about what is left to safely eat, I must consider 1 Corinthians 10:24-31:
Nobody
should seek his own good, but the good of others. Eat anything sold in
the meat market without raising questions of conscience, for, "The
earth is the Lord's, and everything in it." If some unbeliever invites
you to a meal and you want to go, eat whatever is put before you
without raising questions of conscience. But if anyone says to you,
"This has been offered in sacrifice," then do not eat it, both for the
sake of the man who told you and for conscience' sake—the other man's
conscience, I mean, not yours. For why should my freedom be judged by
another's conscience? If I take part in the meal with thankfulness, why
am I denounced because of something I thank God for? So whether you eat
or drink or whatever you do, do it all for the glory of God.
I confess that I am guilty, not of feeding my family too much junk food, but of equating junk food with absolute poison. The
times when well-meaning friends and relatives have handed a McDonald's
French fry or a corn syrup-filled cookie to my children have made me
squirm inwardly…and sometimes outwardly. I cringe every time I make my husband his favorite meal of macaroni and cheese with hotdogs. Yet the Bible's command is not to avoid all food additives, but to do all for the glory of God. Is God glorified when I serve my family a nutritious homemade meal? I believe that He is. But is He glorified when I hold resentment against someone for
violating my dietary preferences? Absolutely not. Seeking
the good of others means that I strive to make choices that will
benefit my family, but I must also show love to people around us and
avoid becoming a stumbling block to them. If my
own standards of nutrition cause me to look disdainfully upon the food
someone else is serving to me, then I am seeking my own good, not the
good of others. If I adhere to a strict set of self-imposed rules but lack a compassionate and sincere heart, I am as good as a modern Pharisee. Thus
when struggling over some minute decision, I must consider how others
will be affected and how God will be glorified by my choices.
3. Do not worry.
For the remaining
decisions, after I have considered the principles of God's Word, my
husband's preferences, and the good of others, I am reminded that I
simply must trust in the Lord. Matthew 6:25-34 is always a convicting passage for me:
"Therefore
I tell you, do not worry about your life, what you will eat or drink;
or about your body, what you will wear. Is not life more important than
food, and the body more important than clothes? Look at the birds of
the air; they do not sow or reap or store away in barns, and yet your
heavenly Father feeds them. Are you not much more valuable than they?
Who of you by worrying can add a single hour to his life?
"And
why do you worry about clothes? See how the lilies of the field grow.
They do not labor or spin. Yet I tell you that not even Solomon in all
his splendor was dressed like one of these. If that is how God clothes
the grass of the field, which is here today and tomorrow is thrown into
the fire, will he not much more clothe you, O you of little faith? So
do not worry, saying, 'What shall we eat?' or 'What shall we drink?' or
'What shall we wear?' For the pagans run after all these things, and
your heavenly Father knows that you need them. But seek first his
kingdom and his righteousness, and all these things will be given to
you as well. Therefore do not worry about tomorrow, for tomorrow will
worry about itself. Each day has enough trouble of its own."
By worrying about what to do, use, or buy, I cannot add one day to my life – or to that of my children. By worrying, I cannot avoid a car accident or autism or cancer. The
little choices I make daily may play a significant role in the health
and safety of my family – after all, our modern world has strayed far
from the original Creation, and there are consequences for our
chemical-driven, industrialized ways. There are
consequences for negligence and blessings for being responsible and
resourceful. On the other hand, I must not place my trust in natural
living or sacrifice goodwill toward others on the altar of what I deem
"best." Only God is Sovereign, and all the BPA-free cups and organic cotton clothing and grass-fed beef in the
world will not change His plans. He commands me not to worry about tomorrow. So
while I continue to strive to create a healthy, happy home, I try not
to obsess over whether to bake bread in a Teflon or silicone pan. My Father knows what my family needs, and if I am truly choosing to seek His righteousness, the answers to my questions will be abundantly clear.
~~~~~~~~~~~~~~~~~~~~~~~~~~~~~~~~~~~~~~
Manda is blessed to be Don's wife, Donny and Hayden's Mumma, and the joyful keeper of their home. She enjoys sharing her life and reflecting on God's Word via her blog, Lambs in His Arms.