Clothing Kids Without Breaking the Bank: Part 3
For anyone who missed the first two parts of this series, you can find them here: Part 1 and Part 2.

Just before I move on with the last of my points on how I buy my kids clothing, I've been meaning to post a couple pictures of how I store their clothes, just to give you a visual of it, so here you go: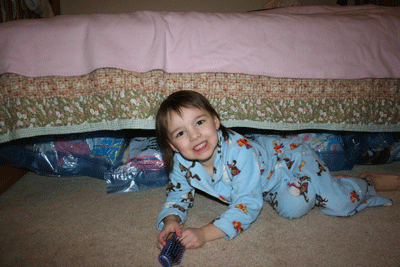 There's my Abbie-Monkey (in her monkey pj's), posing in front of where I store some of their bags of clothing, under her bed. One of these days I'm going to buy a bedskirt (on clearance, of course!) to cover them up. 🙂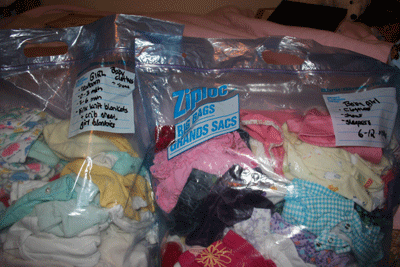 Here's a close-up of the upper half of two bags. The left is Baby Girl 0-3 and 3-6 mth (and includes some newborn neutral), and the right is Baby Girl 6-12 mth. Storing everything this way (despite the fact that it's not super tidy inside of the bag) makes it just so easy to find exactly what I'm looking for. I do the same thing with all of the clothes that don't fit them yet, so that this fall I can just grab the Boy 2T bag for Caden and know at a quick glance what I have.

Alright, back to how I buy my kids clothes for cheap. 🙂

6) By planning before I shop
I think it's definitely worth mentioning that I rarely go to any of these places  (here's where I shop) without a list in my purse of what my children need, in what size, what quantity and sometimes even what color (this helps to make their wardrobe work together better, and keeps me from buying Abbie 4 slightly different pink t-shirts for the spring).
Here is an example of what part of my list might look like (keep in mind, this is after I have taken inventory of what I already have stashed away):
Caden Spring/Summer (bottoms 18 mths, tops 18 mths or 2T)
4 pairs shorts, various colors
1 pair light dress pants, beige or brown
1 short sleeved dress shirt
1 pair swimming shorts
1 pair running shoes, 1 pair casual dress shoes (both size 5)
Caden Fall (all 2T)
1 pair brown pants, 1 pair jeans
1 zip up sweater or hoodie
1 long sleeved shirt (green or brown)
Winter jacket
etc, etc, etc.
As I move through the kids swap, or from garage sale to sale, or return home from a thrift store, I cross off items that have been bought, and circle the remaining things on my list. Throughout my shopping outings, I frequently refer to my list, to remind myself of what I am keeping my eyes out for and to make sure that I don't get caught in the trap of "Oh, she doesn't really need that, but isn't it pretty?" and stick to what they really do need (and if I have extra money at the end, I can always splurge on the things that I liked, but didn't need).
7) By sticking to my "rules"
Here are my basic swap meet rules (which apply to most of my children's clothes shopping in general):
1) I don't pay more than $5 for any one item, no matter how nice (I broke my rule this winter for a Gap wool winter jacket, paying $10 because I just really needed a jacket for her, but that is a very rare exception and it will definitely last for our next daughter as well- and no, that's not a hint as to what we're having!! Your guess is as good as mine! 🙂
2) I always remind myself that no matter how nice those $9 baby Gap jeans are, there is another table (or garage sale) selling something similar for half or less than that price, and I need to leave quickly (before I loose my resolve!) and go find it!
3) I always, always, always barter. And it works best if I can find more than one item at a table, so that I can group the
items together and offer a lump sum for all of it. People are more likely to accept this, as it feels like they are making more money, and they are selling several items at once that they might not otherwise sell.
4) I already mentioned above how I plan ahead and make a detailed list of exactly what my kids
need, which I always bring with me. At several points during my swap meet morning, I will get out that list to check off what I have already bought, and determine what items I need to still keep an eye out for. This really helps to keep me focused on buying needs, not wants.
5) I put in my pocket the specific amount of cash that
my husband and I have budgeted for the needed clothing or for that particular shopping outing. Nothing more. When that money runs out, I'm done. If I finish checking off items on my list before it runs out, I get to have fun or save it for the next need that pops up!
Do you shop for kids clothes with a list? What (if any) are your "rules" for what you buy, how much you spend, etc.?
Join FishMama for Frugal Fridays over at Life as Mom!